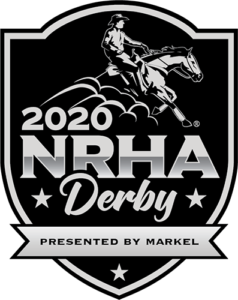 For Immediate Release – May 22, 2020 – Oklahoma City, Oklahoma – Following the initial deadline for entries, the National Reining Horse Association (NRHA) Derby Presented by Markel reports entries are on track for a strong event. The preliminary numbers for 2020 are already at 96% of the 2019 Derby. This count does not include any late entries, which must be received in office by 10:00 am, CDT, on June 3, for the draw to be posted on June 5.
"This enthusiastic response shows the excitement reiners have to return to a major event," said NRHA Commissioner Gary Carpenter. "We are thrilled to be able to welcome back our reining family to Oklahoma City."
Exhibitors, owners, and vendors should expect this year's event to look and feel different than those in the past due to the COVID-19 pandemic. Guidelines and requirements from Oklahoma State Fair Park and the city of Oklahoma City are pending, but exhibitors should expect them to be published next week so all can be prepared to comply.
In light of the situation, the NRHA team plans to provide robust digital coverage before and during the event, including the live stream, which will be available at NRHADerby.com. Look for further details for those who'll take in all the action from home by following NRHA on Facebook and on NRHA.com. You won't want to miss a single run from the non pro finals on June 19 or the open finals on June 20, in addition to coverage of the entire NRHA Derby Presented by Markel.