The second section of the Open preliminary round of the 2023 6666 National Reining Horse Association Derby presented by Markel took place Saturday, June 17. After 104 rides in the Jim Norick Coliseum, there was little change to the leaderboard.
The clean-slate Finals will be held on Saturday, June 24 at the OKC Fairgrounds. It will be an action-packed event with the largest check in Derby history- $100,000- being presented to the Open Champion.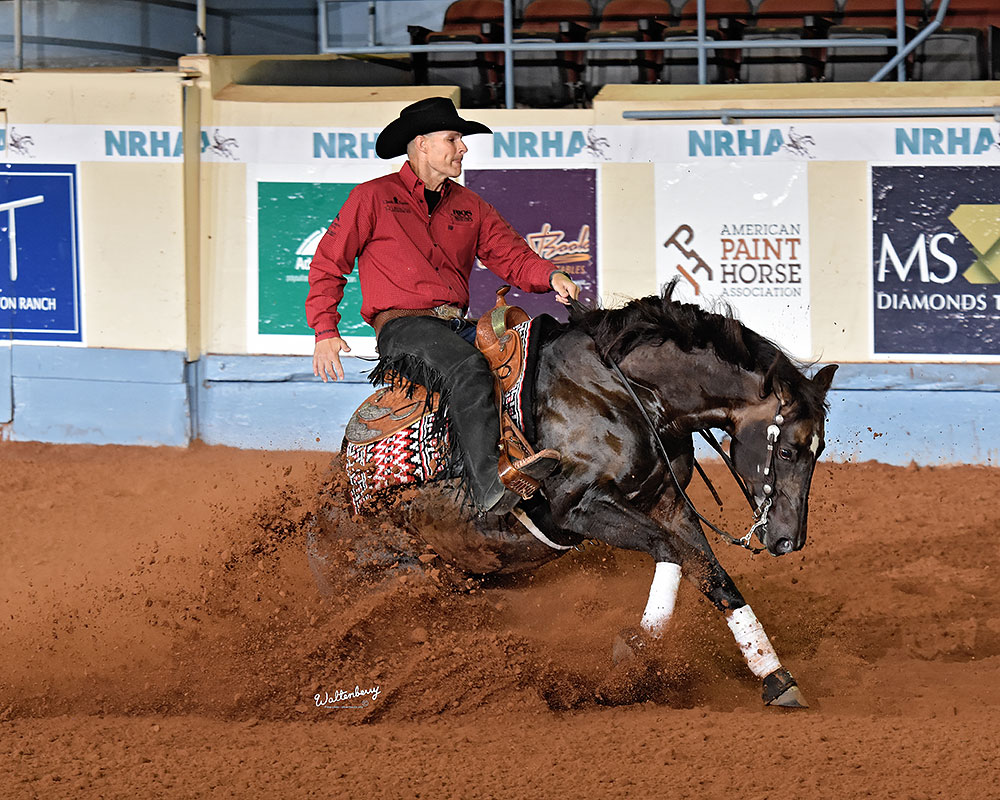 The Open preliminary rounds will wrap up tomorrow, Sunday, June 18, with the final 99 draws. The current high scores in Levels 4-1 are:
Level 4 – Jason Vanlandingham & Best Shine – 227
(Shine Chic Shine x Best Stop)
Owner: Robert Santagata, Breeder & Nominator: Wagman Ranch Inc
Level 3 – Dany Tremblay & All Guns On Crush – 223
(PS Mega Shine Chic x All Guns On Deck)
Owner: Fred Tremblay, Nominator: Adh-Mor Ranch
Level 2 – Gabriel Diano & Gunna Bet My Boon – 220
(Gunnatrashya x Flo N Blu Boon)
Owner: Cabana RT La Aurora, Breeder & Nominator: Alpha Quarter Horses, LLC
Level 1 – Sumer Opinker & Always A Magnum – 216
(Magnum Chic Dream x Always A Dunit)
Owner: Pamela Williams, Breeder: Petska Trinity Equine, LLC, Nominator: Jeffery Petska
Level 1 – Santiago Cilleruelo & Flinn Gunna Mark Ya – 216
(In Like Flinn x ARC Gunna Mark Ya)
Owner: Justice Performance Horses, Breeder: Jody Puno, Nominator: Neiberger Performance Horses
The preliminary rounds not only determine who returns to the Finals- they also decide the champions of the $110,000-added Tamarack Ranch Open 4-Year-Old Stakes and the $15,000-added Clark's Pump-N-Shop Novice Horse Open Derby. The winners of these events, along with the Open Prime Time and the American Paint Horse Association's Open Chrome Cash, will be announced at the conclusion of the preliminary rounds tomorrow. The current leaders for these divisions are:
Tamarack Ranch Open 4-Year-Old Open Stakes – Cade McCutcheon & Trashya Quik – 223
(Gunnatrashya x Nestle Quik Chic)
Owner: Vaughn Zimmerman, Breeder & Nominator: William Newman, Jr
Clark's Pump-N-Shop Novice Horse Open Derby – Craig Schmersal & Rootin Tootin Nite – 221.5
(Gunners Special Nite x West Coast Bay)
Owner: Wendy Elkins, Nominator: Linda Campbell
Clark's Pump-N-Shop Novice Horse Open Derby – Fernando Salgado & Swooon – 221.5
(Spooks Gotta Whiz x Sheza Smart Wimpy)
Owner: Coma Ranch, Breeder & Nominator: Loren Booth
Open Prime Time: Matthew McDowell & Xtra Voodoo Dr – 221 (includes handicap)
(Shiners Voodoo Dr x Wound Up Wimp)
Owner: Mona Bodaness, Breeder & Nominator: Silver Spurs Equine
Open Chrome Cash: Trevor Elliot Dare & Gangsta Sixtysix – 223.5
(Inferno Sixty Six x Rush N Cat)
Owner: Julio Mora Hernandez, Breeder: Lorenzo Lotti, Nominator: Slide or Die LLC
The top 30 (plus ties) in the Open Levels 4-1 will advance to the clean-slate finals on Saturday, June 24. The draw for the Finals will be decided at the Platinum Performance Open Draw Party on Friday, Saturday 23, at 10 a.m.
For complete results and a competition live stream, visit NRHADerby.com.
Photo of current leader Jason Vanlandingham and Best Shine by Waltenberry Photography.