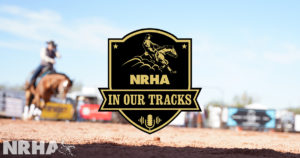 For immediate release – Jan. 30, 2020 –Oklahoma City, Oklahoma – The National Reining Horse Association (NRHA) is proud to announce the launch of its new podcast, In Our Tracks. The new-media offering aims to honor the history of reining, discuss current events and trends, and look ahead at the opportunities this sport has in its future. In Our Tracks will present interviews with the legacy-makers, movers, and shakers from the reining industry as well as grassroots competitors and weekend warriors to offer insights from the full spectrum of the reining community.
In each monthly episode, listeners will meet NRHA Professionals, members of the NRHA Hall of Fame, those who serve on the NRHA Executive Committee and Board, plus hear about programs from NRHA staff.
"This is an exciting way to tell the stories of reining and its participants," said Jennifer Paulson, host of In Our Tracks and editorial and marketing consultant for NRHA. "Hearing these horsemen and -women tell their stories in their own words celebrates the sport's legacy in an entertaining, educational manner."
The podcast has launched with the introductory episode as well as an interview with NRHA President Mike Hancock who discusses his history with horses of all kinds and what he sees in the future for NRHA and reining. Look for episodes to come with NRHA Hall-of-Famers Tim and Colleen McQuay, the 2019 NRHA Toyon Ranch Rookie of the Year, National Reining Horse Youth Association (NRHyA) Past President Elizabeth Blaser, and many more.
You can find In Our Tracks on Apple Podcasts, SoundCloud, Spotify, TuneIn, and Pippa, as well as listen to it at nrha.com/podcast.