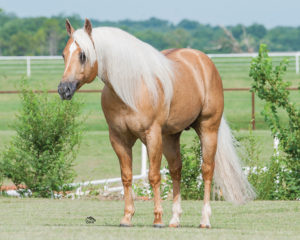 For Immediate Release – January 27, 2020 – Oklahoma City, Oklahoma – The newest addition to the National Reining Horse Association (NRHA) Million Dollar Sire list hails from Silver Spurs Equine–Oklahoma: Shiners Voodoo Dr. By NRHA Four Million Dollar Sire Shining Spark and out of Voodoo Chic, the 2007 palomino, fondly referred to as "Voodoo," earned more than $85,900 in NRHA Lifetime Earnings (LTE) during his show career.
Owner Michael Miola of Silver Spurs Equine, LLC, first laid on eyes on the stallion after he purchased Xtra Quarter Horses in 2017. Voodoo was one of three stallions Miola acquired in the purchase. For Miola, Voodoo's latest accomplishment isn't exactly surprising.
"I was extremely impressed with his demeanor," Miola said about meeting Voodoo. "One of the three things I look for in a breeding stallion is their demeanor."
This trait is followed by their work ethic in the show pen and attitude in the breeding shed. Voodoo continues to check all three boxes for Miola.
NRHA Professional Thiago Boechat trained and showed the stallion prior to Miola's purchase. The pair's most notable accomplishment was at the 2012 NRHA Derby where they were the Open Level(L) 4 Co-Reserve Champions. As a 3-year-old, Voodoo was the 2010 Tulsa Reining Classic L3–2 Open Champion in addition to making the Open L4 Finals at the NRHA Futurity. Miola admits Voodoo isn't known for his show career; the stallion shines brightest as a producer.
Xtra New Pal Voodoo, "Pal," is the only horse by the stallion Miola kept on the ranch. The winner of more than $81,800 in NRHA LTE, Pal transition to a career in team roping, proving the versatility of Voodoo's offspring.
During the 2019 NRHA Futurity, Voodoo's progeny earned more than $30,000 to push him across the million-dollar mark. Both Xtra Shiners Taboo (out of Xtra Suzies Step) and Magin Mann (out of Wimpys New Pal) walked away with checks after making the MS Diamonds TX Open L4 Finals. Also cashing checks at the NRHA Futurity were Xtra Handsome Shiner (out of Hermosa Wimpy), Xtra Voodoo Charm (out of Little Smart Wimpy), and Voodoo Brew (out of Reddy To Smokem).
Shiners Voodoo Dr's top-performing offspring include:
Xtra New Pal Voodoo (out of Wimpys New Pal, by Wimpys Little Step): $81,893 LTE
Shiners Voodoo (out of BR China Rose, by Hollywood Dun It): $66,943 LTE
Smart Voodoo Doctor (out of Smart As Sister, by Very Smart Remedy): $46,452 LTE
Xtra Taris Voodoo (out of All That's Dun, by Hollywood Dun It): $41,479 LTE
Call Me Mr Voodoo (out of ARC Sassy Snapper, by Snapper Call Bar): $40,454 LTE
Xtra Voodoo Gun (out of Miss Silver Gun, by Gunner): $38,098 LTE
Xtra Voodoo Doc (out of Call Me Miss Hickory, by Docs Hickory): $37,719 LTE
Blonde Ambishen (out of Relaxin With A Bud, by Nic It In The Bud): $37,691 LTE
Shiners Voodoo Juice (out of SLJ This Is My Juice, by Smart Like Juice): $35,033 LTE
Xtra Black Magic (out of Always Steppin Smart, by Wimpys Little Step): $33,716 LTE