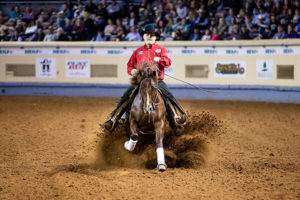 For Immediate Release – January 19, 2020 – Oklahoma City, Oklahoma – The National Reining Horse Association (NRHA) is proud to officially congratulate NRHA Professional Cade McCutcheon for becoming an NRHA Million Dollar Rider.
At just 19 years old, McCutcheon is the third member of his immediate family to cross this milestone. His parents, Tom and Mandy McCutcheon, reached the milestone consecutively—Tom in 2006 and Mandy in 2007. In 2014 Mandy reached her second milestone, becoming an NRHA Two Million Dollar Rider. Tim McQuay, McCutcheon's grandfather, is an NRHA Three Million Dollar Rider as well as an NRHA Million Dollar Owner.
"It's been a whirlwind; I never could've expected the year that I've had," McCutcheon said. "I set the goal to become an NRHA Million Dollar Rider when I was 12. Before the [NRHA] Futurity, I joked about the idea of winning first [in the Level(L) 4 Open] and placing with my other two horses to make it happen."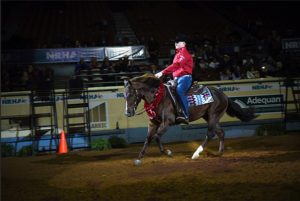 Who knew that reality would far surpass the joke? McCutcheon's wins at the 2019 NRHA Futurity pushed him past the million-dollar mark by more than $70,000. For those who know McCutcheon, it's not surprising he reached a goal long before he planned. He originally set the goal of crossing the million dollar mark by his 25th birthday.
A horse named "Turbo" equipped 6-year-old McCutcheon with the need for speed and helped the young horseman build the work ethic he needed to become a horse trainer.
"I had a hard time getting him to lope," McCutcheon said of the gelding. "He'd always take me over to the gate. It took me about six months before I got him to finally lope. Once I got him loping, I never walked or trotted again."
Perhaps Turbo secured McCutcheon's fate to carry on the family legacy as an NRHA Professional. Or maybe it was simply bred into the third-generation reiner from the get-go.
McCutcheon's first year as an NRHA Professional—2019—is hard work personified. Not only was he the Run for a Million Invitational co-champion, McCutcheon also topped the NRHA L3 Open Derby and placed first and second in three levels of the 2019 NRHA Futurity Open Finals.
"I was competing at the 2018 World Equestrian Games when I thought to myself 'I can play with the big dogs,'" McCutcheon said. It was in that moment McCutcheon decided to officially take his riding to the next level as a professional.
Reaching the pinnacle of reining as a 19-year-old presents McCutcheon with a strong foundation to continue building on in 2020.
"There are a million people I could thank for this," McCutcheon said. "I've been very lucky to have a good support system around me."
McCutcheon's 2019 NRHA Futurity Placings:
Super Marioo (Gunnatrashya x HA Chic A Tune): L4-2 Open Champion
Guns And Dynamite (Gunners Special Nite x Chic Olena Starbuck) L4 Open Co-Reserve Champion and L3-2 Open Reserve Champion
Deja Vu With A Gun (Gunner x Dun Its Déjà vu) Open L4-2 Finalist