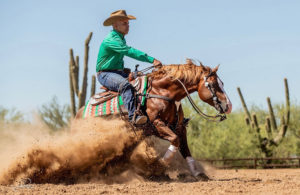 For Immediate Release – October 22, 2020 – Oklahoma City, Oklahoma – Amidst a fall show schedule packed to the brim, the National Reining Horse Association (NRHA) is proud to announce NRHA Professional Matt Mills is unofficially the newest NRHA Million Dollar Rider. This accomplishment comes after top-tier finishes at the National Reining Breeders Classic (NRBC) and the High Roller Reining Classic (HRRC).
This Scottsdale, Arizona, native was introduced to horses by a Shetland pony named Dizzy in a small round pen at the Lakewood Equestrian Center in Long Beach, California.
"My mom had horses as a kid and, for whatever reason, she took me for a riding lesson when I was 8 years old," Mills said. "I showed in almost every discipline except for reining until I was about 18."
Growing up, the hour-long trip via city bus was never a deterrent for Mills when it came to attending riding lessons. He headed to the barn every day after school and usually finished his homework on the bus ride.
The day after high school graduation, Mills was Arizona bound for what was supposed to be only a summer internship with NRHA Million Dollar Rider Dell Hendricks. That summer of 1997 internship stretched out for five years and essentially launched Mills' career as a reining horse trainer.
"Easy Otie Whiz (Topsail Whiz x Miss Poco Easy) really improved the trajectory of my career," Mills said of the late 1999 stallion who stood at Out West Stallion Station. "I made a lot of open level 4 finals on him and also attained my all-time highest score under five judges."
Together, Mills and Easy helped win a gold medal for Team USA at the 2006 World Equestrian Games (WEG) in Aachen, Germany. Easy is just one of many horses who helped carry Mills to his latest monumental accomplishment.
"I'm going out in the arena as an individual, but this is a team sport," Mills said. "I can't stress enough how important the horses, owners, my family, and everyone on my team is to me. My team is really the key to my success."
Although Mills is savoring reaching a goal he set for himself when he was just 21 years old, his competitive spirit compels him to begin focusing on his next million.
"I always stress the importance of setting goals," Mills said. "But I also want to enjoy the journey along the way."