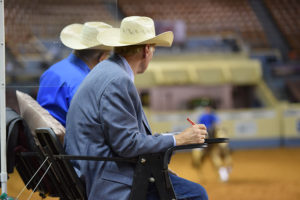 For Immediate Release – October 18, 2020 – Oklahoma City, Oklahoma – As the temperatures drop, the excitement for the National Reining Horse Association (NRHA) Futurity and the Adequan® North American Affiliate Championships (NAAC) begins to build. NRHA is pleased to announce the officials for the 2020 event:
2020 Adequan® NAAC Judges
Doug Allen, United Kingdom
Rick Weaver, Pennsylvania
Cathy Luse, Texas
Marlin Holroyd, Michigan
2020 NRHA Futurity Judges
Filippo Masi, Italy
Van Luse, Texas
Terry Thompson, Texas
Eugenio Latorre, Spain
Margaret Fuchs, Ohio
Tom McBeath, Mississippi
Pat Wickenheiser, California
Ollie Griffith, Ohio
Bob Kail, Arizona
Shannon Fowler, Indiana
Brett Walters, Indiana
Harvey Stevens, Florida
2020 NRHA Futurity Stewards
Matt Lantz, Michigan
Lyle Jackson, Alberta, Canada
Walt Larson, Arizona
Shawn McClurg, Montana
Selection Process
The selection process for judges and stewards at each major NRHA event occurs several months before the first horse ever enters the pen. Both judges and stewards are selected at the same time using the same process. Here's a synopsis of how your judges and stewards are selected:
Every eligible judge across the global is contacted for their availability of the event.
All available judges are compiled into a list and sent to each member of the judges committee.
The Judges Committee members make selections from the list to fill the allotted slots for the event.
These names are compiled into a short list and discussed on a conference call with all members of the Judges Committee. Nominations are allowed to be made on this conference call.
The committee members, except for the chair, then rank their choices and each ranking equates to a certain number of points. The points are compiled and submitted to the committee chair.
The committee chair reviews and makes recommendations based on the outcome of the vote and the needs of NRHA.

Example: If five judges selected and all have judged an NRHA major event recently, the recommendation could be to move up a "newer" judge to replace the 5th judge on the list. If an inadequate number of international judges are selected, the recommendation could be to bring in the next highest-ranking international judge, etc.

The ranked list with the Judges Committee Chair recommendations is submitted to the NRHA Board of Directors for final selection.
Both judges and stewards
For a more detailed overview of the selection process, refer to NRHA's statement of policy by clicking here.