For Immediate Release – October 4, 2020 – Oklahoma City, Oklahoma – The 2020 National Reining Breeders Classic (NRBC) proved to be a pivotal event for riders, owners, and equine athletes. The National Reining Horse Association (NRHA) is pleased to announce that both a rider and owner unofficially crossed the two-million-dollar mark after the dust settled in Tulsa, Oklahoma.

Casey Deary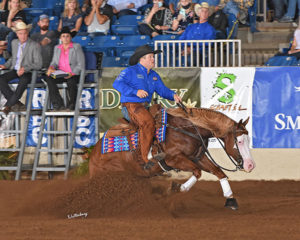 When NRHA Professional Casey Deary scored a 226.5 on Americasnexttopgun (Walla Walla Whiz x Americasnextgunmodel), his four kids cheered extra loud for the "puppy dog" horse affectionately known as Maverick. Winning the 2020 NRBC Open Level (L)4 finals clinched Deary's status as an NRHA Two Million Dollar Rider.
"I knew I was close, but I wasn't exactly sure how close," Deary said. "I had three horses that could all potentially win the deal. It wasn't stressful, it was exciting. That's what we all work for at a show. I did the best that I could to get them shown and keep them out of trouble, let them do what they do best, and I just stayed out of their way."
Deary also tied for second with a 224.5 riding Americas Supermodel (Walla Walla Whiz x Americasnextgunmodel). Both scores propelled Deary well over the two-million-dollar mark. His reining career hasn't always been the one-two punch that it was recently, but this Weatherford, Texas, trainer has seen his fair share of the winner's circle.
"It seemed like it took a lifetime to earn the first million," Deary said. "Americasnextgunmodel was kind of my first elite athlete, not that I didn't have good ones before that, but she got me to the level that I wanted to be at."
By Gunner and out Cee Dun It Do It, Americasnextgunmodel and Deary won the 2012 NRHA Futurity Open L4 Championship together. This talented mare proved herself in the show pen and is now showing her stripes as a broodmare.
At the 2015 NRHA Futurity, Deary sealed his first NRHA million when he won the Open L4 on Shesouttayourleague (Walla Walla Whiz x Wimpys Little Chic). Deary was again at the reins when this mare became the 2017 NRHA Derby Open L4 Champion.
"The team of people around me is what's made all this possible, with my assistants at home, down to my farrier and vet," Deary said. "And, of course, my wife pulls more than her share of the weight to keep the business going and taking care of the kids. It's certainly a group effort to reach these milestones."
After unloading from Tulsa, Deary took those same three horses to Las Vegas. He again rode Americas Supermodel to a 224.5 to tie with NRHA Five Million Dollar Rider Andrea Fappani for the 2020 High Roller Reining Classic Open L4 Championship.
Lance Griffin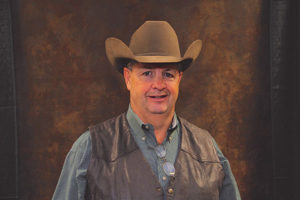 "Any cowboy can make a horse go fast, but it takes a horseman to get a horse to go slow," said the newest NRHA Two Million Dollar Owner Lance Griffin. "I'm not a cowboy. I don't look after cows. I'm a horseman. I look after horses. There's a big difference between the two."
Every employee who set foot on the Griffin operation heard those words. Not only does Griffin credit the horses for his recent milestone, but he also has an unending list of team members who helped propel the Griffin legacy to this point.
"To say I was gifted at picking a horse would be a huge exaggeration," Griffin said. "Certain people, like Duane Latimer and Bob Loomis, got us started on this path. I've always had a fondness for quality mares, and I've believed that from the very beginning."
Back in 2007, Griffin became the first NRHA Million Dollar Owner thanks to an unrelenting breeding program he built with his wife, Terry, and their daughter, Samantha Smith. Griffin Quarter Horses dispersed in 2013, but the legacy lives on as Griffin becomes the fourth NRHA Two Million Dollar Owner.
Leading up to the NRBC, Griffin was only $4,000 short of hitting the two-million-dollar mark. His daughter won more than $5,000 in the Non Pro finals between two horses: Drinkin Moonshin (Shine Chic Shine x Wimpy Little Girl) and Neverthoughtiwould (Pale Face Dunnit x Shine Tini).
Something Griffin might not divulge about his success as an owner is that he's played a big part in it as a non pro competitor. He's earned more than $400,000 in NRHA Lifetime Earnings (LTE).
"This isn't a blind man's game, but there's enough luck to it that it plays a part and we took advantage of that luck when we got it," Griffin said. "You get lucky and sometimes you get unlucky."
Griffin found a majority of his luck in his mares. One of those was Pines BH (Great Pine x Ms Enterprise), also known as Shirlys Folly with the American Quarter Horse Association (AQHA). One of her first foals to hit the ground running was The Great Whiz by NRHA Twelve Million Dollar Sire Topsail Whiz.
"I walked into the futurity prospect sale and bought that mare [Pines BH] without knowing anything about her," Griffin said. "Her first foal [The Great Whiz] that I bred and raised out of her won the Open Level 4 at the 2003 NRHA Futurity. Many horses don't work out, but in strange ways, they do. Our biggest reason for success has been consistently trying to have good stock and good help."
Congratulations to Deary and Griffin for joining an elite group of riders and owners!