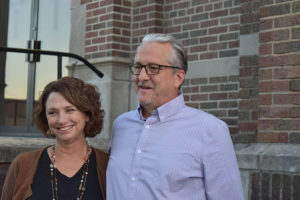 For Immediate Release – September 10, 2020 – Oklahoma City, Oklahoma – The National Reining Horse Association (NRHA) welcomes Tim Anderson and Kim Niven as first-time NRHA Corporate Partners. Carrying a torch for the sport of reining for the last 15 years, Anderson and Niven first dipped their toes into the NRHA arena in 2005.
"We were both involved with horses growing up and then off and on ever since," said Anderson who's owned and operated a livestock feed business in northeast South Dakota for 32 years. "We weren't involved with NRHA as more than just owners and exhibitors until about 7 years ago."
Eventually, Anderson got involved with the NRHA Board by way of the Reining Horse Foundation (RHF). He is currently the RHF President and chair of the RHF's Dale Wilkinson Memorial Crisis Fund committee. Anderson and Niven provide unrestricted, annual contributions to RHF as Reiners Club Champions and have been continuous donors for Sliders' Night Out, a significant fundraiser for the nonprofit.
Both Anderson and Niven were instrumental in rejuvenating the Arizona Reining Horse Association. The couple splits their time between their life-long home in South Dakota and their reining horse home in Scottsdale, Arizona.
Two years ago, Anderson and Niven became the official sponsors of the video runs produced by Equine Promotion at both the NRHA Futurity and NRHA Derby presented by Markel. Their sponsorship provides exhibitors at each event with a digital copy of their run from the show. The couple will continue sponsoring the video runs at these events but have now upped the ante by becoming NRHA Corporate Partners.
"This summer we decided we wanted to show our support for NRHA by becoming corporate partners," Anderson said. "Being involved with NRHA has been a lot of fun and we've had a lot of good times with the group."
Anderson and Niven are also some of the primary, founding members who helped kick off the 2020 NRHA Futurity Challenge. Seeing a need to increase the purse at one of NRHA's largest events a task force was formed, and work began immediately to increase the prize money across all levels of the NRHA Futurity. Get more details about this group here.
Both Anderson and Niven enjoy horses and reining is an exciting event for them. They have enjoyed success as breeders and owners, and Niven has amassed a strong record in the show pen as an NRHA non pro.
"As a past sponsor of NRHA and long-time champion of the Reining Horse Foundation (RHF), Anderson and Niven have continually raised their level of involvement with NRHA," said Sammi Miller, NRHA Senior Director of Corporate Relations & Communications. "We are proud to announce NRHA's corporate partnership with Tim Anderson and Kim Niven!"