After the storms of the day, it was a cool Friday evening, but the competition quickly heated things up at the 6666 National Reining Horse Association Derby Derby presented by Markel in the Jim Norrick Arena for the Non Pro Derby Finals.
NRHA Derby Level 4 Non Pro Champion- Gina-Maria Schumacher & CS Sailing Gun
In an astounding show of talent from both horse and rider, Gina-Maria Schumacher won the Level 4 Non Pro Derby with CS Sailing Gun while also placing in the top five with her two other entries, Legendary Whizkey (Whizkey N Diamonds x Legends Lil Squeeze) and Gunin Addy Tude (Gunnatrashya x Miss Lil Addy Tude).
Her smooth run earned a score of 224.5, placing her firmly in the lead by 1.5 points. Her other runs held a tie of third place with a score of 221 and fifth place with a score of 220.5. The Championship came with a big check for $50,000; her other two finishes brought her take for the evening to just under $70,000.
"He was good everywhere," Schumacher, an NRHA Million Dollar Rider, said of CS Sailing Gun with a smile. "I just couldn't have asked for anything more."
CS Sailing Gun is by Gunners Enterprise and out of La Bigia Sailor and was bred and owned by XCS Ranch. He was nominated by CS Ranch, who will be receiving a payout of $2,500.
Schumacher thanked NRHA Two Million Dollar Rider Duane Latimer, her parents, and her whole crew for their help with the accomplishment, although she said it really hadn't sunk in yet.
Winning an event as large as the NRHA Non Pro Derby is a high point for any rider's career, and for Schumacher and CS Sailing Gun, it's ending on a high note. CS Sailing Gun will be carrying a new rider from here on out, which makes this moment beyond bittersweet.
"It's pretty sad, to be honest, because I really love him, but it's a good way to finish," Schumacher says.
NRHA Derby Level 3 Non Pro Co-Champion- Samantha Kapu & Chics Get The Chex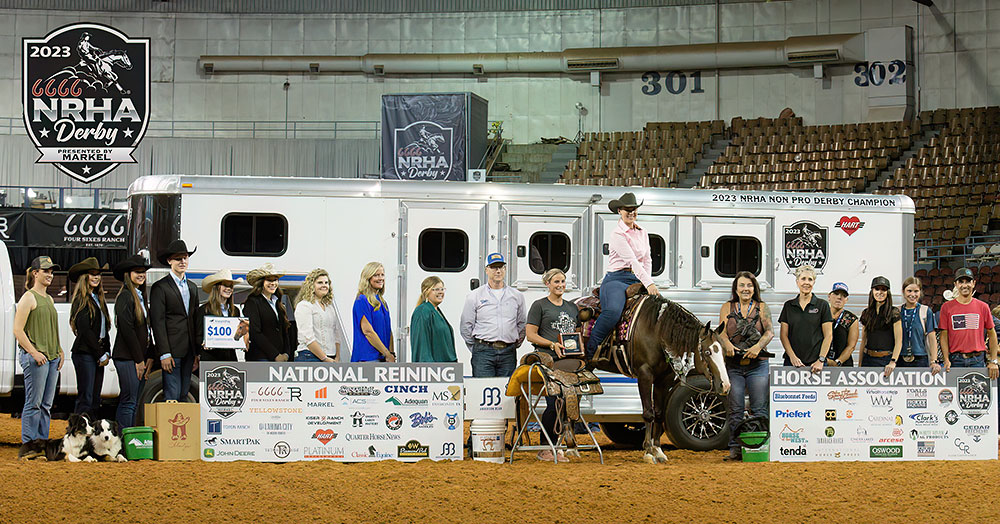 Samantha Kapu and Chics Get The Chex started off the Non Pro finals strong as the first draw, and it paid off, as they were co-champions in the Level 3 with a score of 219. The pair also finished seventh in the Level 4, bringing their total earnings for the night to $20,468.
The 2018 stallion, sired by NRHA Nine Million Dollar Stallion Magnum Chic Dream and out of Big Gold Chex, was bred by Garth Hystad and nominated by NRHA Million Dollar Owner Casey Hinton, who will also receive $1,077.
"I just wanted to go in and beat my last score. I was showing against myself- that was my mentality going in, especially being draw number one," Kapu said. "I just wanted to go in there and make a statement with that first stop."
Between his phenomenal performance tonight, and his win in the Storybook Stables Amateur class during the Non Pro Preliminaries earlier this week, the stallion has earned some time off.
"He's going to get spoiled, and he'll definitely get a couple of weeks off." Kapu shared. "We're going to just trail ride him for a bit."
Kapu thanked her trainer, NRHA Professional Ashley Kelkenberg, her mother, and her husband for their support.
NRHA Derby Non Pro Level 3 Co-Champion and Level 2 Champion- Rita Clausen & Xtra Kiss Me Again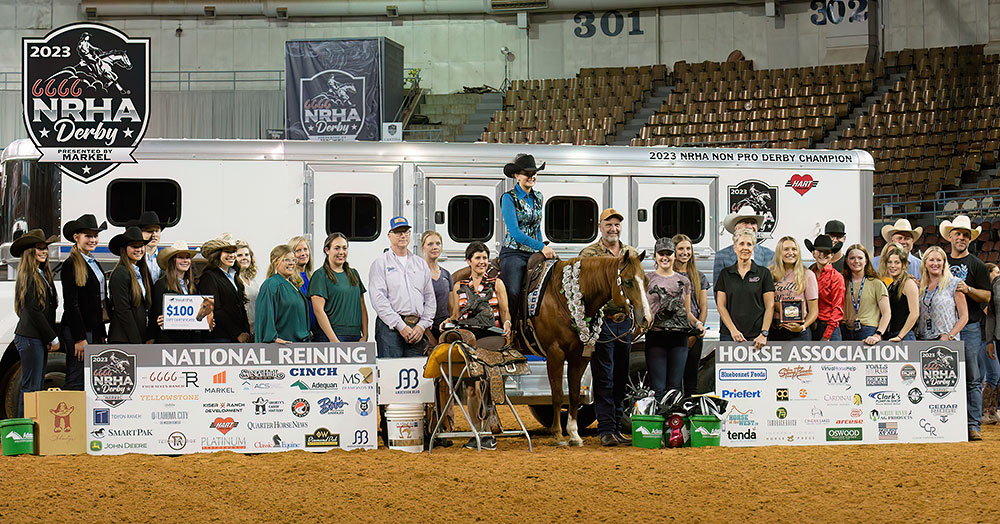 During the Level 4 Non Pro Finals, Rita Clausen accomplished things many riders only dream about. Aboard Xtra Kiss Me Again, Clausen marked a 219 to win the Level 3 Co-Championship and Level 2 Championship. She also finished as reserve champion in the Youth division and seventh in the Level 4, for total earnings of $35,887. Nominator Silver Spurs Equine will also receive $1,827.
"Camo," as the 6-year-old gelding is affectionately known, is sired by Boom Shernic and out of SS Kiss Me Kate. Owned by Clay Clausen, Camo has lifetime earnings of more than $64,000. Clausen and Camo have only been a team for two years, having purchased him as a four-year-old from her trainer, NRHA Four Million Dollar Rider Craig Schmersal.
"I was a little uneasy after the prelims because he got hot in the rundown. So I was worried about that. But we worked on him a lot, and so last night, I was feeling confident. I was excited to show," Clausen said. Her confidence certainly paid off when she and Camo executed a textbook run.
"He turned really good, and he circled amazingly. Like, I can never even imagine circling him better than that," Clausen said of her run.
Clausen thanked her parents and sisters, her trainer Craig Schmersal, Mandy Faust, and the entire Schmersal team.
NRHA Derby Level 1 Non Pro Champion- Kalicia Walters and Raisinthebar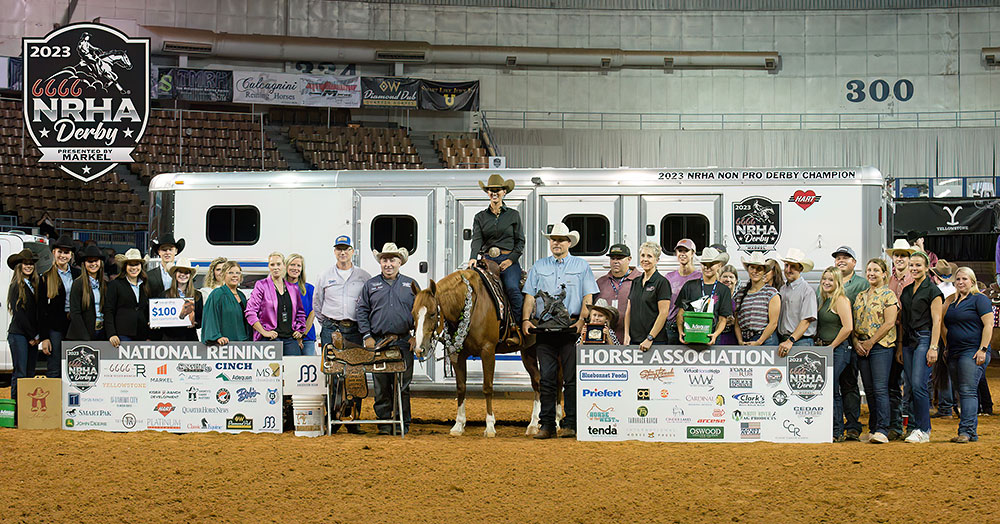 Kalicia Walters and Raisinthebar won the Level 1 Non Pro Derby Finals with a score of 217. The 2018 mare, by PS Mega Shine Chic and out of Chic In The Bar, owned by Diamond Dub Quarter Horses, has been shown by Walters for two years.
Celebrating in Oklahoma City on Finals night was her family and her trainers, both of whom she thanked for their help getting to this point.
Walters will go home with a payout of $4,750, and Raisnthebar's nominator, Adh-Mor Ranch, will receive $250.
"This mare needed me to come out with the confidence that I had tonight," Walters said. "I was able to trust her in her circles and just ask for more than what I have been, and so I'm really proud of her."
From here, Walters plans to take the mare for a long stretch of shows, attending the Reining By The Bay in California, The Run For A Million, The 100X, and then the High Roller.
NRHA Derby Prime Time & Masters Champion- Michael Garnett & Thundrstruk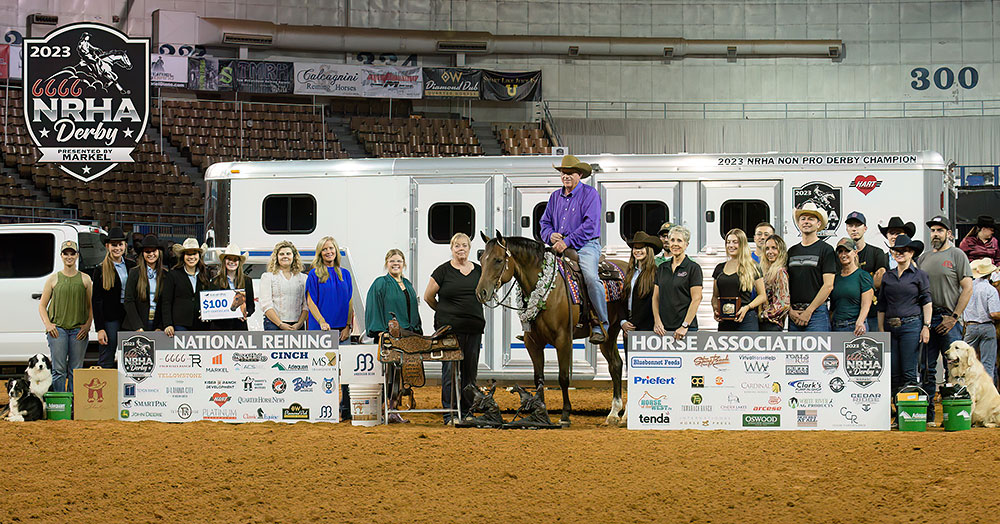 With a beautiful run, Michael Garnett and Thundrstruk earned a score of 219 (including handicap) and won both the Prime Time and Masters Championship. The duo also took third in the Level 2 and fifth in the Level 3, for total earnings of $16,684.
Thundrstruk, a six-year-old known in the barn as Herman, is by NRHA Five Million Dollar Sire Spooks Gotta Whiz and out of Flashy Tackie Kac. The talented stallion was bred and nominated by Stanley Coats, who will receive $614
"Sometimes he'll get a little nervous and excited, but he's never said 'No, I'm not going to do that' about what I ask him," Garnett said.
Garnett thanked his trainer, NRHA Million Dollar Rider Martin Muehlstatter, and NRHA Million Dollar Rider Kole Price for their help getting them ready for this show.
NRHA Derby Non Pro Youth Champion- Emma Vanlandingham & SHR Hollywood Kid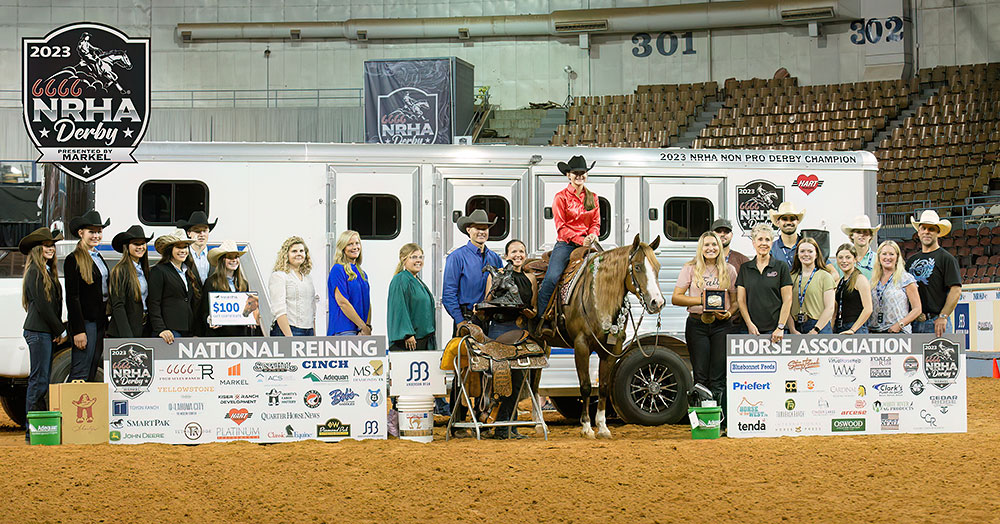 The cheering was deafening, and a path was quickly cleared for her parents as they excitedly ran to her at the announcement of the score of 221 that earned Emma Vanlandingham the title of Non Pro Youth Derby Champion.
Vanlandingham rode SHR Hollywood Kid, a 2019 mare by The Kids Gotta Gun, and out of Shinin In Hollywood, owned by NRHA Two Million Dollar Rider Jason Vanlandingham and nominated by NRHA Million Dollar Owner Robert Santagata.
"I couldn't be more happy with her right now," Vanlandingham said. "She is an amazing horse, and this is the highest score I've ever marked on her."
Not only did she win the Youth title, Vanlandingham also finished third in the Level 4, for total earnings of $11,947. SHR Hollywood Kid's nominator, Santagata, will take home $523.
At only 14 years old, Vanlandingham is already a show stopper in the pen, and the crowd in the Jim Norick let her know how impressed they were.
"It's just so awesome to have everybody as in love with your run as you are, and it's just so cool," Vanlandingham said regarding the crowd's energy level.
She took the time to thank her parents for supporting and coaching her, as well as Robert (Bob) and Arlene Santagata for selling them the mare.
Competition at the 6666 NRHA Derby presented by Markel continues through Sunday, June 25. For a complete schedule, draws, results, and more, visit NRHADerby.com.