Wednesday was a full day of competition in the Adequan® Arena at the 6666 National Reining Horse Association Derby presented by Markel. The first slate of the Novice Horse Open classes was held, with the three levels run concurrently. The 133-entry class proved tough, and in the end, Peter Defreitas, Brian Bell, and Josiane Gauthier rode away with the wins.
Novice Horse Open Level 1 (1) Champion, Level 2 (1) Co-Champion – Peter DeFreitas & Keep On Th Sunnyside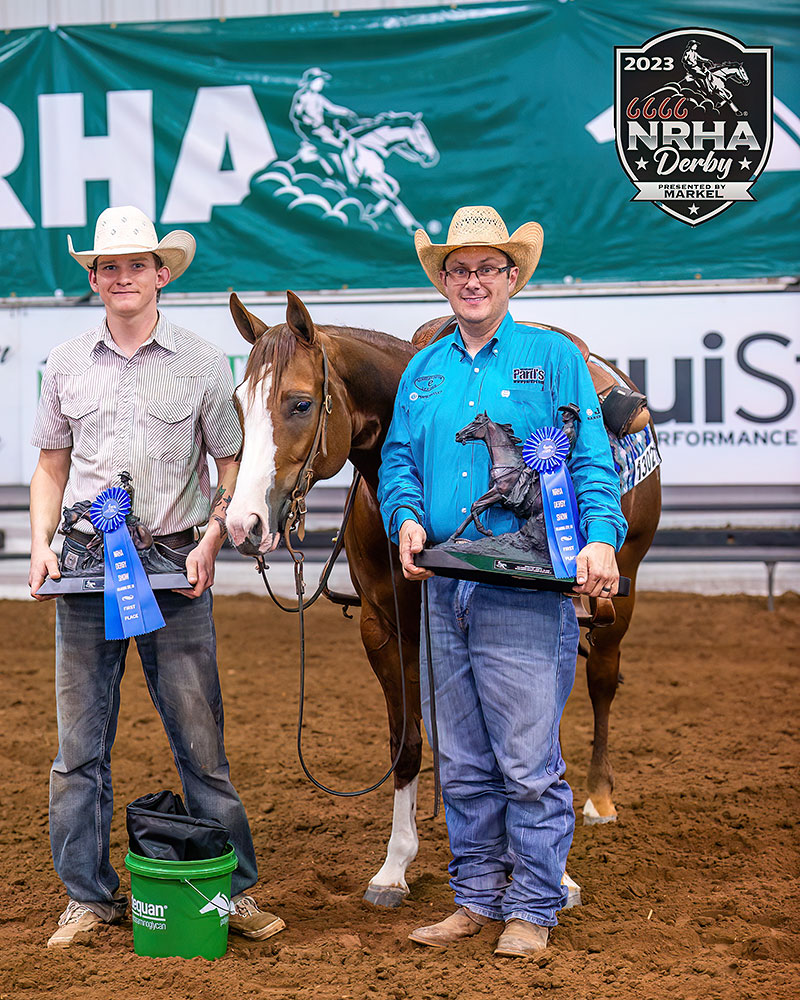 Peter Defreitas and Keep On Th Sunnyside have been the model of consistency this year, but the pair had yet to compete on a run-in pattern.
That changed Wednesday at the NRHA Derby, with Pattern 9 chosen for the first slate of Novice Horse Open classes.
Defreitas and the big-stopping mare delivered, nailing the first stop and executing the rest of the pattern well to earn a 146.5. That score not only won the Novice Horse Open Level 1 but also tied for the win of the Level 2 and was good for the Reserve title in the Level 3.
"I was excited about this because she's such a big stopper. She really hit that stop, then turned good to the right. Her left turn could have been just a little better, but she circled really well and finished up with good stops," Defreitas recalled. "Her big lick is running and stopping. I know it doesn't matter what's happening because she's going to stop big."
Keep On Th Sunnyside is by Shine On Line and out of Conquistadors Sandy. The 6-year-old mare was bred by Double Run Farm and is now owned by Carlton and Khris Crowe.
"I've been showing her in the novice horse this year. She's a very nice and quiet mare, and I'm happy I get to show her. She can get a little fresh, but when it's time to horse show, she's all business," Defreitas said. "As many times as I've shown her this year, she seems to just keep getting better."
Defreitas and Keep On Th Sunnyside will show again this week in the second slate of the Novice Horse Open. "If she keeps doing well, we're going to keep showing in this division and hope we can win one of the NRHA World titles. Right now, we're up there, so we're just going to see what happens," he said.
Novice Horse Open Level 2 (1) Co-Champion – Brian Bell & Spookadeous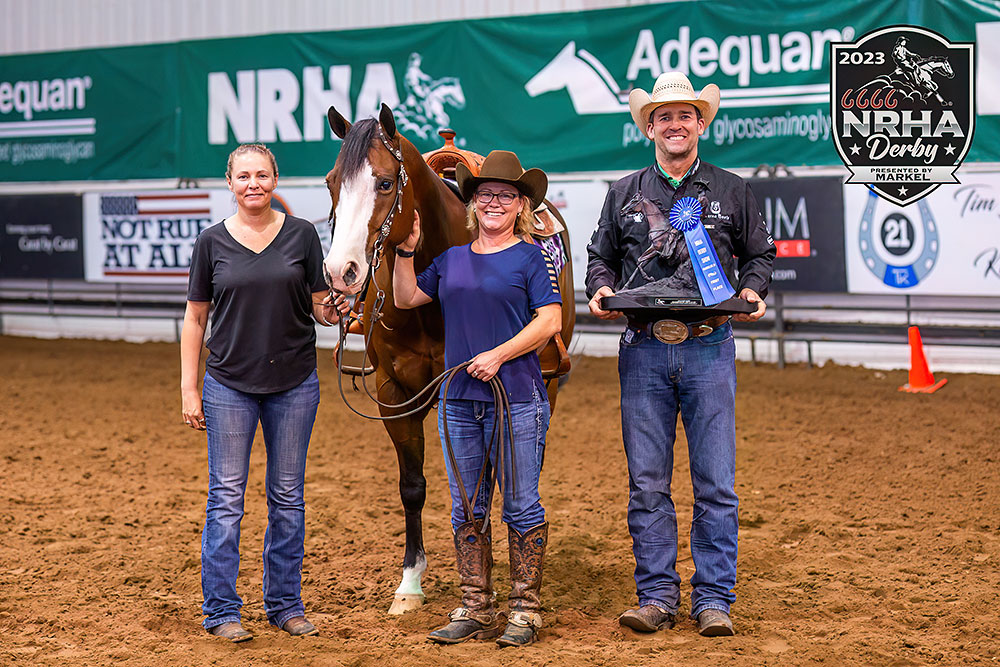 Brian Bell and Spookadeous, a 2018 gelding, won the Novice Horse Open Level 1 (1) with a tie on a score of 146.5. Spookadeous, by NRHA Two Million Dollar Sire Spooks Gotta Gun out of Trash N For Chex, was bred and is owned by Kary Key.
With only a day's notice to prepare to show Spookadeous, Bell, an NRHA Two Million Dollar Rider, focused on getting in tune with the horse, known in the barn as 'Bruce.' Known for his large, fast, smooth-as-butter circles, Bruce was a ride that Bell enjoyed.
"I liked having this horse in the barn before I showed him," Bell said. "But now that I've shown him, I like him even more. He was honest, and he played on the team."
Bell will not be showing Bruce again at the Derby but will be riding in the Open finals and coaching five other riders in the Non Pro finals. He thanked his wife, son, and clients for allowing any of this to be possible.
Novice Horse Open Level 3 (1) Champion – Josiane Gauthier & Xtra Step Doctor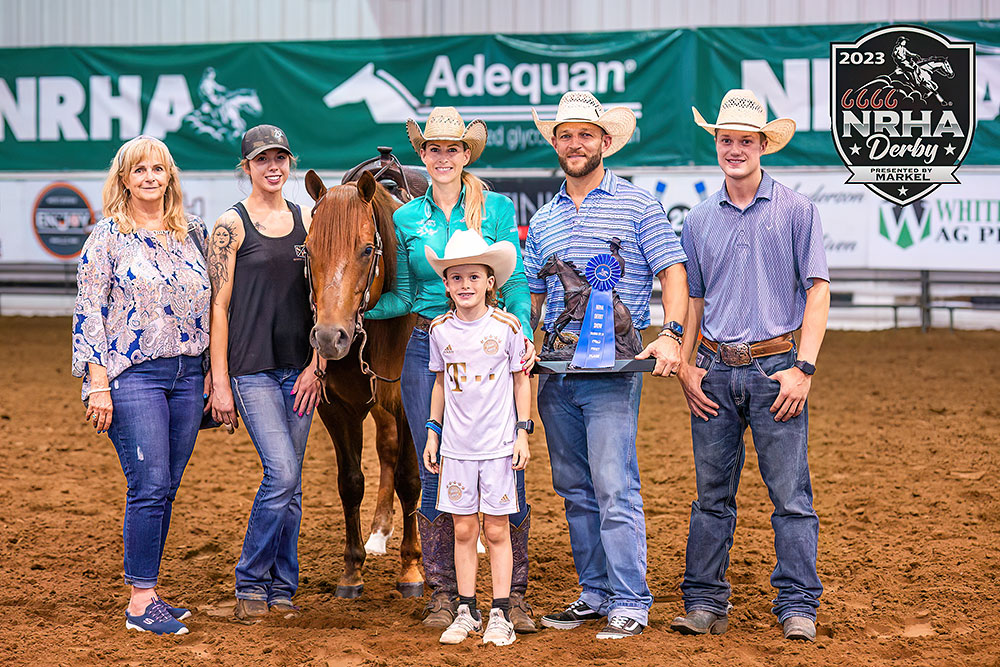 Josiane Gauthier and Xtra Step Doctor won the Novice Horse Open Level 3 (1) with a score of 148.
Xtra Step Doctor is a 2018 stallion by NRHA Three Million Dollar Sire Shiners Voodoo Dr and out of Xtra Ruby Step, bred by Ixtul Quarter Horses. Gauthier had purchased the horse as a two-year-old at the NRHA Futurity and sold him as a three-year-old. Luckily, he ended up back as the horse of one of her clients, Nancy Alford, who allowed her to show him today.
"He's just got a big heart, big turns, and lots of try, and you just can't teach a horse to be like that," Gauthier said.
Gauthier won't show Xtra Step Doctor again during this year's Derby but is eagerly awaiting other opportunities to be in the pen with him again after previously competing on him at the National Reining Breeders Classic and The Run For The Million Shootout.
She thanked her family, her husband, those helping her care for her horses during the show, and Alford for letting her ride Xtra Step Doctor.
Ancillary action continues Thursday with the second slate of the NRHA Novice Horse Non Pro classes. A complete schedule, results, link to the live webcast, and more can be found at NRHADerby.com.