The excitement was high in the Jim Norrick arena Sunday morning as competitors from all over the country competed in the $2,500-Added Para-Reining Championship at the 6666 NRHA Derby presented by Markel. The Para-reining Championship was sponsored by Dechra Veterinary Products, which provided added money to all grades.
"Dechra is excited about the class because the riders are excited," said Chris Ludlow, Dechra Equine Sales Manager. "We wanted to continue to support it, help the class get some exposure, and hopefully get to watch it grow."
Tracy Hart-Graham, the owner of NRHA Corporate Partner Hart Trailer, was also on hand to support the contestants, as Hart Trailer is the Official Para-Reining Sponsor of the NRHA. "When we realized that NRHA had a program to support the riders in para reining, we knew it was something we wanted to be a part of," she said.
USA Para Reining, a branch of the United States Equestrian Federation, created the grade level system. This program gives riders with varying physical disabilities the opportunity to compete in reining. World Para-reining celebrated its inaugural year in 2015, and since then, the organization has worked to incorporate approved para-reining classes into existing shows and host independent events and classes.
"I am over the moon excited. We had some really great riders, and I was just so excited that we got so many who wanted to come and participate," Para-Reining Champion Jennifer Flanagan said of her win. "I hope that all it does is encourage more people out there to see it and think, 'I'm gonna do that next year.'"
Representatives were in attendance for both grade sponsors, as well as USA Para-Reining board member Jennifer Hoyt.
"Since incorporating the first green reiner classes, the rookie class, and now the para-reining class, the NRHA's inclusion of people of all levels of ability is something to be proud of," Hoyt shared.
With a score of 213, Jennifer Flanagan and Cromed Out Swagwagon took home the title of overall champion.
The para-reining had an unprecedented five total entries.
Para-Reining Overall Reserve Champion, Holly Lee Jacobson and Getting Out Of Town, with a score of 204.5.
Para-Reining Grade 3 Champion, Jennifer Flanagan and Cromed Out Swagwagon with a score of 213.
Para-Reining Grade 4 Champion, Jodee A. Peterson-Lochner and PSR Counterfeit Chrome with a score of 176
Para-Reining Grade 5 Champion, Holly Lee Jacobson and Getting Out Of Town with a score of 204.5.
Other competitors included Julie Olson with Mr Tamale and Beth Kelley with Pale Face Whiz.
Holly Lee Jacobson, Para-reining Overall Reserve Champion and Grade 5 Champion, rode Getting Out Of Town, owned by Shalen Taylor, a horse she had only ridden twice before.
"He proved to be an awesome partner for the ride today," Jacobson said. "I am so very happy that we are the reserve champion for the para-reining derby."
Grade 4 Champion, Jodee A. Peterson-Lochner, rode her newly acquired horse, a Chilean stallion that she plans to use for breeding. Although she had taken several years off of showing, she was excited to be back and with a new horse.
"I showed here in 2016, but I have had to take three years off when I couldn't ride," Peterson-Lochner said. "But it's amazing to be back, and here at the derby, it's great."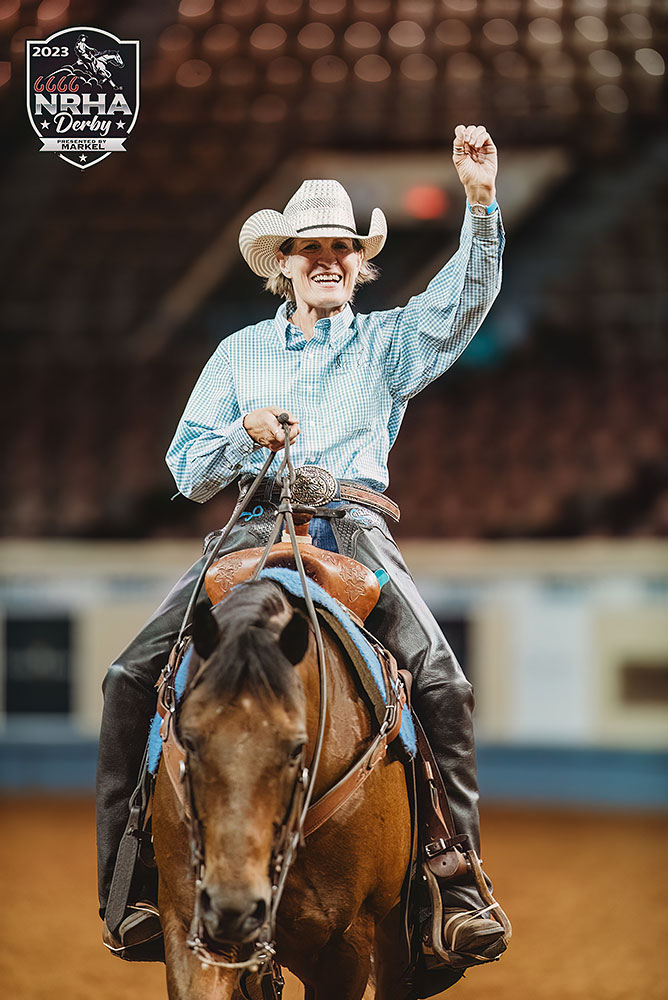 For complete results and other information from the 6666 NRHA Derby presented by Markel, please visit nrhaderby.com.