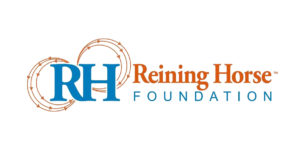 For Immediate Release – May 22, 2020 – Oklahoma City, Oklahoma – An exhibitor-based fundraising campaign to benefit the Reining Horse Foundation is underway for 2020 after generating $25,000 in support for the nonprofit in 2019. Based upon small donations that add up to make a big difference, the campaign encourages show entrants to make a $10 donation when they enter select shows.
The first 2020 reining offering this convenient donation opportunity is the Arizona Reining Horse Association Mother's Day Slide, May 24-31, in Scottsdale, Arizona. AzRHA piloted the show-entry campaign in 2017. Tentatively, these additional shows also are expected to participate this year: NRHA Derby, North Carolina Classic, National Reining Breeders Classic, Tulsa Reining Classic, Southwest Futurity, Low Roller Reining Classic, and NRHA Futurity. It's anticipated additional show managers and NRHA affiliates also may participate.
RHF is a 501(c)3 nonprofit that serves as the charitable arm of NRHA. In addition to the financial support offered through the campaign, it has helped increase awareness.
"There is power in $10, and every donor helps," said Leslie Baker, RHF Executive Director, "We are so appreciative to have these shows offer this campaign. It provides visibility and funds that are significant in fulfilling our mission of caring for and honoring our reining community."
Exhibitors will find the option to donate or opt-out on their show-entry form, making it a convenient way to support RHF. The most visible of the nonprofit's core programs is the Dale Wilkinson Memorial Crisis Fund providing grants to reiners enduring hardships such as medical crises, accidents, and disasters. Other RHF programs include youth scholarships and leadership development through the National Reining Horse Youth Association and perpetuation of the NRHA Hall of Fame.
Affiliates and show managers willing to offer the entry-donation campaign are encouraged to notify RHF by contacting Leslie Baker at rhf@nrha.com, (405) 946-7400, ext. 106. Online giving—including monthly donations—also can be made conveniently at reiningfoundation.com/donate.