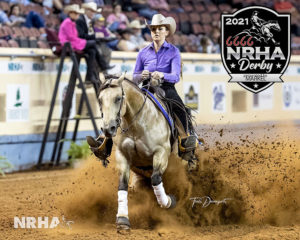 The inaugural Story Book Stables Amateur Championship at the 6666 NRHA Derby presented by Markel was decided during the preliminary round of competition. Lauren Love was one of 138 amateurs that took advantage of that opportunity, and she came out on top, piloting Rebelvintage to a 218 for the win.
"It's pretty exciting," Love said. "It was a big class, so I just wanted to go in there, have a good run and try to make the Level 4 finals. Winning the Amateur was kind of the cherry on top."
Love and "Rebel" collected $7,487. In addition to accomplishing their goal of qualifying for the Level 4 Non Pro finals, the pair also qualified for Level 3, and earned $6,632 in the finals. They also took Reserve in the GlycoGuard Novice Horse Non Pro for another $3,112, and placed fourth in the Colston Paving Stakes for an additional $2,829.
Love purchased Rebel, who is by NRHA Two Million Dollar Sire A Sparkling Vintage and out of Wimpys Got Action, last year and picked up almost $4,000 throughout the course of 2020. She hasn't shown the mare, who was bred and nominated by Linda Lacaille, much in 2021, but since Rebel was eligible for so many divisions at the Derby, she figured it would be worth going.
"She's a show horse. Every time I go in the show pen with her, I know I can count on her," Love said, thanking trainer Arnaud Ferret for doing a great job preparing Rebel. "She's just a fun horse to show. She's great at circling, and she's a great stopper. She's one that you can just sit there and really show off, so that's always fun."
Love was grateful to Story Book Stables' owner Brenda Joyce for sponsoring the Amateur, saying it was a great idea.
"I think Brenda is going to do great things for the industry by offering this," she said. "This kind of separates the playing field a little bit to where there's more money added for everybody else that isn't always maybe in the top five or the top 10 at the major events. It gives more opportunities, which I think is great for the sport and adds a little more diversity."
Two riders tied for Reserve in the Amateur Derby. Tabitha Sterberg Allen, who was on board Holly Trashya (NRHA Four Million Dollar Sire Gunnatrashya x Hickorys Holly Cee), along with Allana Vernon on Gunnersrufride (NRHA Four Million Dollar Sire Gunners Special Nite x Lil Ruf Showgirl), each marked a 217.5 and collected a check for $3,988.
Holly Trashya was nominated by her breeder, Arcese Quarter Horses USA, and is owned by Francesca Sternberg. Gunnersrufride belongs to White River Ag Products Inc. and was bred and nominated by Richard Vernon.