During the first section of the Green Reiner competition at the 6666 NRHA Derby presented by Markel competition heated up in the Adequan® Arena in Oklahoma City, Oklahoma. The second slate of the Novice Horse Open classes went well into the night, and awards were presented the next day.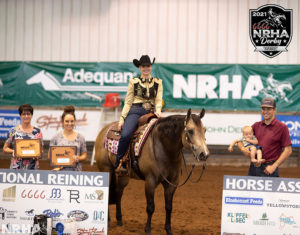 Natalie Vargo and Surpized — Green Reiner Levels 1&2

Natalie Vargo and Surpized (Hang Ten Surprize x Snow White Dun It) swept the Green Reiner Levels 1&2 with a 144.5. The talented reiner was first shown as an open horse and there was no denying his talents in Friday's Green Reiner class, even though it was the first show for Vargo and Surprized together as a team.
 
"I haven't been showing in the reining that much and it was the first time I ever showed him so I was kind of taken aback," Vargo said with a laugh. "I didn't know how it was going to go, because I've never shown him before and I knew I was going to go for it."
 
Vargo's family has owned the now-5-year-old since he was 2 and throughout his open career. When Vargo needed a horse to take to the reining shows this year Surprized got the call and it proved fruitful at their first show together.
 
"I've only ridden him a handful of times," she said. "He's been pretty easy to get with, he was an open horse, so he's a little high strung and he's very talented so it took me a second to get in a groove, but after that, it's been pretty easy."
 
Natalie Ellis and Xtra Sparkles N Town marked a 141 to take second place in the Green Reiner Level 1. Raegan Shepherd and Shining Spook Dancer marked a 143 to finish second in the Green Reiner Level 2.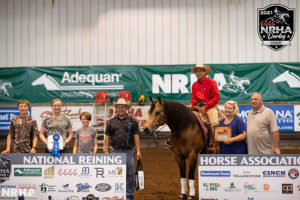 Tate Wynn and Im A Dun It Twist — Para Reining

Tate Wynn and Im A Dun It Twist (Hollywood Dun It x Miss Boo Twist) earned the Para Reining win with a score of 134. The duo have been partners for about a year, but Wynn said the 16-year-old home-raised reiner got his chance to shine in the show pen this year. While it wasn't a quick road to success, Wynn saw promise in his equine partner.
 
 "We never thought he had the potential to show, but after some consideration we thought that he might, so we gave him a chance," Wynn said.
 
A month ago, Im A Dun It Twist got his opportunity to prove himself in the arena and demonstrated his abilities well, which gave them confidence coming into the NRHA Derby.
 
"That was mainly the test for him to see if he was ready and this one he was ready," he said. "The run felt pretty good, he's a little hyper, but that's normal for him."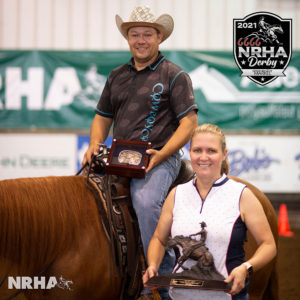 Bobby Avila Jr. and Dreaming Of Guns – Novice Horse Open
Bobby Avila Jr. and Dreaming Of Guns (Magnum Chic Dream x HH Steady Gun) swept the Novice Horse Open Levels 1, 2 & 3 with a 146.5 for owners Richard Louis Nelson.
 
"She prepared really well, she went out there and was real focused," Avila said. "This is our fifth run in row that we've marked 73.5 on her in a row, so she's been getting really solid and consistent."
 
Avila said the mare has progressively improved after each show they've been to together and is showing persistent talent in the show pen. 
 
"We've been to two shows in a row back-to-back, and then I took her and turned her out for a couple of weeks," he said. "Not really turned her out in the pasture, but where during the day she could have a grass lot turn out, swish the flies and freshen up and it was really good for her. She came here to this show and the owner asked me how she felt and I said 'She just feels better. She just feels more athletic.'" 
 
Todd Crawford and Whizkeybenthellbound (Whizkey N Diamonds x Desire A Chic) also shared the win in the Novice Horse Open Level 3 with a 146.5 for owners MC Performance Horses.