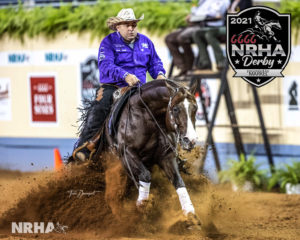 The Open preliminary round of the 2021 6666 National Reining Horse Association Derby presented by Markel is in the books. The Derby has seen record payouts for Levels 4 through Level 1, Open Prime Time and the Level 4 Open Novice Horse. The Level 4 also saw record entries with 253, surpassing the previous record of 238 set in 2018. Levels 3 through 1 also saw high entries coming close to record numbers. Total entries across all levels and classes reached 2,059 and total payout of $1,238,449.

The large field of competitors were narrowed down to the top 30 in the Open Levels 4, 3, 2, and 1. Those entries advanced to the clean-slate finals, which will be held Saturday, June 26. The Open preliminaries also decided the champions of the Open Prime Time, the GlycoGuard Novice Horse Open Derby, and the inaugural Tamarack Ranch Open Stakes.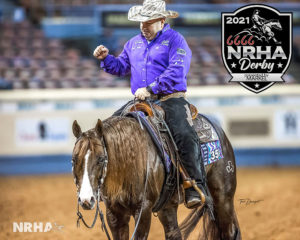 Unofficially the bubble for advancing to the finals were:
Level 4 – 218.5
Level 3 – 215.5
Level 2 – 212
Level 1 – 206

Winning each division of the Open preliminaries were:
Level 4 – Dany Tremblay & Tinker With Dreams (Tinker With Guns x This Chicsdundreamin) – 224
Level 3 – Justin Mathison & Shes Reddy On Line (Shine On Line x Guns R Reddy) – 222.5
Level 2 & 1– Franky Vazquz & Whizin Off With Guns (Tinker With Guns x Whizin Off Sparks) – 217
Open Prime Time – Casey Hinton & Mega Mag (Magnum Chic Dream x Big Gold Chex) – 220.5
GlycoGuard Novice Horse Open Derby – Craig Schmersal & Xtra Vintagemahogany (A Sparkling Vintage x Custom Mahogany) – 219
Tamarack Ranch Reiners Open Stakes – Kole Price & Trendsettter (Spooks Gotta Whiz x Timed To Shine) – 222
The draw for the Open finals was held during the Platinum Performance Virtual Open Draw Party. Jenny Redig of Platinum Performance, Frank Costantini of Markel Insurance, and NRHA President Rick Clark were on hand to help with the draw.

Complete results, draws, news and more can be found at NRHADerby.com.