The Four Sixes National Reining Horse Association Derby presented by Markel boasted record payouts in every level as well as all-time high entries. Non Pro Champions made their bid for championship honors Friday, June 25 in the Jim Norick Arena at the Oklahoma State Fair Park in Oklahoma City, Oklahoma.

Upping the excitement were the guaranteed Championship payouts, thanks to the new sponsorship from Four Sixes Ranch.
Lane Colston and Lil Ruf Whizkey Win Level 4 & Youth Non Pro Derby

Lane Colston and Lil Ruf Whizkey took home the Non Pro Derby Level 4 and Youth championships with a 221. Thanks to the Four Sixes Ranch guaranteed payouts for this year's Derby, Colston took home a first-place check for $30,000 and pocketed an additional $2,000 for the youth title.

Already in their young career together, Colston and Cowboy are making big strides in the reining world. With Colston, Lil Ruf Whizkey was the co-reserve Level 4 Non Pro Champion at the 2020 NRHA Futurity, where they also won the Youth Futurity.

"My horse is not the average 4-year-old. He is so strong, and he looked like a 4-year-old this time last year. He is a great horse and has a huge heart," Colston said. "He's friendly, nice to be around and so laid back. He's a little brown gelding, but big things come in small packages."

Now, the 2021 NRHA Non Pro Derby is his biggest win thus far.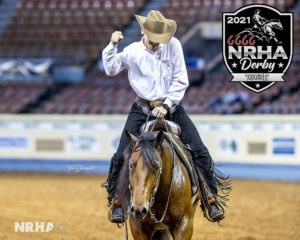 "I don't think I have taken it all in yet," he said. "People work their whole lives for this. It's a dream come true."

Colston came into the finals prepped and ready with the help of a few veterans in the game. The ascending horseman was quick to note that without help from a team of supporters and a talented horse his success wouldn't be possible.

"Before I showed in the go-rounds I had Craig Schmersal give me a few tips on him and he gave me a few tips that helped me," Colston said. "Both Craig and Brandon (Brant) pointed me in the right direction. He was good in the go-round—a 219.5— so we just did the same thing the night before the finals and he was great."

Lil Ruf Whizkey is by NRHA Million Dollar Sire Whizkey N Diamonds out of Lil Ruf Startime, and the 4-year-old has lifetime earnings of $41,124. Cade McCutcheon helped Colston find Lil Ruf Whizkey and Colston purchased him from Jake Ballard—who was training him for breeder Terry Leffew—in July of 2020. Colston has big plans for the young gelding but is quick to note that this win will be pretty hard to beat.

"It's pretty hard to beat that. I just want to keep him happy and keep showing him," he said. "He's so talented. I may show in Las Vegas at the High Roller. I want to show him the next couple of years. Maybe we will try something a little harder down the road."

Colston thanked his parents, Kevin and Amy Colston, his horse Lil Ruf Whizkey, Brandon Brant, the McCutcheon family and Abigail Janes as well as the Four Sixes Ranch and all the sponsors of the NRHA Derby.


Jack Medows and Dream On Whiz Win NRHA Non Pro Derby Level 3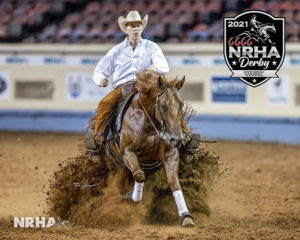 Jack Medows and Dream On Whiz took home the 6666 NRHA Derby presented by Markel Level 3 Non Pro championship after marking a 217.5. The duo also tied for fifth in the Level 4 for their efforts inside the Jim Norick Arena on Friday night. Thanks to the guaranteed payouts for the 2021 event, Medows will leave Oklahoma City $27,555 richer.
 
"It's amazing. I'm just so happy for this horse. He's a 4-year-old that we just bought not too long ago. Every day he comes out and tries. We bought him right around NRBC from Samantha Griffin. Martin Larcombe had him, and he did a great job with him," Medows explained.
 
Medows, a lifetime earner of $319,827, is continuously impressed with the gelding, who's by NRHA Seven Million Dollar Sire Magnum Chic Dream and out of Ms Sassy Whiz. Prior to the Derby, Dream On Whiz had lifetime earnings of $10,696 and was nominated by Hill Country Reiners.
 
"This horse is just phenomenal-minded, and it just comes out," Medows said. "I think the biggest part of him is his heart. I knew I drew up last in the drag, it got me a little upset because I knew how big of a stopper he is, but he just plowed right through it. That just shows more about him than anything."
 
Along with being an accomplished Non Pro competitor, Medows recently graduated from Missouri SMT with a bachelor's degree in civil engineering. While his college career took him away from the show pen for a brief time, Medows is excited to get back in the game. He was quick to note that while showing "Patrick" was an enjoyable jump back into competition, he won't continue showing the colt, but rather pass the reins to his sister.
 
"We bought him for my sister. With that short time frame, we decided I would show him and she would show him in a couple weeks at the youth world," he said. "That's his next big show. She just didn't feel that comfortable to just hop on. That left him to me, but I'm so excited and happy for her to have this horse."
 
Medows main goal for the Non Pro Derby was to get a good feel for the horse and show him to the best of his ability.
 
"He's just a show horse," he said. "He's going to have a good, long future and that will be good for my sister. He is her horse and I just got lucky enough to steal him."
 
Medows thanked his family, Fernando Salgado, and God.
 
 
Payton Neiberger and Xtra Dun Step Win NRHA Non Pro Derby Levels 1 & 2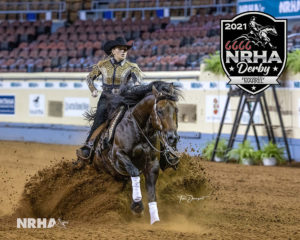 Payton Neiberger and Xtra Dun Step earned her first NRHA Non Pro Derby championship with the Level 1 and Level 2 titles after marking a 217 in Friday's finals. Coming from an all-around background 2020 was Neiberger's first year to venture into reining. One year later, Neiberger and her talented equine partner are well on their way to making a name for themselves in the industry. With the wins in Friday's finals, Neiberger's lifetime earnings increased by $30,179.

"It took a little bit of time. I showed him for the first time a year ago here at the Derby and it took a minute to get together, but we've been good for the past six months or so," Neiberger said. "It was a combination of things, because I came from the all-around so he was really my first reiner. So, it was just getting to know the reining and I think he was teaching me more than I was teaching him."

Neiberger thanked her parents and the entire Deary team for the help, support and coaching to get to this win. With her fledgling career in reining beginning to take flight, the Non Pro Derby championship is a special memory for Neiberger.

"My prelims were pretty good for the most part he was right there with me," she said. "Here today at the finals he was great, there was nothing that I could complain about. It's been a lot of fun to be here and I'm really happy it paid off."


Marc Wagman and Best Stops Belle Earn 6666 NRHA Non Pro Derby Masters Championship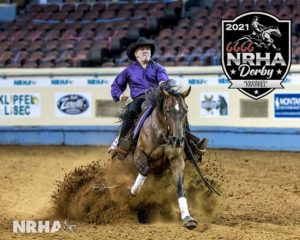 Marc Wagman took home the NRHA Non Pro Derby Masters championship after marking a 216.5 aboard Best Stops Belle, who's by Spooks Gotta Whiz and out of Best Stop—a mare Wagman bred and raised.

"I feel happy that I won something. My mare was being stellar, and I didn't do her justice, but she still took care of me enough to win the old man's division," Wagman said with a laugh.

Wagman and "Belle" marked a 221.5 in the preliminaries of the Non Pro to finish third in the Masters, seventh in the Prime Time, 20th in the Level 2, and 24th in the Level 3, and just missed the cutoff for the Level 4 finals.

In Friday's Non Pro Finals Wagman and Belle also finished second in the Prime Time, eighth in the Level 2 and 10th in the Level 3, collecting $9,198. Wagman says even while "pilot errors" kept them from qualifying for the Level 4 finals he's still proud of the efforts of his mare.

"I had a lead change and a spin penalty, or I would have hopefully made it back to the Level 4 finals, which was my goal coming here. Having said that she was really good everywhere other than the pilot error on my part," Wagman said. "Then in the finals a similar situation, we got stopped decent in the middle, but not nearly what she's capable of. My first turn again I had a penalty, which bumped me down and she was good everywhere else. I take responsibility for the penalties."

Still, the 4-year-old mare, trained by Duane Latimer, has an impressive career to look forward to with Wagman and holds a special place in Wagman's life.

"She is out of a mare that I bred and raised that's produced three horses by three different studs that have won over $100,000. I think now her progeny earnings are at almost $500,000," Wagman said. "Duane Latimer trained this mare. He made the Futurity finals on her and told me I could have fun on her this year. I am so appreciative of everything Duane has done for me, not only for my horse, but for me and helping me. He's been a great friend through thick and thin. This mare stays at XCS Ranch and Gina Schumacher and Ian have been tremendous about welcoming us and letting us stay there."

Wagman thanked Latimer, XCS Ranches, the NRHA staff, show staff and all involved with putting on the 6666 NRHA Derby presented by Markel.

"The show has been tremendous," he said. "The unbelievable increase in entries is phenomenal. What a great surprise. It's a lot of work for a lot of people. I appreciate the staff here they do so much work behind the scenes. I appreciate the sponsors and I appreciate the executive committee and board. Rick Clark has done a tremendous job and I appreciate all the hard work that goes into this event."


Shaunda Blinzler and Smoke In Whizkey Win NRHA Non Pro Derby Prime Time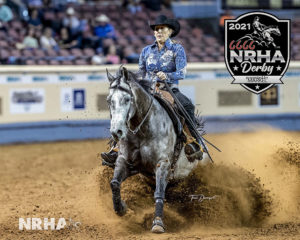 Shaunda Rai Blinzler and Smoke In Whizkey took home the NRHA Non Pro Derby Prime Time championship. Their score of 217 also finished twelfth in the Level 4 and was also good for placing in Levels 2 and 3. All totaled, Blinzler will head home with more than $14,423.

While Blinzler admits she had a small bobble in the finals, overall she was proud of her horse for stepping up and showing to his potential throughout the week. In the preliminaries, the duo marked a 218.5 and finished fifth in the Level 4, and first in Levels 3, 2 and Prime Time.

"I wish I could have my preliminary run again. That was a fun run," she said. "He was really good. I'm excited to keep going because I think there is still more there."

That run gave the team confidence going into the finals. With the Prime Time title, finishing in the top 20 of the Level 4, eighth in the Level 3 and seventh in the Level 2, was a big accomplishment. As Blinzer has $239,042 in lifetime earnings, she knows how to spot a good one.

"The Level 4 finals were fun," she said. "To qualify for the Level 4 out of more than 300 horses is really something. He felt really good. He's one of those that makes you be good because he will do whatever you ask. If you even slightly change what your cure is he's on it, because he wants to be good for you."

Smoke In Whizkey is by NRHA Million Dollar Sire Whizkey N Diamonds and out of Suga Suga and has garnered more than $48,000 in lifetime earnings.

Blinzler thanked her team, her husband, and her trainer Cade McCutcheon