The 6666 NRHA Derby presented by Markel continued Saturday, June 26, with tough competition in the Adequan® Arena at Oklahoma State Fair Park in Oklahoma City, Oklahoma.


Eduardo Ramirez and Jeweled Out Sweep Rookie 1 & 2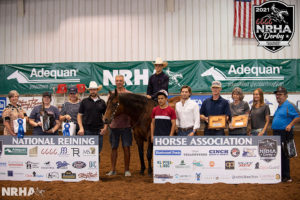 Boasting 87 entries, the Rookie 1 and 2 classes held Friday, June 25, inside the Adequan® Arena flowed into the evening. Awards were presented on Saturday where Eduardo Ramirez was crowned the Rookie 1 & 2 champion. Riding Jeweled Out (Cromed Out Mercedes x Whiz Jewels) Ramirez marked a 147 for the win.

Ramirez and Jeweled Out have been partners for two years and Ramirez says the 10-year-old has been a great mount for him.

"He's a pretty good horse," Ramirez said. "He's pretty easy, he gets a little frightened in the pen, but after the first circle, he's good. [In the Rookie], the right turn I had a little overturn, and then the left rollback wasn't the best either, but it was a pretty good run. I was really happy for it and for myself, too."

Ramirez has been reining for three years and he thanked Luke Gagnon for his support and coaching. Thus far in his rookie career, the 6666 NRHA Derby Rookie win marks his biggest win.  

"So far my biggest win is this one. It feels great," he said.

Finishing second in both Rookie 1 & 2 was Kim Niven riding Cashing Black Chex (Big Chex To Cash x Blazing In Black) with a 145.5. 


Terry Saxton and MJG Hollywood Jersey Win Rookie Prime Time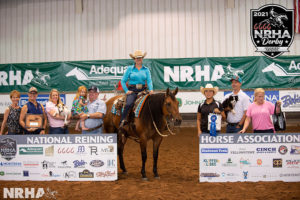 Terry Saxton and MJG Hollywood Jersey claimed the Rookie Prime Time with a 144.5. Saxton didn't find herself in reining industry through the traditional route, but in fact, spent most of her equine career in a different breed-specific discipline. A surprise Christmas present from her husband seven years ago quickly changed her outlook and future endeavors.

"I had been showing Arabians my whole life and [my husband] knew I was interested in reining and bought me one for a surprise through Ted (Chancey)," Saxton said.

Now, Saxton gets her thrills through big stops and smart maneuvers aboard MJG Hollywood Jersey, a 6-year-old mare by Yellow Jersey out of MJG Hollywood Dry. "Scarlet" has been with Saxton only a short time and they didn't start out their partnership winning, but quickly made up for it on Friday.

"I bought her in December and I've shown her three times prior to this. My very first class, I zeroed every class," Saxton said with a laugh. "Thank goodness I broke my streak last night. I'm just getting to know her, but I'm super happy with her."

The mare's willingness to work and easy-going behavior is one of the things that drew Saxton to her. She's continued to exhibit those characteristics, which Saxton says helps to calm her in the show pen.

"She does everything calmly and I just love her," she said. "I tend to get nervous before my classes, so she keeps me calm and she's nice and relaxed and that helps me a lot."

Saxton was pleased with her Prime Time win and looks forward to Sunday's classes, where she plans to stay with the game plan and stay focused and relaxed in her runs.

"[My run] was really smooth," Saxton said. "She went forward when I asked her, she did everything I asked, so I can't complain.

Saxton thanked her trainer Ted Chancey of Chancey Farms.

Finishing second in the Rookie Prime Time was Shelley Rosenberger and Thatzwhatshesaid (Gunners Special Nite x A Shining Sidekick) with a 143.


Youth 14-18 Crowns Champs at 6666 NRHA Derby presented by Markel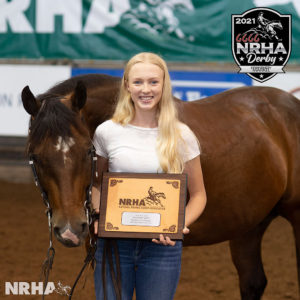 Carlee McCutcheon and Lydia Bell shared the win in the Youth 14-18 with scores of 144.5. McCutcheon rode The Wizster while Bell piloted Chics Want My Number to the win.

McCutcheon brought The Wizster out of retirement to compete on this year. The gelding is by Gallo Del Cielo and out of Miss Whizard Jac and was trained and shown as a 3-year-old by Dany Tremblay and then in his derby years shown by McCutcheon's dad, Tom McCutcheon.

"He's 11 now, and he was retired for a little bit, but he's coming out of retirement to let me show him," Carlee said. "I started showing him at the NRBC in Tulsa last year. He's taught me a lot. He's definitely a lot better at this sport than I am, so he makes it really fun."

While Carlee is an accomplished youth rider, she was quick to admit that having a veteran reiner as her partner has made a big difference in her showing and riding.

"He has definitely made me a little more of a smoother ride because he knows just to turn the corner and go, so you have to be really smooth, otherwise he will get ahead of you," she said. "Other than that he's so much fun to ride one that knows what they're doing."

Carlee and The Wizster also finished second in the Unrestricted Youth from their score of 144.5. The duo showed earlier in the week in the Non Pro and Carlee was hoping to polish up a few things in the pattern. That strategy proved successful.

"Today he was really good," she said. "I was just trying to smooth it out a little bit from the Non Pro and make him run past the markers to his stops. He turned and circled good. He was just super honest."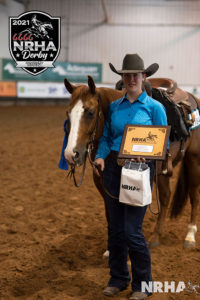 Lydia Bell and Chics Want My Number aka "Leroy" have been showing together for a few years and have made Bell's last year in the Youth classes a memorable one.

"He's a cool horse," she said. "He's super fun, I can't tell you how blessed I am to have him."

Bell recognizes Leroy as an important key to her success both today and over the years. Among making special winning memories Bell accredits Leroy for making important horsemanship and reining lessons, which have made her a better horseman overall.

"It was really good and really smooth, and just a fun run," she said. "I've learned to sit deep in the saddle, because the deeper I sit the bigger he stops, just because he knows I'm there. He stops big. He's easy to stop, so he always stops. He's super cool, but it's just learning to look pretty while also showing."

In the fall Bell will be headed to Oklahoma State University where she's signed with the OSU Equestrian Team.  

"I'd like to thank my parents and everybody all of the trainers that have helped me along the way, I'm so grateful for them," Bell said.

Taylor Bagby and Our Major Nite Top Unrestricted Youth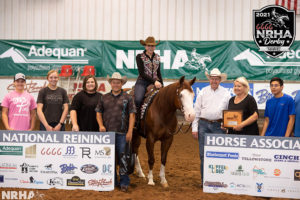 Taylor Bagby and Our Major Nite won the Unrestricted Youth at the 6666 NRHA Derby presented by Markel. Bagby and "Scarlet" are a brand-new team, with only two weeks together, and turned up the heat in Oklahoma City.

"This is my first show with her," Bagby said. "She's come a long way. I'd like to thank my trainer, Bobby Avila. I couldn't do it without him, but she's come a long way in two weeks."

With the recency of their partnership Bagby was just working on staying correct throughout the pattern—a key component trainer Bobby Avila Jr. has been teaching Bagby over the years. In Saturday's Youth class the duo turned in that smooth, precise run they've been working toward.

"She was good, my circles were very correct and smooth, what I needed," she said. "The stops were good—I need to work on myself a little bit, the turns were good, but she tried her hardest. She's so fun to stop."

Bagby found Scarlet after her main mount was injured. Now, the duo has a bright future.

"My horse got hurt and so I was just really on the lookout, and she popped up and we looked at her, she looked great and we thought I could do big things with her."

Bagby thanked her family, her grandparents and her trainer Bobby Avila Jr. 


Kynley Bell and Snap N Go Win Short Stirrup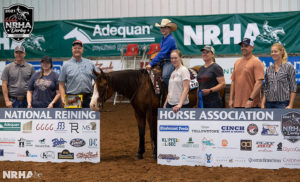 Kynley Bell and Snap N Go (Master Snapper x Miss Jerry Cat) topped the Short Stirrup with a score of 144.5. Bell has been showing "Toad" for two years and the two have been having fun while putting their best first forward.

"I was really happy with what she did in some parts, but we still need some work on the circles," she said. "I like that she listens and is very calm and waits for me and doesn't just take off in the run-downs."

Bell and Toad share a special bond together, which is seen through their connection in the show pen, but also in the clever nickname Snap N Go has earned over the years.

"She is a sweet mare. Her nickname is Toad because she gains weight easy and it's really hard to get off. So, all the time she looks like she's pregnant," she said with a laugh.

Bell and Toad will try their efforts at another win on Sunday in the Youth and Short Stirrup classes.  

For the latest news, schedules, and more, visit NRHADerby.com.