The Four Sixes National Reining Horse Association Derby presented by Markel boasted record payouts in every level as well as all-time high entries. Open Champions made their bid for championship honors Saturday, June 26 in the Jim Norick Arena at the Oklahoma State Fair Park in Oklahoma City, Oklahoma.

The new title sponsorship from Four Sixes Ranch brought an incredible new payout framework for both the Open and Non Pro Derby. It raised the Open L4 Derby championship to $75,000 – up $15,000 from the previous year – while in many levels the money awarded to the champion more than doubled!

The record-breaking event also welcomed several new classes across the Open and Non Pro divisions, including the $40,000 Tamarack Ranch Open Stakes and the $15,000 Added GlycoGuard Novice Horse Open Derby, which were both decided during the preliminary round.


Trevor Dare and Jerseys Baby Driver Sweep NRHA Open Derby Level 4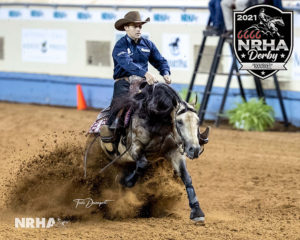 Trevor Dare and Jerseys Baby Driver flew into the Jim Norick Arena in Oklahoma City, Oklahoma, for the 6666 NRHA Open Derby Level 4 finals with a mission on their mind. From the first maneuver, the crowd was on their feet. From that first sliding stop to the last, the crowd stayed behind Dare and his talented equine partner. The crowd knew what they were witnessing—and the judges agreed. When it was all said and done Dare topped the field with a 226.5.

"This is the best feeling," Dare said after his win. "I knew I needed to be perfect, stay out of his way, and just put him in the right spot and he would take care of the rest."

Jerseys Baby Driver was picture perfect the entire run, but his stops were standout moments—an attribute Dare agrees is a strong suit. "He's a really big stopper, so when we ran through the gate, I was really focused on making sure that we could nail that first stop," he said. "He's almost like a powerlifter when he runs and stops. It's like he tries to make the earth shake. It's a crazy feeling."

While Dare knew he could count on the 5-year-old stallion, by Yellow Jersey out of Wind Her Up Chic, to show up in the stops, he was careful to not lose focus during the rest of the run.

"At the NRBC we had gotten in a bit of a hurry starting our first turns, so that was a spot I knew I needed to focus, and again he was right there," he said. "I did my job, and he did his. It was a team effort out there. From start to finish the harder I pushed the more he gave me."

Jerseys Baby Driver has been with Dare since he was a yearling after owner Janice Laney purchased him out of the Legacy Sale. The colt was started by Damian Rico as a 2-year-old and then Dare took the reins. The pair have been climbing to the top of the field ever since and sharing a special bond along the way.

"The difference between a good horse and a great horse is the size of their heart, and he has a big one," Dare said. "I always believed in him and always knew it would get there; that we just had to put it together. You ask any of the professionals out here it is hard to do, so it feels great to put it together at the same time."

Before the 6666 NRHA Derby presented by Markel, Dare's lifetime earnings were $644,000, and the $75,000 Championship check has pushed him past the $700,000 mark.

"I think the payout is great and it's another way to promote our business and horses," he said. "It gives us more money to run at and really supports the growth of our industry. Thank you to the 6666 Ranch."

The Derby championship is a significant boost for anyone's career, and while Dare is grateful and truly excited for the win, he's humble enough to recognize that each show is a new day.

"Obviously it's a good thing, but tomorrow it will be over with, and we will start getting ready for the next one," he said.  

Dare thanked his wife, team and clients for their support and encouragement not only in Oklahoma City but throughout his entire career.

"My wife manages and organizes my whole life. My customers will agree if you take me out of the saddle, I'm pretty much worthless," Dare said with a laugh. "Thank you to Janice Laney for continuing to believe in me when we have been so close. Thank you to my whole team that works for me. I couldn't have made it through this week or this year without them. They keep everything rolling." 


Josh Tishman and Gunnarickashay Win Level 3 Open Championship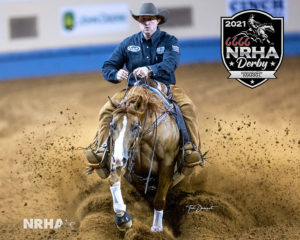 Josh Tishman and Gunnarickashay had a big feat in front of them. A 221 was leading the Level 3 and 223 was sitting at the top in the Level 4. It was Tishman's first Level 4 finals, making the situation even more nerve-wracking. With a propitious career at his feet, Tishman focused on one maneuver at a time.

"I don't know if I really had a strategy," he said. "It was my first Level 4 finals and I just tried to stay cool and treat it like any other ride going through the gates."

Tishman and Gunnarickashay came in, gave a stellar performance, and when it was all said and done Tishman—who trains out of Casey Deary's barn as an assistant trainer— tied with his mentor with a 223. When the last horse had cleared the arena, Tishman had won the Level 3 title and was part of a four-way tie for the Level 4 Reserve Championship. Thanks to the Four Sixes Ranch guaranteed payouts, Tishman won $35,000 for the Level 3 title and earned an additional $31,892 for his piece of the Co-Reserve tie.

"The horse made it easy, and it just kept getting better and better as the ride went on," he said.

Owned by Puno Performance Horses LLC, Gunnarickashay is by NRHA Four Million Dollar Sire Gunnatrashya and out of Rondas Tio. Tishman took the reins over from Deary a few months ago, and the two have been steadily improving ever since.

"Casey has shown him a bunch, and then he (Gunnarickashay) had an injury where we had to give him a year off," Tishman said. "Then Casey showed him at the beginning of the year at the Cactus and the Run For A Million qualifier. Then the Punos were generous enough to let me try him, because Casey had some other horses to ride. I showed him at the NRBC and had a few bobbles. Then I showed here, and he has felt amazing all week. He has gotten better and better as the week has gone on and he was as honest as he could be tonight.

"I've worked for Casey for six years now. 2012 was the first time I sat on a reining horse," he said. "I fell in love with reining in college."

Tishman now lives in Weatherford, Texas, training out of the Deary's facility. He was quick to give thanks to the Punos for the opportunity to ride Gunnarickashay and other great horses. "The Punos are great customers. They've had a lot of horses with us, and have been great clients and generous enough to let us assistants ride their good horses.


Fredrik Thomsson and Nitely Share NRHA Open Derby Level 2 Championship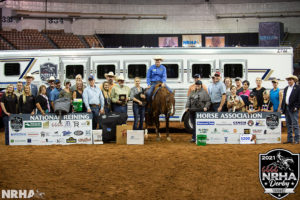 Fredrik Thomsson and Nitely tied for the win of the 6666 NRHA Derby presented by Markel Level 2 Open Championship with a score of 218 for owners Patrik and Jenny Jonsson of PJs Invest LLC. The win netted a check for $10,461.

Swedish-born professional Thomsson came to the United States to gain experience and up his horsemanship. He gained a lot more. Now, with a Level 2 Open Derby championship under his belt, Thomsson is mindful of his beginnings and how far he's transcended his expectations.

"You always want to win, and always want to win at the major events," Thomsson said. "I came over here from Sweden in 1993 and I didn't expect this path at all for me. I just kind of fell into it. I was going to come here for three months and planned to spend three months with Bob Loomis, and after the first month, Bob told me he needed a kid like me to work for him. That changed my life right there.

"Being a horse trainer in America, I have already surpassed the goals I had, and everything else is like icing on the cake," he continued. "But, definitely you always want to win at the major events, so it's another thing to check off the list for sure."

Nitely, a 5-year-old stallion by Gunners Special Nite out of Dream Olena Chic, has been with Thomsson since he was 2. He's a horse that has always shined bright in Thomsson's barn. The duo started the 6666 NRHA Derby presented by Markel slightly off par but quickly overturned those missteps to redeem themselves when the stakes were high.

"He felt really good all week," he said. "I had some bobbles in the first go, a big overturn and I botched the last stop a little bit, so today I just wanted to stay really clean with him. He ran in and stopped good, turned really good both ways, and stopped all three at the end really good. He did everything I asked of him today."


Debbie Brown and Pale Black Moon Share NRHA Open Derby Level 2 Championship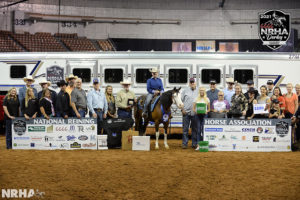 Debbie Brown and Pale Black Moon shared the 6666 NRHA Open Derby Level 2 title from a score of 218 for owner Jennifer Greenleaf, winning $10,461. The 4-year-old mare has been with Brown since the 2020 NRHA Futurity, and they've been preparing for the major shows since January.

While Brown was swift to recognize the mare's talents, she says that went hand-in-hand with figuring out her individual quirks as well.

"She's been very good. She's difficult because she doesn't like horses being close to her, so that is the only thing that makes her hard to prepare," Brown said. "She's super good-minded, but she has a really big bubble. It makes it hard to prepare her in the running and stopping. We try to do it when the arena is not crowded."

That game plan paid off for the duo on Saturday. The mare's efforts inside the Jim Norick Coliseum impressed Brown and she said she couldn't have asked for more.

"I thought she was very, very good," she said. "She ran strong and stopped really well, backed up really freely and straight. She turned really well to the right and probably the best she can to the left. She ran down really pure and stopped really pretty."

Brown's main goal was getting through the pattern without any penalties. Brown says the talent in today's industry is increasingly tough, and even one small bobble can be costly.

"I thought that it would be hard to get through there that hard without any bobbles," Brown said. "That was my goal was to be really smooth and slow with my hand. She always feels good, so my goal was to get through there without any mistakes."

Staying patient and treating the mare, who's by Pale Face Dunnit and out of Blazing In Black, as an individual paid off. Brown said this kind of a win has been a longtime goal of hers, and the magnitude of the win wasn't lost on her.

"I expect nothing," Brown said with a laugh. "I've been doing enough horse shows to know it takes a special run to get it accomplished. She was a lot of fun to show, so I feel good."


Franky Vazquez & Whizin Off With Guns Win Open Level 1 & 2 (tie)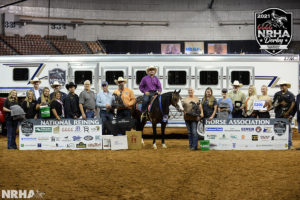 Franky Vazquez and Whizin Off With Guns claimed 6666 NRHA Derby presented by Markel Level 1 Open Championship and shared the Level 2 title with a score of 218 for owner Bethanie Penning. All totaled, the pair won $20,461.

"The last 10 years," he said of when he set his sights on a goal like winning at the Derby. "I've always been there working hard and I'm very happy to be here. I'm very happy that [Bethanie Penning] gave me the horse and gave me the opportunity to be here."

When Vazquez first started in the industry, he didn't know a lot about horses, let alone reining. It's been a long journey to the limelight, and Vazquez says it's been an enjoyable learning experience.

"I started working for Steve Archer and I worked for him for a couple of years, and he taught me a lot like how to handle a horse from the ground because I didn't even know how to hold a horse when I started," Vazquez said. "I worked for Tom McCutcheon. I thank Gunny and Ben and Tom absolutely because they gave me the opportunity to work for them. I've also been riding with some friends like Brian Bell, I have to say thank you to Brian Bell."

Whizin Off With Guns, who's by Tinker With Guns and out of Whizin Off Sparks, has been with Vazquez for a short time and they've overcome many obstacles together, including injury. At a show prior to NRBC Whizin Off With Guns kicked his stall and cut his leg substantially. After proper vet care and plenty of time off, the duo was back in the show pen.

"Bethanie got that horse a couple of months ago, and I got him right before the NRBC," he said. "He's been a great horse. We got through a little hard part where he kind of hurt himself. So, we left him at home for a little bit and we gave him three weeks off. He's a strong horse, really super nice and good-minded."

Vazquez said after overcoming the injury he's been continually impressed with Whizin Off With Guns' talent and mind. Because of his willingness to learn and superb talent, preparation for the Derby was like clockwork.

"Before I came over here, I did the best I could at home, so we were ready before we got here," he said. "I just keep him quiet and relaxed and made sure he was good for me mentally. He felt great, so I just left him alone. I felt like he was ready.

Lucio Pontes Casalecchi and Xtra Magic Doctor (Shiners Voodoo Dr x Aleena Starlight) finished as the Level 1 Reserve Champions and took fifth in the Level 2, worth $6,592. Xtra Magic Doctor is owned by Janice Laney.


Casey Hinton and Mega Mag—6666 NRHA Derby Open Prime Time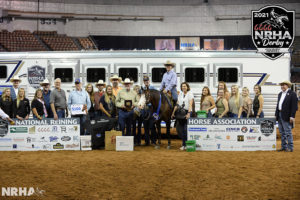 Casey Hinton and Mega Mag (Magnum Chic Dream x Big Gold Chex) turned in a 220.5 to win the Open Derby Prime Time, which was decided during the preliminary round.

The 7-year-old gelding has been a solid partner for Hinton over the years, with success as a 3-year-old futurity horse. His future seems bright, and Hinton is looking forward to making a plan for his future after he turns 8.

"I really don't ride him that much at a show anymore. He's older, he's trained, he's been honest," Hinton said. "This year I'd say he's probably gotten ridden less than he has the other years. He's pretty honest, he's pretty fun. He's been a favorite of ours."

In the Open Derby Prelims, Mega Mag impressed with smart moves and big stops for Hinton. Ultimately, along with winning the Prime Time also led Hinton, one of NRHA's newest Million Dollar Owners, to the Open Level 4 Derby Finals from their score of 219 in the Level 4. The duo marked a 217 in the finals for an additional $3,811 in earnings.

"I thought he really tapped off in the turns. He's a horse that squats a lot and really has a cool turn. So that was a good first impression. The right circle I thought was dead true, right on. Nailed the lead change. The left circle…I'd like to see him be a little more centered for that one," Hinton said.


Craig Schmersal and Xtra Vintagemahogany—GlycoGuard Novice Horse Open Derby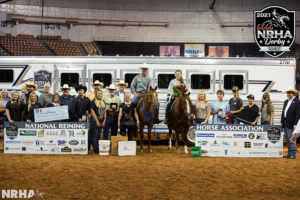 Craig Schmersal and Xtra Vintagemahogany (A Sparkling Vintage x Custom Mahogany) turned in a 219 to top the GlycoGuard Open Novice Horse Derby, collecting a check for $7,114. Schmersal and the talented mare also placed in the Tamarack Ranch Open Stakes, collecting an additional $1,978.

Schmersal purchased the now-4-year-old mare at the 2020 Derby, and Schmersal's daughter Addisyn has been taking the reins in 2021. With the addition of 4-year-old-only classes at some major events in 2021, Schmersal decided to show her this year as well.

"It allowed me to show five horses this year. It was nice because I wouldn't have normally showed that mare, but since she was eligible for the novice derby and the Stakes, I did. It was fun," Schmersal said. "It was a good deal. I think it's really nice to have that money to go at," he said. "Anytime you get a chance to put earnings on you or your horse I think it's a good deal.

"We intend on keeping that mare for a broodmare, so that's always nice to have the money on them," Schmersal continued. "I think she's a really special mare and I think she's going to get better and better because I've only been riding her since the first of the year. That's exactly the kind of horse we want in our breeding program because she can go to either division. She's a huge stopper and huge turner and only four years old, so she's still going to grow up and get a little stronger. I think it's just the tip of the iceberg for her."


Kole Price and Trendsettter—Tamarack Ranch Open Stakes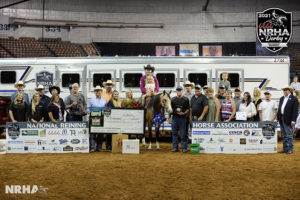 Seeing the need for a division focused on 4-year-old reining horses, NRHA Corporate Partner Tamarack Ranch chose to sponsor a new division – the $40,000 added Tamarack Ranch Open Stakes.

Decided in the preliminary round of the Open Derby, Kole Price and Trendsettter (Spooks Gotta Whiz x Timed To Shine) topped the division with a score of 222, earning $14,004. The pair also qualified for the Level 4 Open Finals, where the pair's score of 218.5 netted an additional $4,310.

Price has had Trendsettter since he was a 2-year-old, and from the beginning has recognized his talent inside the arena. The colt stepped up again in Oklahoma City to showcase his talents at the right time for Price.

"He's one of the most fun horses that I've ever trained," he said. "He's extremely smart, and his athletic ability is kind of freaky, which also makes him a little tricky to show. I don't ever feel like I've really got him shown to his full ability yet, I'm getting closer, but he's so much horse."

Price added, "He is as a big of a stopper as anybody here, so adding another stop in the next finals pattern I think is going to be key to that horse and kind of cleaning up a few things. I was really happy under the circumstances we kind of held it together and showed really good."

Price was especially happy to see the addition of the Tamarack Ranch Open Stakes, which provided the opportunity to show Trendsettter for even more money.

"I think it gives a whole new twist. Maybe that 4-year-old you would have left at home to give it a little time off, you can show it here and maybe not put as much pressure on it, but still win money," he said. "I think it's an incredible step to the future of reining horses."

Complete results, draws, news and more can be found at NRHADerby.com.