The final day of competition at the Four Sixes National Reining Horse Association Derby presented by Markel saw full classes in both the Jim Norick Coliseum and Adequan® Arena. In addition to the class titles, high point Montana Silversmiths buckles were also presented to the high point exhibitors who competed in both slates of classes.

Natalie Vargo and Surpized Sweep Green Reiner 1 & 2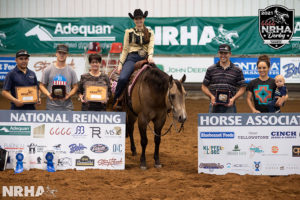 Natalie Vargo and Surpized (Hang Ten Surprize x Snow White Dun It) swept the Green Reiner Levels 1&2 with a 144. The 6666 NRHA Derby presented by Markel marks Vargo and Surprized's first show together, and they've been exceeding expectations. They kicked off the show with a win during Friday's Green Reiner topping the field in the 1&2. They continued that streak on Sunday to ultimately pick up the high point championship as well.

"He was really good again today," Vargo said. "I was a lot more comfortable, just because this was the second time showing him, so I was a little bit less nervous than the other day. It started off with the right circles, he was really good there, then stopped in the center and turned really good for me… he was just really today."

Vargo's family has owned the now 5-year-old since he was 2, and throughout his open career. Vargo and Surprized's partnership is proving worthwhile and beckons to a promising future for the pair.

"The win feels really good, just because I didn't really expect anything, because I didn't really know him that much and I still really don't, but it feels good," she said. "I think [our partnership] is getting pretty good. I'm excited to show him more in some of the bigger non pro stuff and see how it goes."

Chloe Elizabeth Cannon and Mr Hollywood Cee (Hollywoodstinseltown x Miss Hollywood Cee) finished second in the Green Reiner 2 with a score of 141.5. Linsey Lester and Dreamin About Sailin (Magnum Chic Dream x Pennys For Sail) finished second in the Green Reiner 2 with a 140. 
Gracie Weeks Tops Youth 13 & Under with One Last Starbuck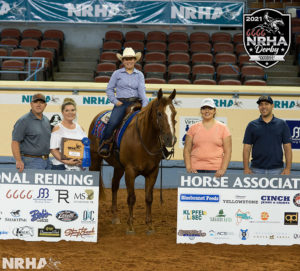 Gracie Weeks and One Last Starbuck (Smart Starbuck x Justa Spring Freckle) marked a 139 to top the field in the Youth 13 & Under.

"I've been riding him for a little over a year. He's a really good horse for me, he's just been the greatest," Weeks said of One Last Starbuck, who she calls "Latte."

Weeks admits Saturday's showing didn't go as planned, but the duo redeemed themselves in Sunday's performance to take the win.

"He improved a lot today," she said. "I will say I might have to work on some things, but he did a lot better."

Weeks has been riding reining horses since she was 7, and she's learned a few valuable lessons over the last couple of years. "The most important thing I've learned would probably be is always been a good horseman, or horsewoman, have good horsemanship and stay humble," she said. "Also, stay in control of your horse and don't go crazy or anything."
Becca Schaffhauser Wins Youth 13&Under High Point
Becca Schaffhauser and Dun Got My Rest (Hollywood Dun It x Got My Rest) won the Youth 13 & Under High Point title.

"We had a really good run yesterday and I was very happy with it. We had a couple of bobbles today, but I was happy with it, too," Schaffhauser said.

Schaffhauser has been riding the 13-year-old for two years and working to get together as a team. One of the maneuvers, which Schaffhauser enjoys focusing on is the turns.

"I've had him for two years and he's such a good boy," she said, adding that when she first started riding "Cruz," the hardest part to get used to was his fast turning style. "I'd been used to a slow turning horse. My favorite maneuver is probably the turns and [I'll be working mostly] on getting faster in my turns." 
Raeanna Thayn Wins Youth 14-18 on Coded N Karma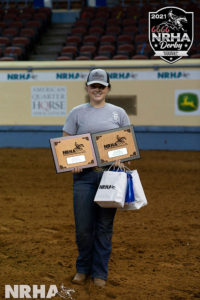 Raeanna Thayn and Coded N Karma (Electric Code x Whiz N Snap) marked a 145 to take the win in the Youth 14-18. Raeanna and Coded N Karma have had a lot of success over the years, and they've continued that in Oklahoma City.

"He was really good, he's had a couple of months off, and he really came out today. He's 10 years old this year, so we're just kind of taking it easy," she said.

The duo admittedly had a little trouble in Saturday's showing, but they put it all together on Sunday for a winning run.

"He was a lot more connected," Thayn said. "He kind of missed his stop the other day and I just schooled him. He was really good today and connected."
Lydia Bell Wins Youth 14-18 High Point on Chics Want My Number
Lydia Bell and Chics Want My Number (Wimpys Little Step x Dixie Chic Olena) put together two money-winning runs in Oklahoma City to ultimately win the Youth 14-18 High Point title.

"It's exciting. It's my last year (in the Youth) so it's a good feeling to go out with a bang," Bell said.

In slate one of the Youth Bell and Chics Want My Number turned in a 144.5 to share the win in Saturday's Youth 14-18. On Sunday the duo followed that with another winning run with a score of 144.5.

"He's just a really cool horse and I love riding him," she said. "He was relaxed and just really good today." 
Abigail Dooley Clinches Short Stirrup High Point with Top Haida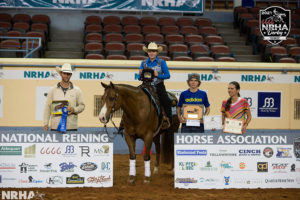 On Saturday, 10-year-old Abigail Dooley finished second in the Short Stirrup class. She and her mount, Top Haida, returned to the show pen on Sunday to make a 146, not only winning the class but also the high point buckle.
"The run on Saturday wasn't my favorite. I got our stops wrong, but got it adjusted here today," Dooley said. "It was very fun to be here and show. It's nice to have this win. This is my second buckle, but my first this year."
Dooley has been riding Top Haida, by NRHA Twelve Million Dollar Sire Topsail Whiz out of Haida Million, for a few years. "We call him Vegas. Lon and Sherry Kraft own him, and they have let me ride him two or three years now in the short stirrup," she said. "It's been very fun to ride him. He has always been good to me."
Eduardo Ramirez Sweeps Rookie Levels 1 & 2 for High Point Championships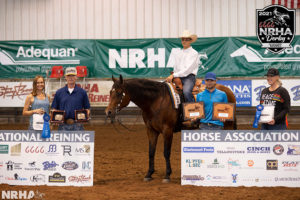 It was a great weekend for Eduardo Ramirez and Jeweled Out. The duo won the Rookie Levels 1 and 2 on Saturday, and then returned to the Adequan® on the final day of competition. There, they clinched the high point championship for both levels with a score of 144.
"It's awesome. I am glad to finally have a buckle," he said. "This is my first one, and I am very excited."
Ramirez gave credit to Jeweled Out, by Cromed Out Mercedes out of Whiz Jewels. "He was really good," Ramirez said. "My run today he was great. Our last stop was just ok, but he was really good."
The next stop for the duo? The Rookie at the Run for a Million in Las Vegas.

Molly Cherry and Guaranteed A Magnum Win Rookie Prime Time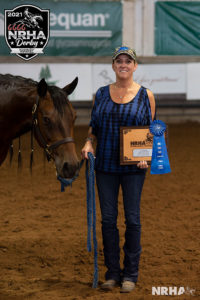 Molly Cherry and Guaranteed A Magnum won the second slate of the Rookie Prime Time with a score of 142.5 Guaranteed A Magnum is by Magnum With A Dream and out of Guaranteed By Amos.
"He's a lot of fun," Cherry said. "I just have to learn how to ride him. I just started riding him this year. He had a great Derby career (back-to-back Level 4 Open Derby Champion with Jimmy Van Der Hoeven). Now, I am trying to figure him out through the Rookie and Non Pro stuff, so that's been fun."
Second in the Rookie Prime Time was Deborah Good riding Chics Love Me Wimpy (Wimpys Little Step x Dream About Magic) with a score of 139.
Terry Saxton and MJG Hollywood Jersey Win Rookie Prime Time High Point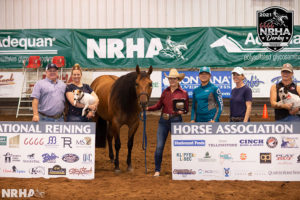 Terry Saxton and MJG Hollywood Jersey (Yellow Jersey x MJG Hollywood Dry) took home the Rookie Prime Time High Point title from their efforts in Oklahoma City. On Friday the duo took home the title and while a little tough luck on Sunday landed them seventh in the Prime Time, but it was good enough to earn them the Prime Time title.
"I'm very excited about this win," Saxton said. "Today wasn't as good as Friday, but that's OK. I had a nice score on Friday to make up for it. We're still learning each other. She's super calm in the ring and does exactly what I ask. That's exactly what I need because she's just steady. It's great to end on a high point, and I love the buckle!"