Over the past few weeks, graduates of the National Reining Horse Association Markel Futurity Sales have excelled in the show pen. At the 2021 6666 NRHA Derby presented by Markel and the 2020 NRHA European Derby, these top horses have scored high, won titles, and earned a lot of cash.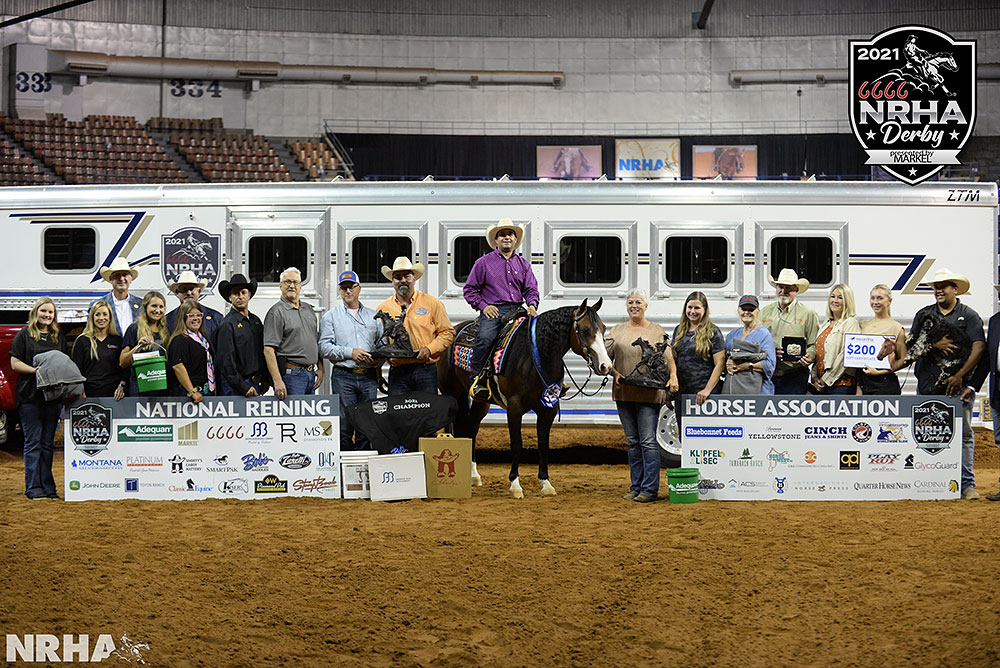 In Oklahoma City, there were 12 Open and six Non Pro sale alums qualified for the finals of the 6666 NRHA Derby presented by Markel, and several others who cashed in while competing in the Tamarack Ranch Open Stakes, the Colston Paving Non Pro Stakes, and the GlycoGuard Novice Horse Derbies.
The high-earning Open sale graduate of the Derby was Whizin Off With Guns, ridden by Franky Vazquez, who won more than $30,350 for owner Bethanie Penning. In the preliminary round Whizin Off With Guns, by Tinker With Guns out of Whizin Off Sparks, marked a solid 217 to qualify for the finals of Levels 3, 2, and 1. There, the talented gelding tied for the Championship of Level 2, took sole honors in Level 1, and finished sixth in Level 3.
Whizin Off With Guns walked through the NRHA Markel Futurity Sale ring in the 2017 Select Yearling Sale (now Elite Yearling Sale). Consigned by Sterling Ranch and purchased by Koby Kempel, the colt commanded a price of $30,000.
The Non Pro high money earner was Roseswhiz, who with Raeanna Thayn added $26,342 to her lifetime earnings. The duo qualified for the finals of Levels 4, 3, 2, and Youth, and also won money in the Colston Paving Non Pro Stakes. Roseswhiz, by NRHA Four Million Dollar Sire Spooks Gotta Whiz out of Rose Electric Step, was consigned to the 2018 Marketplace Sale (now Premier Sale) by the Houde & Tremblay Partnership, and purchased by Robbin Thayn.
All totaled, NRHA Markel Futurity Sale graduates won more than $121,000 at the Four Sixes NRHA Derby.
Across the Atlantic Ocean, sale graduates competed in Austria at the 2020 NRHA European Derby, which had been postponed due to the pandemic.
There were several NRHA Markel Futurity Sale Graduates who qualified for the finals – and finished in top spots – of the Colonels Shining Gun Open Derby.
With Alessandro Roasio at the reins, Il Be Automatic – a 2017 Futurity Prospect Sale graduate – tied for reserve honors in the Level 1, and was a Level 2 finalist. The 6-year-old gelding, by NRHA Seven Million Dollar Sire Magnum Chic Dream out of Hickadora, was bred by David Pratt, and then consigned by Bobby Avila, Jr., and purchased by Quarter Dream SRL. He is now owned by Norbert Juhasz.
Tying for third in the Level 3 and winning third in the Level 2 was Hey Joe, ridden by Nimroid Vannietuelt for Steve Vannietuelt and Gine De Pauw. Hey Joe was consigned to the 2014 Select Yearling Sale by Wagman Ranch, Inc, and purchased by 4V Livestock LLC. By NRHA Six Million Dollar Sire Smart Spook out of Best Stop, the 8-year-old stallion now has lifetime earnings exceeding $123,000.
Also qualifying for various levels were Spooks Gotta Deal (2016 Marketplace Sale, consigned by Cinder Lakes Ranch), Walla Whiz Dun It (2016 Marketplace Sale, consigned by Heritage Farms), Wrapped In Tinsel (2016 Select Yearling Sale, consigned by Kyle Ranch), and Bugs At Nite (2016 Marketplace Sale, consigned by Gary Putman).
Wimpy Margarita carried Francesca Ferrarol to the Championships of the Smart Spook Non Pro Level 4 and Level 3, while Lil Jo Rush, ridden by Gina Schumacher, tied for Reserve in the Level 4.
By NRHA 12 Million Dollar Sire Wimpys Little Step and out of Custom Margarita, Wimpy Margarita sold in the 2015 Futurity Prospect Sale. The 8-year-old mare was consigned by Judy Box and purchased by Sergio Elia.
Lil Joe Rush passed through the ring during the 2016 Select Yearling Sale. Consigned by ProFit Equine (Agent), the 6-year-old sold for $24,500 to Jonathan Gauthier. The colt is by NRHA Million Dollar Sire Lil Joe Cash out of Rush N Cat.
The 2021 NRHA Markel Futurity Sales will be held Thursday, December 2, and the consignment deadline is August 31.
To read more about the NRHA Markel Futurity Sales, including more exciting changes for 2021, click here. For consignment information, visit NRHA.com/Sales.