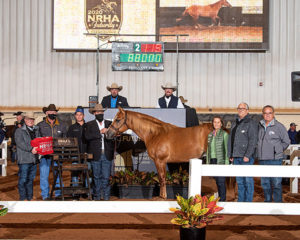 The National Reining Horse Association Markel Futurity Sales have long been recognized for leading the industry and providing the annual value benchmark for top reining horses. The 2020 edition continued that successful tradition, with averages and gross sales up across the board.
The Futurity Sales Task Force is not resting on those laurels. Early this year, its members began firming up details for the 2021 event with twin goals of increasing convenience for consignors and expanding the avenues of purchase for buyers.
The group simplified consignment requirements and selection criteria for yearlings:
Video and photograph requirements will not be compulsory as part of the yearling consignment application procedure. Please note that videos, photographs, and radiographs will still be required prior to the NRHA Markel Futurity Sales for marketing materials and to be available for buyers.
New guidelines will now govern yearling placement. Foals of dams with $25,000 or more in progeny and/or lifetime earnings will be placed in the Select Yearling Sale, while those not meeting that threshold will sell in the Marketplace Sale.
The Task Force will continue the all-on-one-day concept begun in 2020, so all the Markel Futurity Sales will be held on Thursday, December 2.  Also in 2021, look for modified two-year-old preview opportunities. Those have expanded into two-hour sessions in Arena 6. To provide ample time for consignors to present their horses in a controlled environment, these sessions will be held on November 30 and December 1 at the conclusion of each day's Futurity Semi-Finals.
Other important announcements from the Task Force were the return to Barns 3 and 4 where the Sales have been traditionally held, and continuation and enhancement of online bidding through DVAuction.com.
Capitalizing on its success in introducing broodmares, the Task Force will continue to include embryos and weanlings. Those have enjoyed tremendous success with weanlings selling as high as $40,000 and embryos as high as $45,000.
The Sales will begin at 9 a.m. Thursday, December 2 with the Futurity Prospect Sale, followed by the Select Yearling Sale and the Select Breeders Sale. The Marketplace Sale will finish out the day.
The consignment deadline for all Markel Futurity Sales is August 31. For more information, visit NRHAFuturity.com/Sales or contact NRHA Senior Manager of ReinerSuite and Futurity Sales Angie Honeywell at ahoneywell@nrha.com.