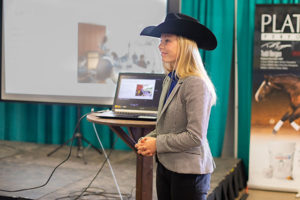 At the 2021 National Reining Horse Association Derby presented by Markel, reining will not be the only competition occurring at the prestigious event. The CINCH National Reining Horse Youth Association Speaking Contest will return this year, cultivating and encouraging leadership and life skills amongst reining's talented youth.
In the CINCH NRHyA Speaking Contest, participants will be divided into two age groups, 13 & Under and 14-18, and have the option to compete for $500 scholarships in three different categories: Delivering A:General, Prepared Public Speaking and Community Service Presentation. In the Delivering A:General, contestants recite A:General from the NRHA Handbook, which is a guide to judging reining horses. Prepared Public Speaking involves contestants delivering a five-to-eight-minute speech on either a leadership or equestrian topic. Lastly, the Community Service Presentation allows participants to create an eight-to-10-minute presentation that showcases a community service project they have completed.
"I am excited for this scholarship opportunity for youth members to return to the 2021 NRHA Derby presented by Markel. I encourage NRHyA members to grab a friend, get out of their comfort zone, and try this contest. It's a great way to practice a life skill around people who want you to succeed, all while having the potential to win a scholarship," NRHyA Youth Programs Manager Sara Honegger said. "First place in each category of each age group will receive a $500 scholarship, which is such a fun way for youth at any age to start stacking up scholarship dollars. Youth members and their parents would be amazed at how much they can accumulate if they start early in their NRHyA careers."
Youth members interested in competing in this year's CINCH NRHyA Speaking Contest can find more information, including the entry form at NRHyA.com. Entry deadline has been extended to June 9 at 5 P.M. CDT. Please email entries to youth@nrha.com.