The Oklahoma State Fair Park was buzzing on Saturday, June 24, as the Level 4 Open Finals of the 6666 National Reining Horse Association Derby presented by Markel was going on in the Jim Norick Coliseum. The ancillary action in the Adequan® Arena was equally exciting, as the second slate of the Rookie classes wrapped up and were followed by the youth competition.
An exciting addition to the Derby for Rookie riders was that NRHA Global Event Partner Toyon Ranch paid for all entry and judges' fees – a gesture that was appreciated by the competitors.
Rookie Level 1 (2) Co-Champion Pip Brown & Roosters Myra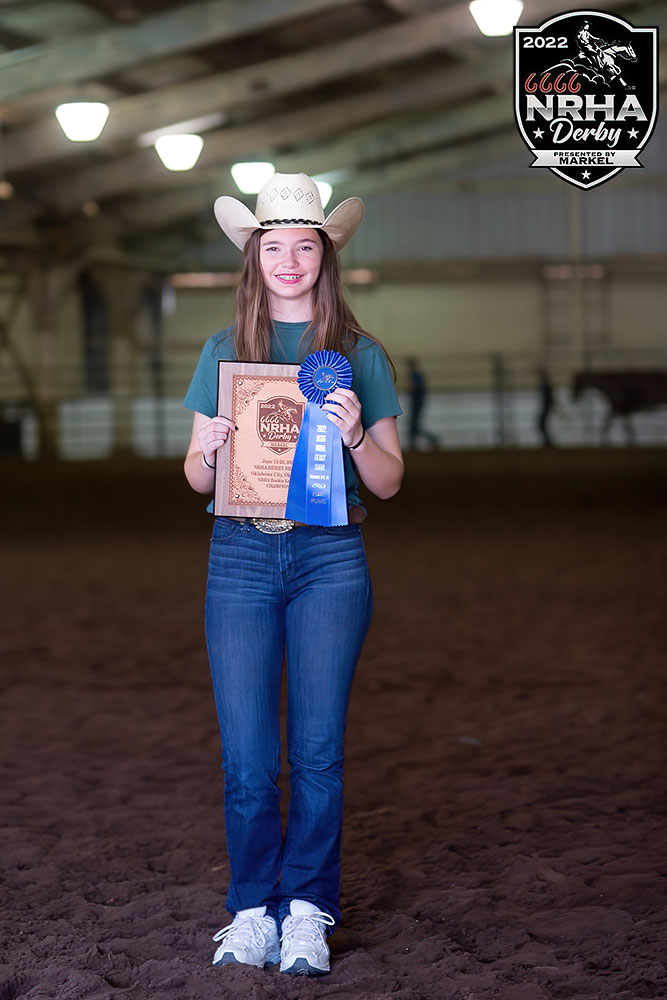 In slate 2 of the Rookie competition, Saturday morning in the Adequan® Arena, it was Pip Brown who was named the co-champion. Brown rode Roosters Myra, a nine-year-old mare by SR Roosters Kid out of Miss Magnum Chic, to a score of 141.
"She did everything I could ask for," Brown said. The young reiner has enjoyed getting to ride with everyone in her aisle and feeling the support the reining world has shown her this week.
"I started just by spinning on a reining horse and told my mom that I really want to do this," Brown said. Now, she is being seen at the top of the leaderboard and was very excited to win the Rookie Level 1 class, where all entry fees were generously covered by NRHA Global Event Partner Toyon Ranch.
Brown thanked her trainer, Sebastian Petroll, and plans for her next show to be in Las Vegas for The Run For A Million Rookie Shootout.
Rookie Level 1 (2) Co-Champion Sidney Karr & Gunmetal Whiz Girl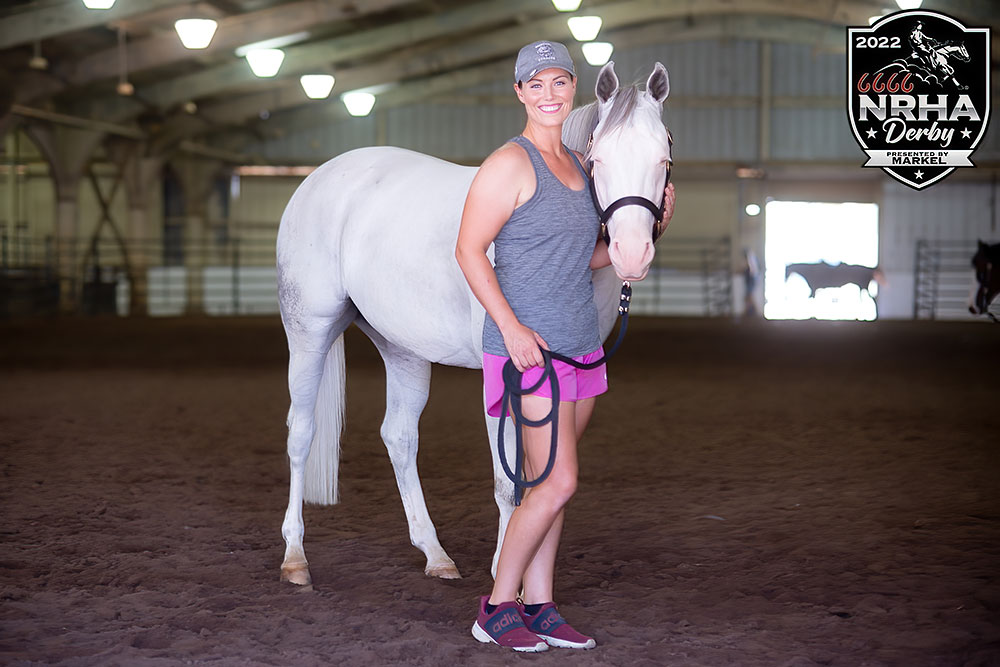 The Rookie Level 1 (2) saw a tie between two up-and-coming reiners. Sidney Karr tied for the win with a score of 141, riding Gunmetal Whiz Girl, a four-year-old mare by NRHA Two Million Dollar Sire Spooks Gotta Gun out of Koolwhiz N Wranglers.
"She was amazing today," Karr said. "We finally plussed our spins today, so that was really exciting."
Karr was excited to split the win with Pip Brown.
"The rookie division is a really competitive division now, so for us to even be competitive in it and to be able to place in it is amazing, much less co-champion is incredible," Karr said. She won the high point in the Green Reiner Level 1 earlier in the week and also got to share a win with her mother, Terri, who won the Rookie Prime Time. Karr was appreciative of Toyon Ranch for all they have done for the rookies.
"What John and Nancy (Tague) do to help us and get us into this industry, especially for my mom and I, is great," Karr said. "Just to know someone cares and is supportive of someone who might not have a name yet, means a lot."
Karr has only had "Snowflake" for two months, and this week is their third show together. Derby week can be a learning curve for even the most experienced, and her trainer, Jonathan Gauthier, gave solid advice to just go have fun and enjoy getting to know the horse.
Karr also qualified to compete at the Rookie at The Run For A Million in Las Vegas and will begin preparing for the next show.
Rookie Level 1 & 2 Highpoint – Alex Loftin & Smokin Smart Ammo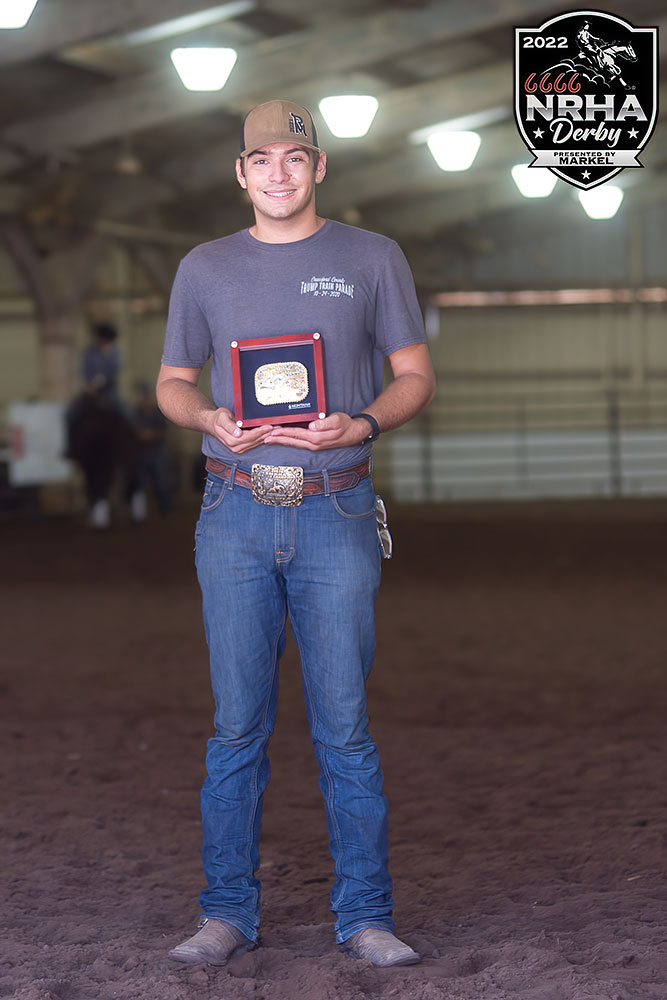 Alex Loftin and five-year-old mare Smokin Smart Ammo nabbed both Rookie Level 1 and 2 Highpoints Saturday morning June 25 in the Adequan® Arena.
The young man from Arkansas expressed his shock at both the victory and generosity of NRHA Global Event Partner Toyon Ranch for paying all rookie entry and judge fees.
"It was great. I was surprised when I entered, and the entries were paid. Everything helps out," Loftin said.
The team is relatively new, with Loftin pairing up with Smokin Smart Ammo (Smokin Ammo x TNP Go With The Flo) less than two months ago. According to Loftin, he and the mare were more in sync for their run Saturday morning than they were last Sunday.
"We were up early riding a little bit harder – I didn't push her as hard in the first go as I did in the second go," Loftin said. "Today Jeromy [Lipps] said to execute the pattern and ride to plan."
Next, Loftin and easy-going "Lizzy" are headed to Fort Worth for the American Paint Horse Association World Show.
"I want to thank my mom and dad, Jeromy [Lipps] and his wife Jacquline, they've been great help," Loftin said. "And the whole Lipps horse family."
Rookie Level 2 (2) Champion – Erin Stueve & Cooldrinkawalla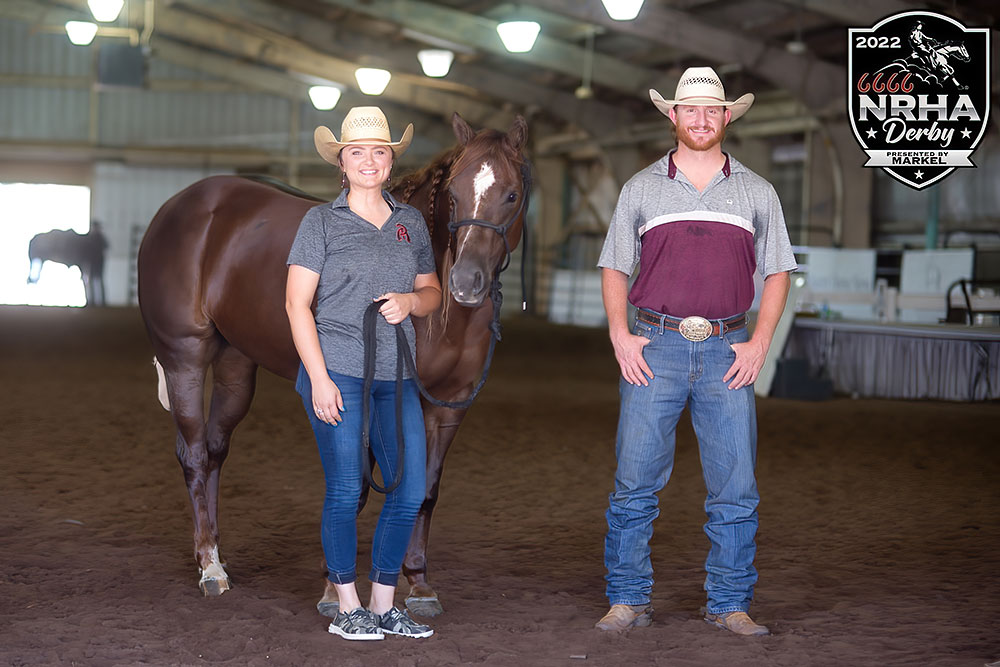 Erin Stueve and Cooldrinkawalla (Walla Walla Whiz x Custom Lena) marked a 141.5 in the second slate of the Rookie Level 2 (2) on Saturday, June 25, to win the class.
"She was really good, but we had a couple of bobbles so I didn't think I would win," Stueve said. "I was surprised that I did. I'm excited to show her in the rookie again next year because she's actually pregnant."
The five-year-old mare called "Wanda" is owned by Stueve and was bred by Arcese Quarter Horses.
"My boyfriend Dakin Allred started for me, and he actually showed [her] in the open a little bit. I gave him an ultimatum and said 'Is someone showing her here? You or me.' I was able to take the reins and she was really good for me," Stueve said.
Wanda will be taking a break for matronly duties, but Stueve looks forward to competing with her again. The rookie entrants' show and judges' fees generously were sponsored by NRHA Global Partner Toyon Ranch, and Stueve thanked Allred for his help preparing "Wanda" for the show.
Prime Time Rookie High Point – Terri Karr & Babys Flashy Angel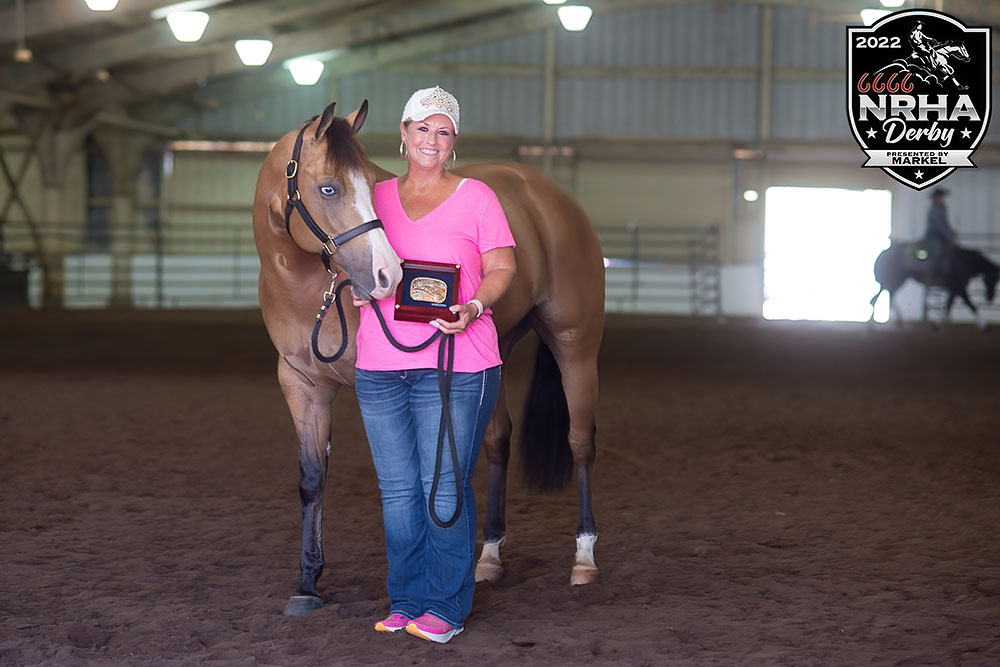 Terri Karr and "Queen" Babys Flashy Angel earned the Prime Time Rookie High Point Montana Silversmith's championship buckle Saturday, June 25 in the Adequan® Arena.
"I love everything about this mare. She's perfect," Karr said. "She's the queen, she's the queen of everything."
The eight-year-old mare is sired by NRHA Four Million Dollar Sire Spooks Gotta Whiz and out of Boogies Angel. She was bred by Michell Anne Kimball and is owned by Karr.
"We had a plan to get out lead change, but we didn't. Fortunately, she's good enough at everything else that it worked out," Karr said. "She hung in there with me and got it done."
Karr expressed her gratitude towards NRHA Global Event Partner Toyon Ranch for covering exhibitors' class and judge fees.
"Toyon Ranch has been so generous to help us out at the NRBC and here at the Derby. We can't thank them enough. They've been an amazing supporter and we really appreciate it," Karr said.
Next up for Karr and Babys Flashy Angel is The Run For A Million, where they will be competing in the Rookie.
"Thank you to Jonathan [Gauthier] for helping me every step of the way. He's always there and giving me great instruction," Karr said.
Prime Time Rookie Champion – Wendy May & Magnums Gun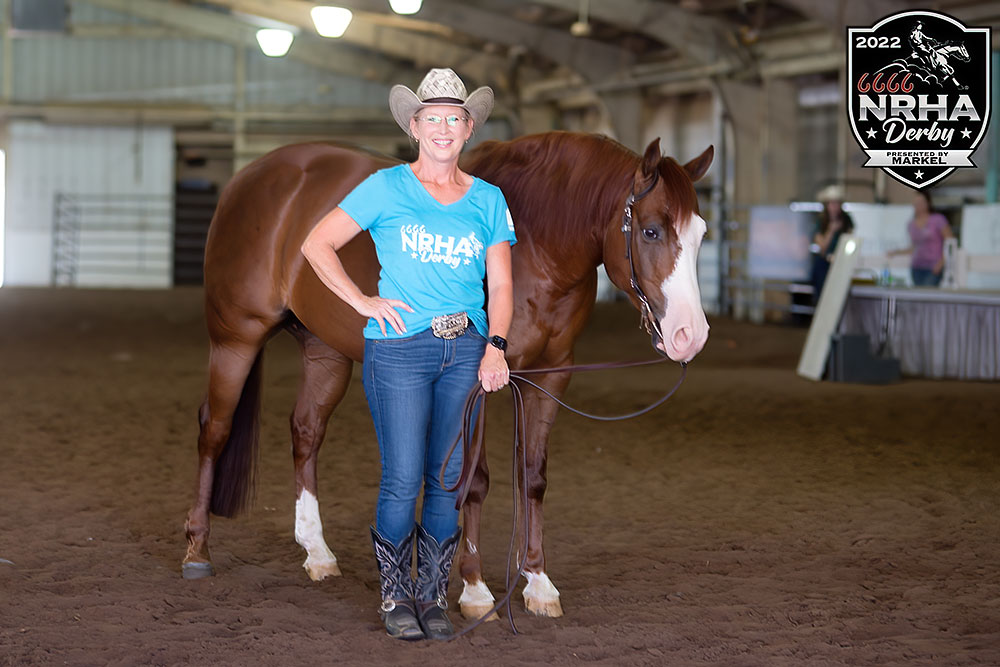 Wendy May left it all out in the arena with her horse, Magnums Gun, Saturday morning to win the Rookie L1-2 Prime Time. May scored a 140 to finish her week of showing at the Derby.
"This is my second year to do reining, so this is a great accomplishment for us," May said. "Earl," as the gelding is known around the barn, is a talented seven-year-old gelding, by Gunners Tinseltown and out of Magnums Pretty Patti. May matched the level of talent "Earl" has, after being on a self-described struggle bus as of late.
"In reining, you get one thing really good, and then something else falls apart," she laughed. "It's never all perfect." The duo has learned a lot together and seems to be coming together as a team. May trains with Sam Schaffhauser and thanked him for all of his patience, as well as Toyon Ranch for paying for all of the entry fees for the rookie classes.
"I've really enjoyed getting to ride my horse every single day this week," she said. "Every day, you get to get a little better and improve on things."
TRFAM Non Pro Qualifiers (2)
Five riders advanced from the second slate of Non Pro The Run For A Million Qualifier Saturday morning in the Adequan® Arena at the 6666 NRHA Derby presented by Markel. Non pro riders competed to advance to the $50,000 Rookie class Run For A Million, held in August in Las Vegas.
Rylee Butler
Larkspur, CO – Gotta Connection (Spooks Gotta Whiz x Smart Connection)
Jaclyn Pederson
Scottsdale, AZ – Coded Wind Up (Electric Code x Wind Her Up Chic)
Emily Moomaw
Marble Falls, Texas – Ima Baby Spooks (Spooks Gotta Whiz x Call Me Marlena)
Bella Beck
Colorado Springs, CO – Gunnabe N Hollywood (Gunnatrashya x Hollywoodsautumngold)
Sandy Lockwood
Morongo Valley, CA – Mobsters Inc (HF Mobster x All Chic N Shiny)
Qualification for TRFAM is based on rider, not horse. Riders do not have to compete on the horse they qualified on but are required to lease or own their TRFAM the horse based on NRHA rules.
Youth 14 – 18 (1) – Justin Eddy & Xtra Wimpy Voodoo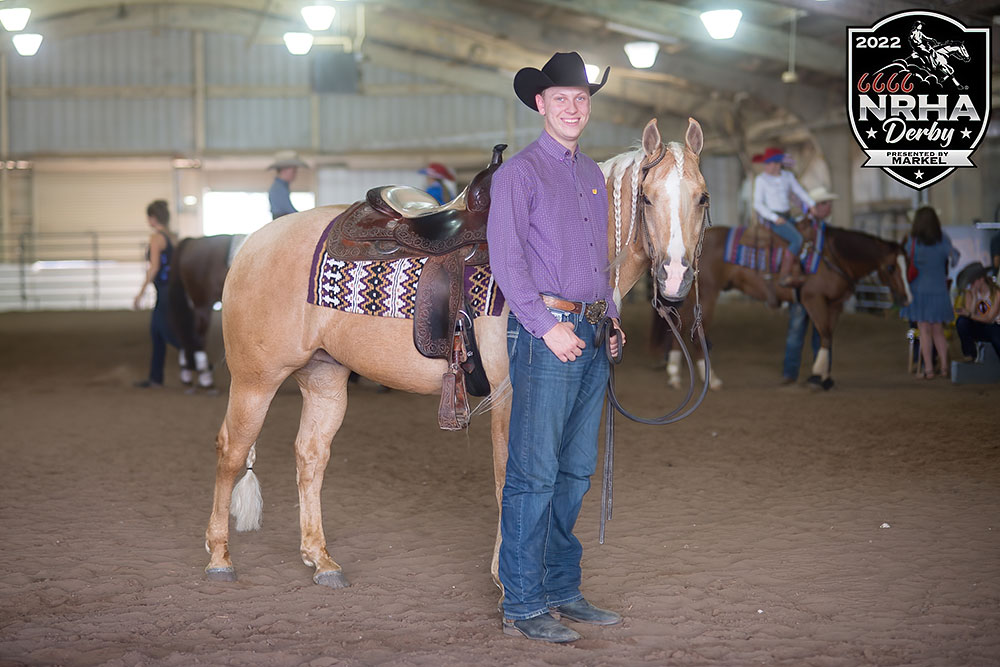 When the Youth 14-18 wrapped up in the Adequan® Arena Saturday evening, Justin Eddy walked away the champion with his horse Xtra Wimpy Voodoo. The eight-year-old gelding, by NRHA Two Million Dollar Sire Shiners Voodoo Dr out of Wimpys New Pal, and Eddy scored a 144.
"I've been showing him for about a year now. We showed at the Derby last year and made the Level 4 finals," Eddy said. "This year, we're back and going to show tomorrow in the 8-and-up maturity, so today we were just going to see how things went, and they went well. I'm proud of him."
Eddy also scored a 142, tying for second, on Not Ruf Nic. Showing multiple horses in the summer heat can be trying, but winning on multiple horses makes it all worth it.
"I find myself asking for a bottle of water after every run," Eddy laughed. "It's important to keep the horses hydrated and well-rested too."
The next steps for Eddy and Xtra Wimpy Voodoo will include preparing for the Youth World Show coming up in August. Eddy thanked his parents and Jim Dudley for all of their help.
Unrestricted Youth – Raeanna Thayn & Coded N Karma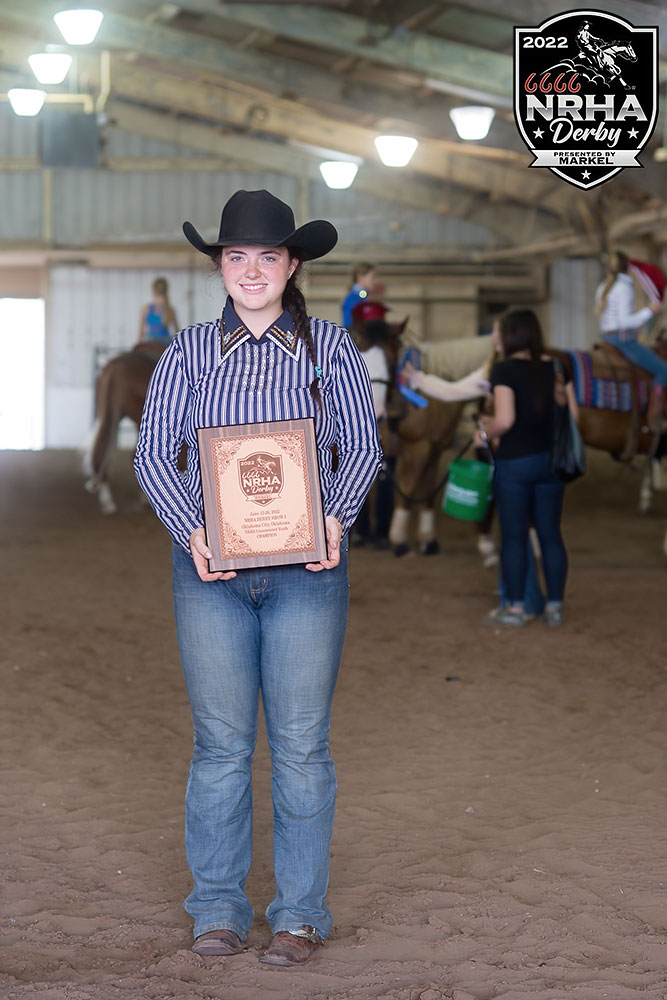 Scoring a 142, Raeanna Thayn and Coded N Karma rallied to win the Unrestricted Youth class Saturday evening at the 6666 NRHA Derby presented by Markel. The rider and horse have quite a bit of experience together in the show pen and have continued their winning ways.
"My family has owned him since he was three," Thayn said. "I've shown him since he was a six-year-old, and he's just always been super consistent for me."
Coded N Karma may have a quirky personality but knows when it is time to show up and win for his young rider. Thayn and the 11-year-old gelding, by Electric Code out of Whiz N Snap, have basically grown up together, and she said he has not changed much as he has aged. Thayn thanked her parents for all of their help and support throughout the years.
Youth 13 & Under (1) Co-Champion – Emma Hillis & Revolutionary Spooks
The future of the reining industry shined bright Saturday evening at the 6666 NRHA Derby presented by Markel. In the Youth 13 & Under, Emma Hillis rode Revolutionary Spooks to a score of 140.5 and a tie for first.
"Our run went well today," Hillis said of the seven-year-old gelding by NRHA Two Million Dollar Sire Spooks Gotta Gun out of Urika. "He was right there with me the whole time, and he never tried to get ahead of me. His stops and his circles are his best moves."
The horse has continuously handled the warm conditions this week and showed up when called upon. Ellis will travel to Denver or Reining by the Bay next. She has never gotten to go to those shows and is excited to see what is in store for her and Revolutionary Spook's future.
She thanked her trainer, Matt McDowell, the entire McDowell team, and her parents.
Youth 13 & Under (1) Co-Champion – Abigail Dooley & Top Haida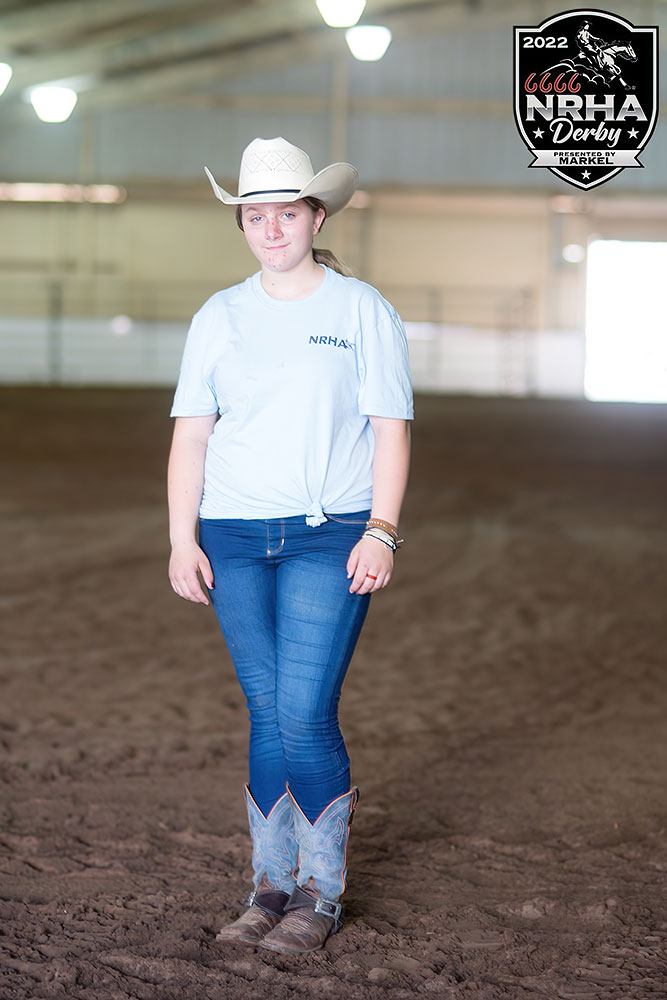 The Youth 13 & Under saw two champions Saturday evening, and Abigail Dooley scored a 140.5 on Top Haida to split the win. Top Haida is a 15-year-old gelding by NRHA 12 Million Dollar Sire Topsail Whiz out of Haida Million.
"I couldn't have been more pleased with him everywhere in my run," Dooley said. The young reiner has enjoyed getting to spend so much time with her horse this week, stating he is very personable.
"He loves to go trail riding and is very playful," she said. However, when it comes time to show, the pair is all business.
"I tried to be very precise with him and very careful with how I worked him," Dooley said. She also thanked Top Haida's owner, Lon Kent, for letting her ride the amazing horse.
Dooley has a lot to look forward to in the future. First, she will show at the Summer Slide in Denver, Colorado, and after that, she wants to be a doctor when she grows up.
Youth 10 & Under Short Stirrup (1) – Layla Flaherty & Totally Juiced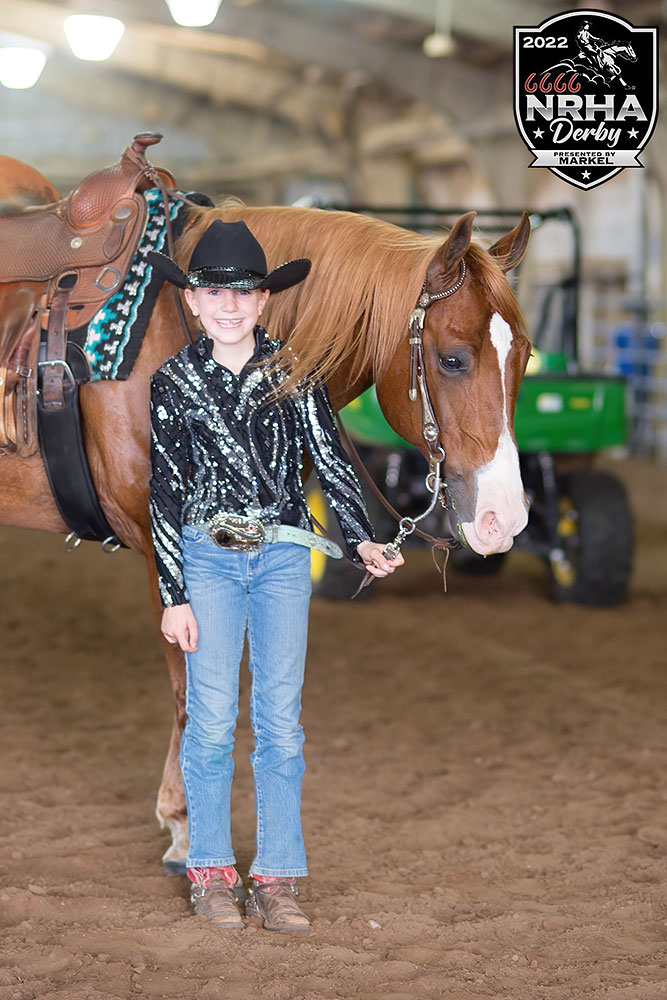 Layla Flaherty has put in the sweat equity with Totally Juiced (Smart Like Juice x Select A Forty Five), and it paid off Saturday evening in the first slate of the 10 and Under Short Stirrup. Layla scored a 144.5 on Totally Juiced, winning several prizes including a reining Breyer Horse.
"He's really, really sweet but he does not like his nose touched," Layla said. "I like that he always listens to me."
The youth from Scottsdale, Arizona, rides every day in the summer and has recently been working on squaring up her corners in the run-downs.
"I've been working on his corners. He likes to run off but today he was really good," Layla said.
Layla thanked Scott Peterson and dad-trainer combo Patrick Flaherty.