Americasnexttopgun and Casey Deary rode into the danger zone Saturday night during the 6666 National Reining Horse Association Derby Open Level 4 Finals, posting a 223.5 that could not be touched.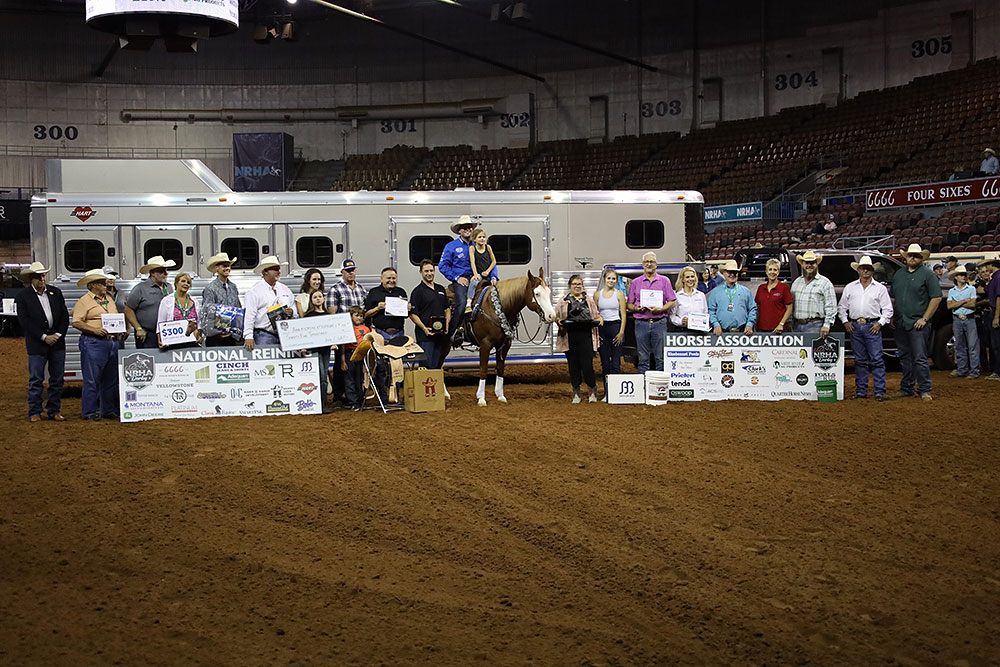 "This horse is so explosive and so talented that he can do things that are hard to sit on. In fact, even changing leads there I lost my stirrup. He's just so physical," Deary said.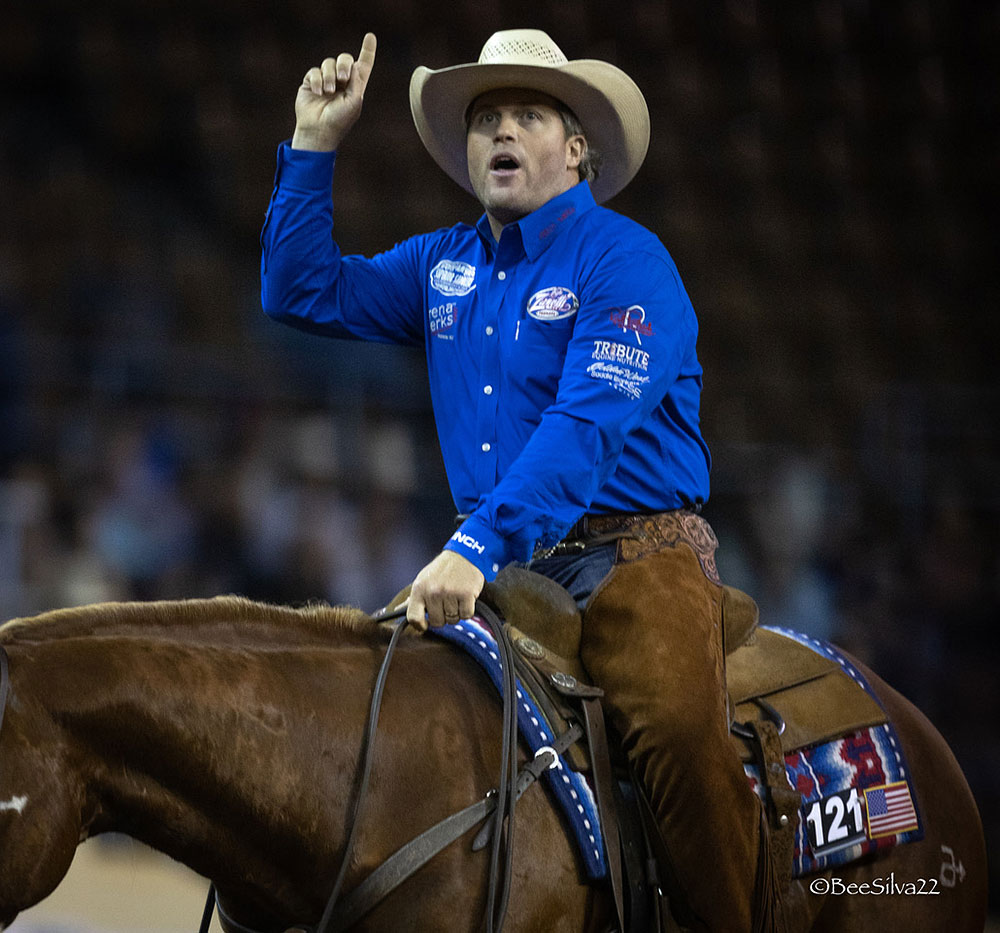 With the Level 4 Open Championship, the stallion added $75,000 to his bankroll. The win is a second major NRHA title for Americasnexttopgun, who earned the 2020 National Reining Breeders Classic Open Derby Championship. To date, the son of NRHA Three Million Dollar Sire Walla Walla Whiz out of Americasnextgunmodel has earned $343,892. The stallion was bred and nominated by NRHA Two Million Dollar Owner Arcese Quarter Horses USA.
"He ran through the gates really good, and I felt like he nailed that first stop. This horse is such an athlete that I overshot my marker a little bit backing up. He turned around like a top both ways – I don't know if it gets any better than that," Deary said.
Following a Reserve Championship in the Level 4 Open at the NRBC in April, Deary knew there was more to be had and reevaluated his preparation methods for "Maverick."
"I needed to adjust to get him shown in this heat and humidity," Deary said. "I didn't warm him up nearly as much as I would normally do. He's so talented that, as long as I can stay out of trouble, he's a pretty consistent [earner]."
Deary rode Maverick "very little" throughout the two weeks in hot and humid Oklahoma City. To prepare before the finals, Maverick was turned out for a total of four hours in the large round-pens on the Oklahoma State Fairgrounds.
"Getting ready to lope off, I was a little nervous that I had left him a little too fresh, but as soon as I loped off and he went to work he hooked right up. I couldn't ask him to be better," Deary said.
The list of Deary Performance Horses people to thank is long and includes veterinarians, farriers and help at home.
"There are too many to list here, but [mostly] my number one supporter, Nicole, has been there cheering me on through the whole deal, and Jody and Jolan [Puno] have backed this horse with everything they have," Deary concluded.
Level 3 Open Champion – Magnums Custom Dream & Casey Hinton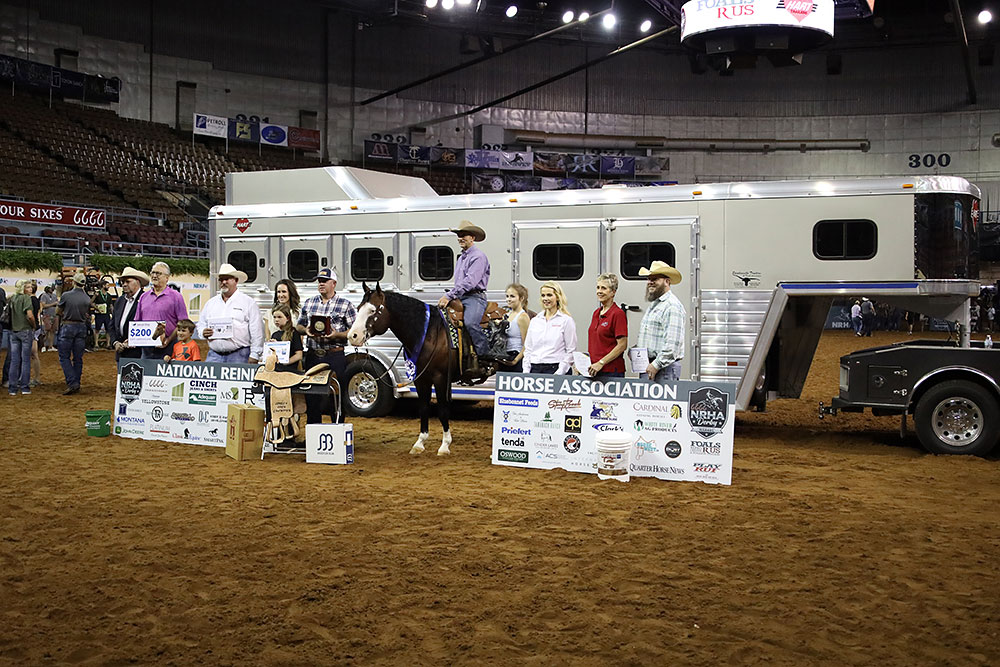 Casey Hinton and personal horse Magnums Custom Dream earned the Level 3 Open Championship under the sparkling lights of the Jim Norick Coliseum Saturday night, much to the delight of the crowd.
"Any time you're in the finals on Saturday night and the crowd gets behind you, it's pretty thrilling. All the hours of training and practice [pay off]," Hinton said. "You've got to keep those younger guys on their toes and stay competing at the top level."
Astride five-year-old stallion Magnums Custom Dream, Hinton saw all the pieces fall into place. The team marked a 221, earning $35,000 and besting the Level 3 field. Hinton and Magnums Custom Dream also finished sixth in the Level 4, worth an additional $16,836.
"It's taken a while, but he really showed this week what we thought his potential was," Hinton said.
Magnums Custom Dream (Magnum Chic Dream x Gunna Be Custom) was bred and nominated by Garth Hystad and is owned by Hinton and wife, Kathy.
"It's a horse I bought from Devin Warren, and this is the second time that Devin has told me that 'I really have a horse that'll fit for you,'" Hinton said. "Personality-wise he's very consistent. His demeanor is not really stud-y, he's pretty even-keel that way. He's super athletic, and I don't think there is a category he doesn't excel at."
Hinton thanked his staff for their hard work and Jesus Christ for the opportunities given to him.
Open Level 2 Champion – My Whizard Dream & Abigayle Mixon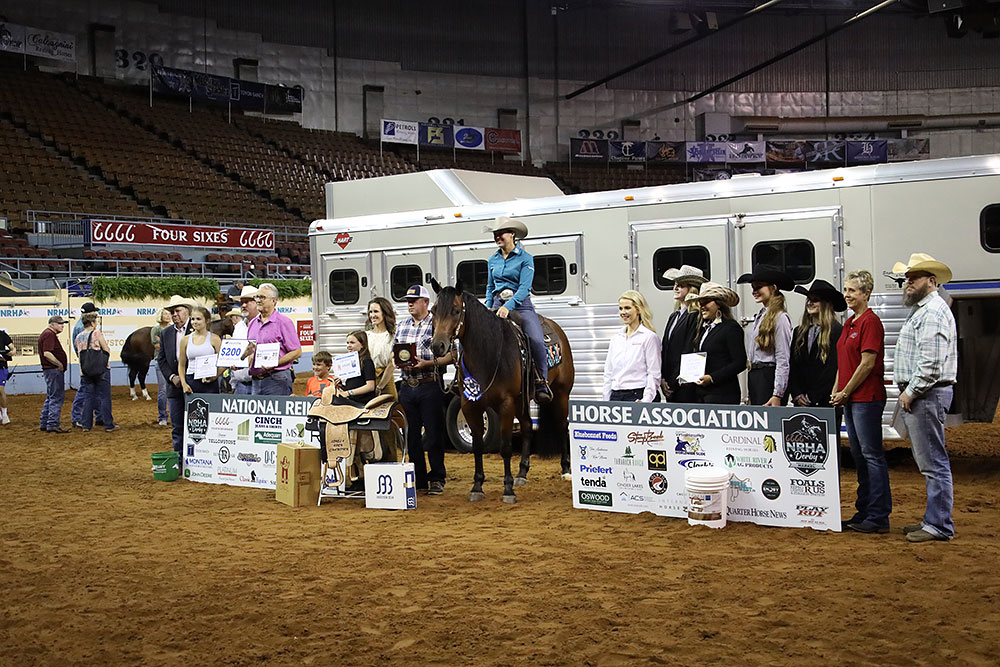 My Whizards Dreams and Abigayle Mixon broke a streak of 72s to earn the 6666 NRHA Derby presented by Markel Open Level 2 Championship with a 220.5, earning $20,000.
"He came out of the stall happy and pretty fresh today. He warmed up really good, and I just kind of had a feeling he was going to be good," Mixon said. "I've been stuck this year marking 72s and 72.5s, and I had yet to lay down a run. I was pretty determined to put one together and he was there for me, so it was pretty fun."
The five-year-old gelding is owned by Michelle George, and Mixon first partnered up with him in 2021.
"We bought him from Fred and Dany Tremblay at the beginning of last year. I showed him a little last year and had some success with him. He's cool, super sweet, and overall a nice horse," Mixon said.
My Whizard Dream (Magnum Chic Dream x Miss Poco Whizard), or "Tiger," was bred and nominated by Andre Lauzon. According to Mixon, he is an easygoing individual with clownish tendencies. To keep him sharp in the brutal Oklahoma heat and humidity, Mixon gave him several days off between the open preliminaries and finals.
"I think backing off of him [worked]. I went through everything last night and made sure I didn't over-ride him. Made sure he had plenty of air and was cool. I think it made a big difference," Mixon said.
Next for Tiger is the non pro pen with owner George.
"I want to thank our outstanding owners, my husband, Jeff, and my whole family. Jeff helps me all the time at home and with our daughter Logan. [Plus] all my help at home, it literally takes a village to do what we do. We all play a big role," Mixon said.
Level 1 Open Derby Co-Champion – Jack Daniels & She Whiz Shiney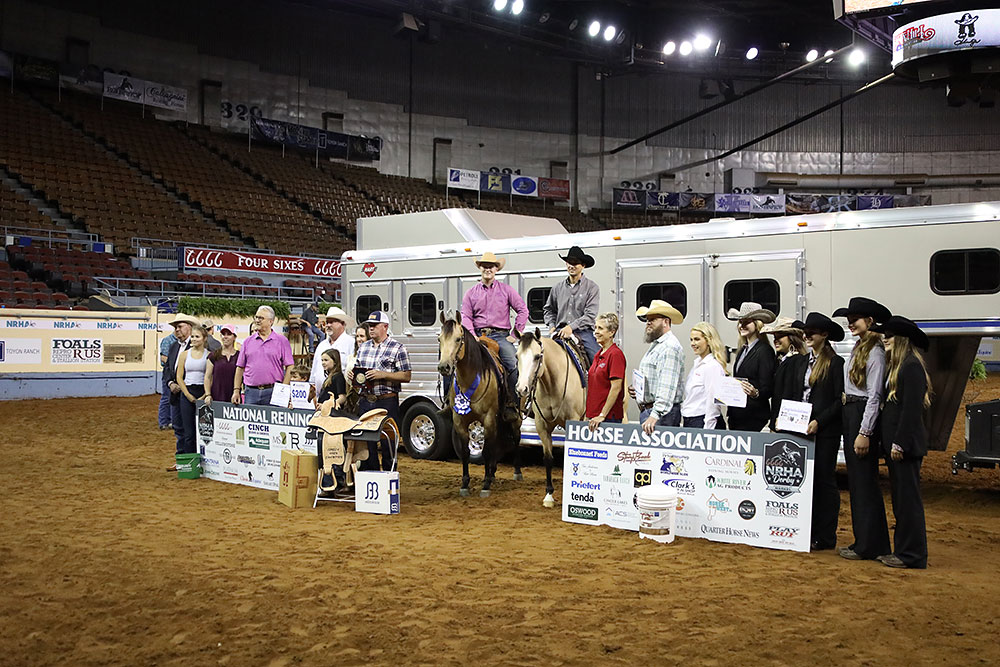 Saturday night at the 2022 NRHA Derby was one Jack Daniels will remember for a long time. Daniels scored a 214.5 on She Whiz Shiney in the Open Derby Level 1 Finals, tying for first place with Daniel Martins Cruz.
"We've had the mare for about seven months. We got her after the Futurity," Daniels said of the mare, who was nominated by Cinder Lakes Ranch. "She's a huge stopper, and that's probably my favorite thing about her. She was really nice all-around tonight."
Although Daniels thought he left a point or two in the turns the four-year-old mare by NRHA Million Dollar Sire Shine Chic Shine out of Dun Dry Whiz, made up for it in her stops. To prepare for Saturday night's competition, Daniels said all he had to do was let his wife, Kaci O' Rourke, ride the mare.
"She gets along with that mare pretty well," he said. "I bump my legs on her more and Kaci likes hugging her legs on the mare more."
It always helps to have a supportive spouse behind the scenes. Daniels' wife worked for Level 4 Derby Champion and new Three Million Dollar Rider, Casey Deary, for five years and then NRHA Four Million Dollar Rider Craig Schmersal, where Daniels met her. Ever since then, the pair have always been able to bounce ideas off each other in order to get the most out of their horses.
Daniels thanked the owner, Jennifer Anderson, stating they will consider selling the mare or continue showing her.
"She's been tried once today and will be once after this, so hopefully whoever ends up with her is happy, and we can do it all again," he said.
The show pen is relatively new to Daniels. He usually starts colts, but after Saturday's big win, he may want to continue his own show career.
"I'm always so used to being able to fix it on a two-year-old, but you have to just be able to show through it, and that for me has been the hardest part to learn," he said.
Daniels won $6,492 for his efforts and is quickly making a name for himself in the arena, and with great people in his corner, he is well on his way to more wins in his future.
"I've had a lot of help from my wife," Daniels said. "She's great and has done so much for me."
Level 1 Open Derby Co-Champion – Daniel Martins Cruz & Gunners Deja Girl
The Derby Finals was an exciting event to watch Saturday night in the Jim Norick Arena, with two riders tying for first place in the Level 1. Daniel Martins Cruz scored a 214.5 on Gunners Deja Girl to be named co-champion with Jack Daniels. Gunners Deja Girl is owned by Pedro Pastor Hernandez and was nominated by McQuay Stables.
"This is my second show with her," Cruz said. "She's amazing and for me just a super horse. Every time she's ready, she has such a big heart."
The pair won $6,492.
Cruz hails from Brazil but has made waves in the short amount of time he has lived in the United States. He made the move three years ago and now works for Fernando Salgado. He has 22 years of experience total and used that to his advantage when showing the five-year-old mare by NRHA 13 Million Dollar Sire Gunner and out of Dun Its Deja Vu.
"When I go very fast in the circles, she's always constant," Cruz said. Cruz has made the Open Finals both years he has shown at the Derby.
"I love Brazil, but America has the best shows and the best horses," he said. "I'm very happy for my boss and the owners, Pedro Pastor Hernandez."
It takes a special horse and rider to come out on top in the Open Finals, and Cruz is seeing his hard work and dedication pay off.
"For me, reining is my life," he said.
Open Prime Time Champion – Trash Your Gal & Shawn Flarida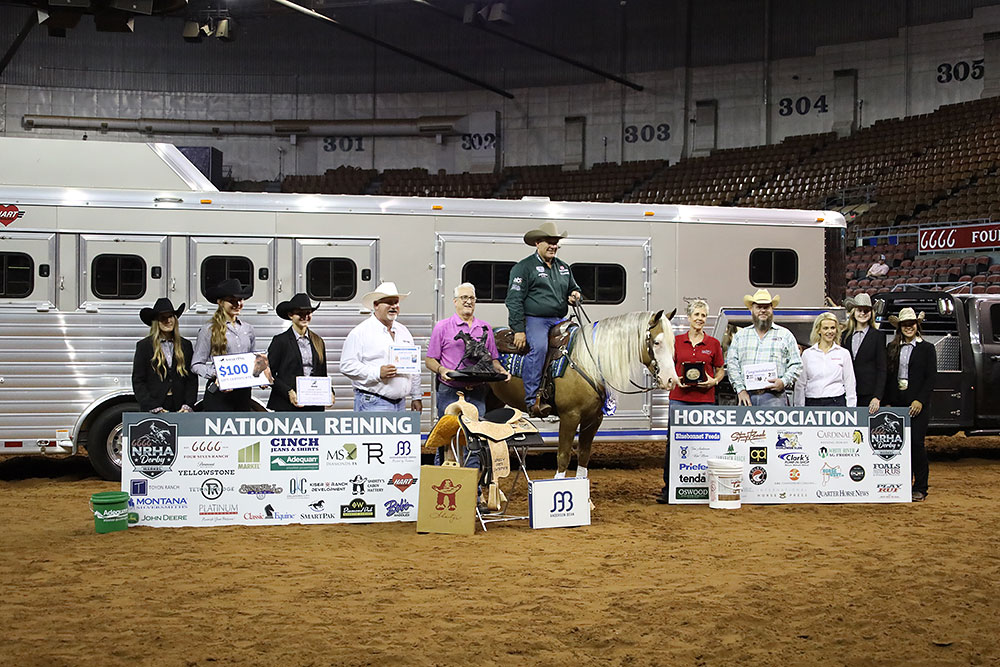 Trash Your Gal and Shawn Flarida turned heads in the Open Derby preliminaries. The strong palomino stallion was sporting a hackamore that Flarida rode one-handed, marking a 222.5, topping the Prime Time division. The pair also made the Open Level 4 Derby Finals, earning an additional $4,176.
"It's the second time I ever showed him in a hackamore and there are still some learning curves, but that little horse loves [the hackamore]," Flarida said.
With the run, Trash Your Gal (Gunnatrashya x Ima Sailors Gal) earned $5,000 for owner Jodie and Scott McCutcheon.
"He's really pretty. Just a fun, fun, fun horse to ride," Flarida said.
With more than $6 million in lifetime earnings, Flarida is attuned to his horses' performance in the show pen.
"When I put a bit in that horse's mouth, he plays with it almost like he's chewing gum. He doesn't necessarily open his mouth, but in the judge's eyes they see his little lips moving and they think he's being bad. He's really not, so I just put the hackamore on him, and he loves it," Flarida said.
The six-year-old stallion was bred by Linda Campbell and nominated by Michelle Crowder. According to Flarida, Trash Your Gal is a blue-collar worker who comes to work hard every day.
"Thank you to my family," Flarida said. They have been unbelievable; they help me get up and down the road and I can't thank them enough. My kids have been getting up with me in the middle of the night, and I thank my help and my sponsors, I couldn't do it without them. My owners are amazing [too], they get me here and buy me the horses."