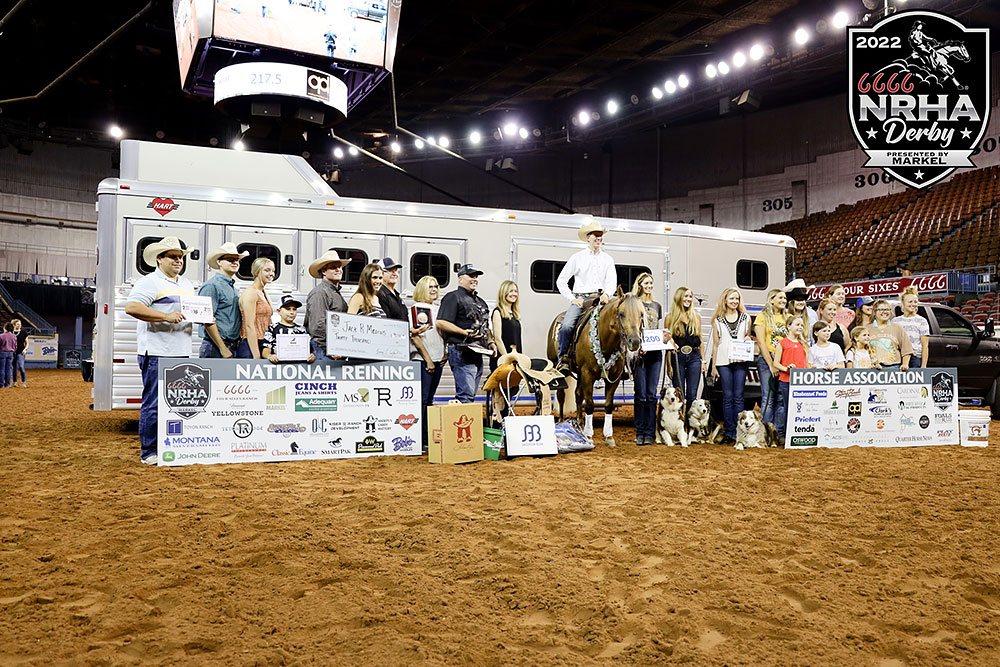 Consistency has been the name of the game for Jack Medows and stallion Tribbiani throughout the week at the 6666 National Reining Horse Association Derby presented by Markel. Initially tying for the Non Pro Derby preliminary lead and winning the $20,000 Colston Paving Inc. Non Pro 4-Year-Old Stakes Championship on Tribbiani and the $15,000 Clark's Pump-N-Shop Novice Horse Derby on Jewells, it seemed like Medows' week couldn't get much better.
Then it did.
Riding Tribbiani from the sixth hole in a deep 36-horse Final, Medows posted a score of 221.5 that couldn't be touched, and he held strong to earn the Non Pro Level 4 Derby Championship and $30,000. He also finished tied for eighth on Jewells (Gunner x Surprizentheprincess).
"I tried to take it one maneuver at a time. I don't want to get ahead of him because he's so quick and reactive. I wanted to take each maneuver as they were and let him do the rest," Medows said.
The run-in pattern number 10 was demanding for the competitors – especially after enduring a week of hot, humid temperatures.
"It was hot, so it was hard to tell what was too much and what was not enough," Medows said. "So, we made sure he felt good the first few days [after the prelims], and then we went back to work on Wednesday, making sure we were not rusty on any maneuvers."
According to Medows, they rode around midday, trying to keep Tribbiani, or "Joey," accustomed to the heat. The four-year-old stallion is sired by NRHA Seven Million Dollar Sire Gunnatrashya and out of Chicsdreamofdiamonds. He was bred and nominated by Amy Medows.
On Medows' long list of thank-yous was his family, including his parents Amy and Jeff Medows, plus his aunt and grandparents for coming in to watch from Minnesota.
"I also say thank you to Casey [Deary] for being patient with me all week. I know the nerves were pretty strong and he was patient and helped a lot. [And] my girlfriend Olivia has been calming when we've been back at the stalls all day. She's helped so much and keeps me grounded," Medows said.
Gina Schumacher and Gunnastepya took Level 4 Non Pro Reserve honors with a score of 220, worth $14,333. Gunnastepya, a six-year-old stallion by Gunnatrashya out of SDP A Lasting Step, and Schumacher had tied for the win of the preliminary round with Medows and Tribbiani. Schumacher also finished tied for fourth on Step N Past Ya (Wimpys Little Step x ARC Sail Past Ya) and tied for eighth on Spat Toy Boy Gun (Spat Split And White x Snowy River Gunner).
Level 3 Co-Champion, Level 2 Reserve Champion, & Level 1 Champion – Jenn Kasper & A Cool Backstory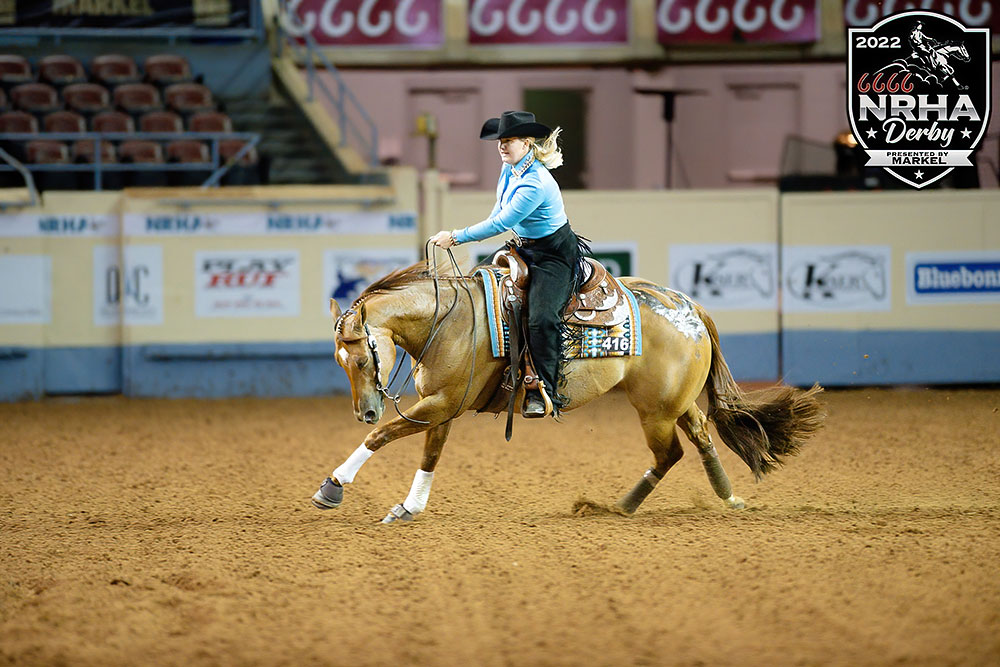 When Jenn Kasper set her sights on the 6666 NRHA Derby presented by Markel, she had one goal in mind; make the Non Pro Level 4 Finals for the first time. When the final results had been tabulated, she and her horse, A Cool Backstory, had squeaked into the Finals.
Then she and A Cool Backstory, by SG Frozen Enterprize out of Skeets Chexy Nic, went to work. Their score of 216.5 in the Finals Friday night was good enough to win the Level 1, take second in Level 2, and split the Championship of Level 3, plus finish tied for 10th in the Level 4, bringing the Friday night take to $30,139, with $1,507 going to nominator Gabrielle Solum.
"I am so excited. I've showed horses my whole life, but this is only my second Derby, and my first Level 4 Finals. I'm really glad this horse gets the recognition he deserves because he's really special," Kasper, of Fountain Hills, Arizona, said.
The 5-year-old gelding definitely has a cool back story. "When he was born he had a ruptured bladder, and when they did the surgery and he was on his back, he had a reaction to the drugs that ended up causing a chemical burn across his back," Kasper explained. "It took six to eight months to heal, and they didn't know if he could be a show horse, but he's pretty tough and he's turned into a great one!"
In fact, Kasper's boyfriend, Leonardo Kellerman, trained and showed the colt his three and four-year-old years, earning more than $29,000. "I was fortunate to be able to buy him and show him this year. He's a really special horse with a lot of try, and I really love him," she said. "I've been fortunate to have a lot of horses in my life, but none come close to him."
Kasper and A Cool Backstory are coming off a successful National Reining Breeders Classic. Since then, the colt has been in Gabriel Borges' barn. "That means I get to ride him pretty much every day at home. Luckily, he's pretty easy to prepare because he's an easy guy. We just kept him fit, and it worked out," she said. "I thank Gabriel because he did a great job preparing this horse, as well as everyone else at Gabriel Borges Reining Horses. I also thank my boyfriend, Leonardo, who is always there for me and is the one who trained this horse. Thank you to my mom who has supported me my whole life, and all the other incredible people behind the scenes."
Kasper, who is the social media and marketing manager for numerous clients in the reining industry pulled double-duty at the Derby. More than one person commented that she was one of the hardest workers at the event.
Mason McDowell and his horse Guns Blazing took Reserve honors in the Level 1 with a 216, worth $2,299. Guns Blazing is by NRHA 12 Million Dollar Sire Wimpys Little Step out of Dolled Up Gunner. The pair also took third in the Youth Non Pro, worth an additional $893.
Non Pro Level 3 Co-Champion – Francesca Sternberg & Red Dirt Paleface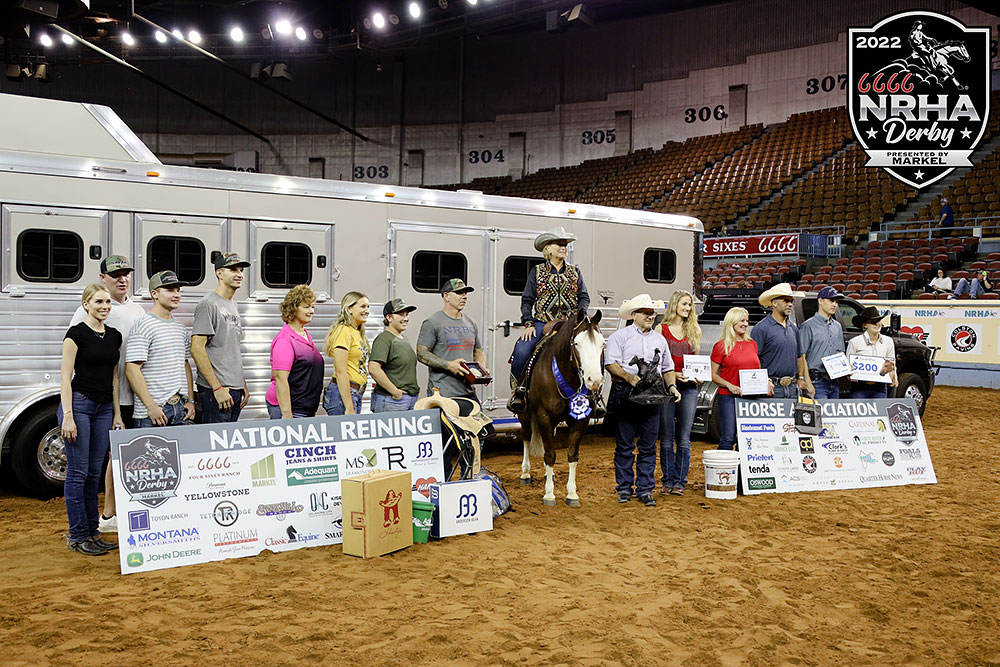 Hailing from the United Kingdom, Francesca Sternberg overcame several obstacles to clinch the 6666 NRHA Derby presented by Markel Non Pro Level 3 Co-Championship on Red Dirt Paleface (Pale Face Dunnit x Lost In Tinseltown). For the win, Sternberg won $15,281. The pair also placed in the Level 4 and took reserve in the Prime Time division, worth an additional $5,862.
"I was slightly terrified, to begin with, but once I got through the gate, I could get on with it," Sternberg explained. "The waiting, and the Gateway of Champions, and all that stuff makes my tummy go into tidal waves."
Tidal waves or not, Sternberg piloted Red Dirt Paleface to a 216.5, a feat she was incredibly proud of in the competitive Non Pro Derby Finals.
"He's very little, so going around [the coliseum] I feel like I'm going around the Gobi Desert at a flat-foot gallop. But as small as he is, his heart is huge," Sternberg said.
Partner Red Dirt Paleface was bred and nominated by Tim Anderson and is owned by Sternberg. To keep the gelding fresh throughout the week, Sternberg relied on a steady stream of cookies to bolster his spirits.
"In England, if it goes above 80 [degrees] it's almost a natural disaster. So, we both felt the heat and I tried to keep him as fresh as I could," Sternberg said. "I think a lot of the horses were tired today for obvious reasons, and I think he was tired. But he dug deep and just did it."
Between flying in to ride Red Dirt Paleface before their prelims, the excessive heat and showtime nerves, Sternberg proved to herself that she deserved to be in the Level 4 Finals.
"Showing is an addiction, isn't it? We can't help ourselves. The thing is, if you do really well, you can't wait for the next one, and if do really badly, you can't wait for the next one because you just want to make it better," Sternberg said.
Sternberg thanked her family and the Schmersal team for their support, plus trainer Tyson Randle for his continued dedication.
"Tyson Randle – short of brushing my teeth for me and riding into the arena with me – couldn't do anything more. I've never been with a trainer so [attentive]," Sternberg said.
Non Pro Level 2 Champion – Emily Opell & Shining N Tinseltown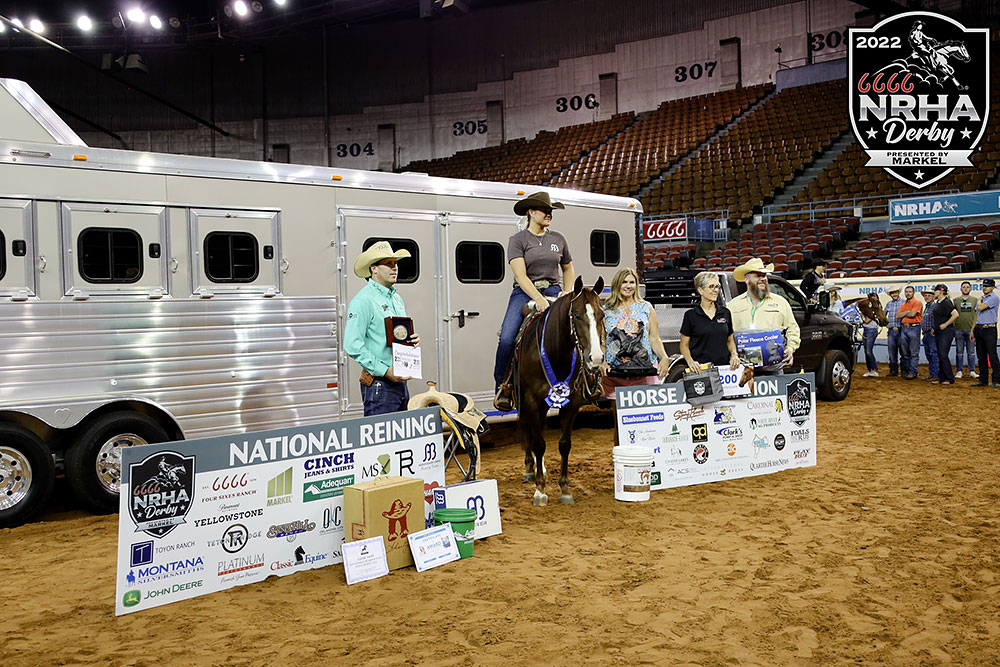 Narrowly missing the Level 3 Non Pro Finals, Emily Opell made Level 2 run count from the first section of Non Pro Derby action.
With a score of 217, Opell and Shining N Tinseltown (Shine Chic Shine x Wimps Tinseltown) secured the Non Pro Level 2 Championship, winning $15,000.
"I was nervous about running in because he wasn't stopping good the night before. He went in and nailed it – didn't check. Backed up better than usual and nailed the turns. From then on it felt great," Opell explained.
After their run, Opell and "Shine" had to sit through the second section of Non Pro Finals in the evening to see if their score would hold.
"I was so nervous; I got a headache from just sitting there thinking about all of it. I thought my score was good, but I wouldn't have thought it was going to win," Opell said.
Shine is just four years old, but has already proved himself under saddle. With his Friday night win, his lifetime earnings reached $30,000. He was bred and nominated by Charles Vaughan and is owned by Steve Opell.
"He is very relaxed and has the greatest mind. You can get after him and he wants to be right there with you, never wants to be bad. He's a really good horse," Opell said. "I got him at the Futurity here last year and I've been riding him ever since. It's been me, myself and I."
Opell thanked her parents, Tammy and Steve Opell, for their support and help along the way.
Non Pro Derby Prime Time Champion – Maria Danielli-Krueger & Fridee Spook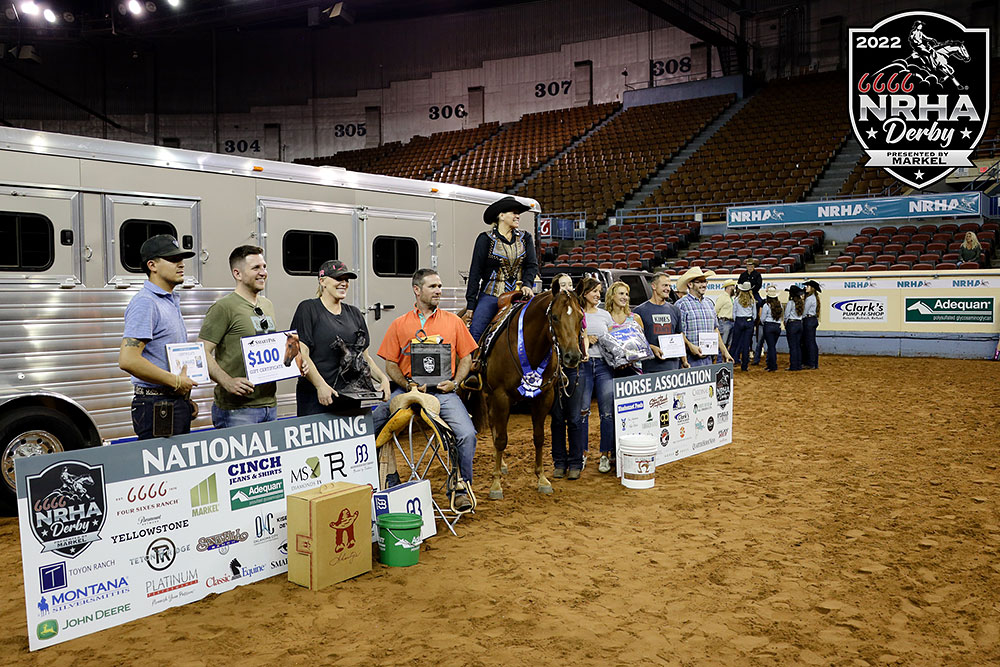 It was game on for Maria Danielli-Krueger and her seven-year-old gelding, Fridee Spook. When all was said and done, the pair scored a 219 to win the Non Pro Derby Prime Time title.
"It was great and fun," Krueger said. "He was right there with me and did everything I asked."
Her game plan was to run into the pen hard, making sure she ran all the way to her stops. She also let Fridee Spook, by NRHA Seven Million Dollar Smart Spook out of Dun It Fri Dee Nite, take full advantage of the amenities on the premises, like the aqua spa, as well as getting plenty of rest.
"He's a great horse," Krueger said. "He doesn't need a lot of ride time, and that's what's best for him." She also noted Fridee Spook is always taking off his halter and acting goofy, calling him an escape artist.
The duo will travel to Las Vegas next for the High Roller Reining Classic.
Non Pro Derby Masters Co-Champion – Ellen Cummins & Xtra Miss Wimpy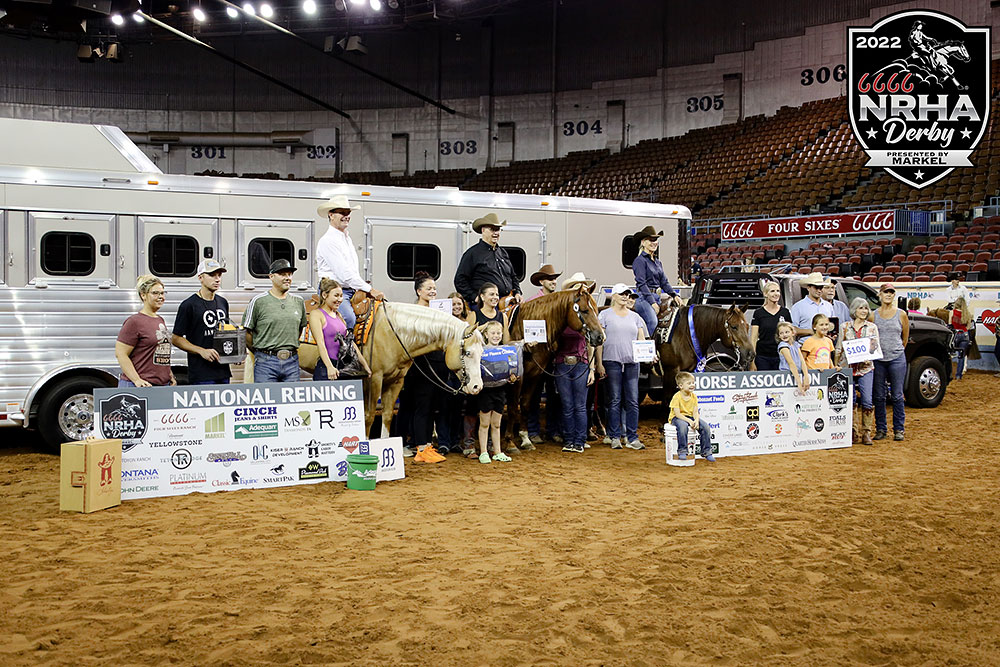 Ellen Cummins had to battle it out in the Jim Norick Arena Friday aboard Xtra Miss Wimpy. Scoring a 216.5, the team co-championed in the Non Pro Derby Masters. The seven-year-old mare is by NRHA Two Million Dollar Sire Shiners Voodoo Dr and out of Little Smart Wimpy.
"The minute I got on her this morning, I could tell she felt good, and she was super cooperative," Cummins said.
Cummins felt she needed to step up her game to keep up with the talented mare, but when it is time to ride such an athlete, it gives Cummins all the confidence in the world.
"She ran great, stopped big, backed up, and just settled," Cummins said. "Her turns are probably her best maneuver."
Cummins was prepared for her run and was able to trust her horse during the Finals. It is safe to say, she did this great mare justice.
"It was a really fun run, and it was super exciting," Cummins said. "I had a lot of friends cheering, and that's always a huge help."
Non Pro Derby Masters Co-Champion – Frederick Christen & Gunna Cash Ya
Friday night, Frederick Christen walked away as co-champion in the Non Pro Masters Derby riding Gunna Cash Ya. When the dust settled, the seven-year-old stallion by NRHA Million Dollar Sire Lil Joe Cash and out of Gunners Blonde Chic scored a 216.5. Christen and Gunna Cash Ya also placed in the Non Pro Prime Time and the Non Pro Level 2, pocketing a total of $5,217.
"We were able to purchase this horse from Tom McCutcheon and his partnership group," Christen said. "We're just starting to get hooked up with the horse."
Christen thought he may have left some points out in the ring, even though Gunna Cash Ya was prepared for the event excellently.
"My trainer, Arno Honstetter, told me to just stay calm," Christen said. The team did what they needed to do to walk away co-champions. Christen thanked his wife, trainer, vet, and farrier.
Non Pro Derby Masters Co-Champion – Lance Griffin & Spooks Gotta Tinsel
The Non Pro Derby Masters saw a three-way tie for first place. Lance Griffin, an NRHA Two Million Dollar Owner, scored a 216.5 on Spooks Gotta Tinsel. The four-year-old stallion, by NRHA Two Million Dollar Sire Spooks Gotta Gun out of Tinsel Tiara, is known as "King," and makes showing fun.
"Anytime somebody asks me what's my favorite part of reining, it's running through the gate in the finals," Griffin said.
Although he thought he may have left a few points on the dirt, "King" lived up to his name by taking home the win. Griffin and Spooks Gotta Tinsel also placed in the Finals of the Prime Time, Level 3, and Level 4, bringing their total earnings to $10,318.
"Everyone wants to buy him, and I'm trying to hide him," Griffin laughed. He has owned the horse since October, and everywhere they have competed together, they have made the finals, including at the Futurity, NRBC and now the Derby.
"He's just the same every day. He's awesome and quiet," Griffin said. "You wouldn't even know he's a stud, and he can do it all. He'll be a great five-year-old."
He thanked his daughter and Francesco Martinotti. The team hopes to continue their winning ways after Griffin has disc replacement surgery.
Youth Non Pro Derby Champion – Samuel Flarida & Hollywooddirtysecret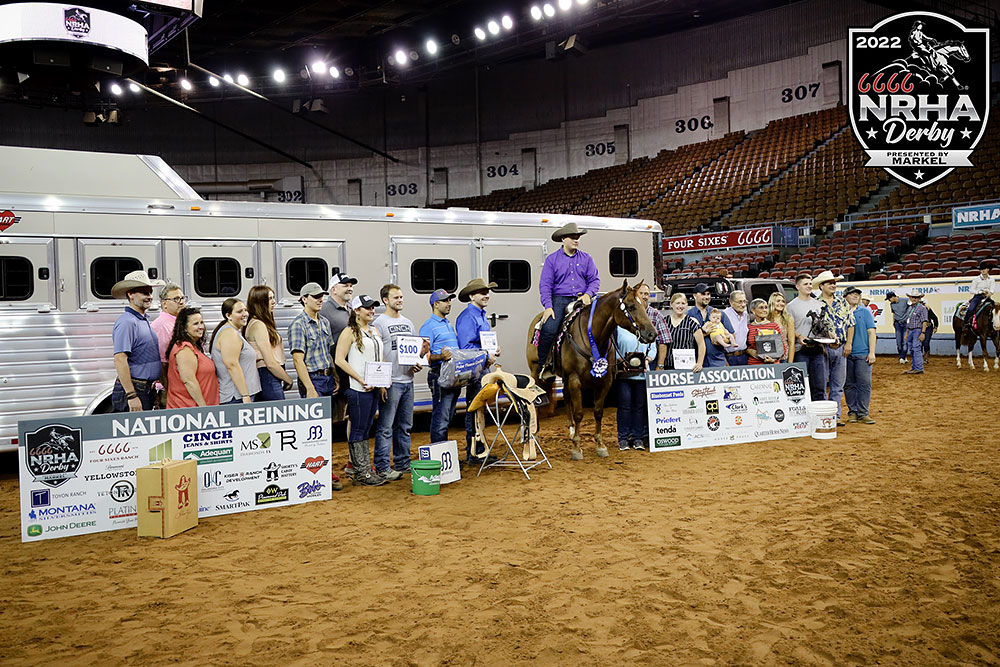 The name Flarida is synonymous with the reining world, and Samuel Flarida is keeping the tradition alive. Flarida and Hollywooddirtysecret scored a 219 Friday night in the Non Pro Finals to finish third in the Level 4 Non Pro and take the Youth Non Pro Championship.
"We've had him since he was a yearling, and he's made finals everywhere," Flarida said. "He's just been really good to me."
This was the seven-year-old gelding's, by NRHA Three Million Dollar Sire Hollywoodstinseltown out of Maximum Rpm, last Derby finals, and Flarida had to make sure he could overcome some pretty high scores already set.
"I just wanted to go for it, and he was with me the whole time," he said. "I put all the pressure on me, and the horse takes care of me."
Flarida's father is NRHA Six Million Dollar Rider Shawn Flarida, and the younger generation has learned a lot growing up in the presence of the great showman and trainer.
"He just taught me to think ahead with everything and always stay confident trusting your work," he said. Flarida thanked his entire family and everyone in his corner as well.
Another up-and-comer from a top reining family, Addisyn Schmersal, took Reserve honors in the Youth Non Pro and tied for fourth in the Level 4 on TA Dunit Redhot. TA Dunit Redhot is by NRHA Two Million Dollar Sire Pale Face Dunnit out of Redhot Walla.