National Reining Horse Association members have turned out in droves for the Adequan® North American Affiliate Championships. Section two of the exceptionally large NAAC Non Pro, Intermediate Non Pro, and Prime Time Non Pro classes wrapped up Wednesday morning, and the riders who set the pace in the first section held for the win.
Adequan® NAAC Non Pro Non Pro Champion – Paige Vernon and Magnum Starlight
Magnum Starlight has proved himself a steady-Eddy with Paige Vernon at the helm, capturing the NAAC Non Pro and Affiliate Non Pro Championship with a score of 224, earning $6,182.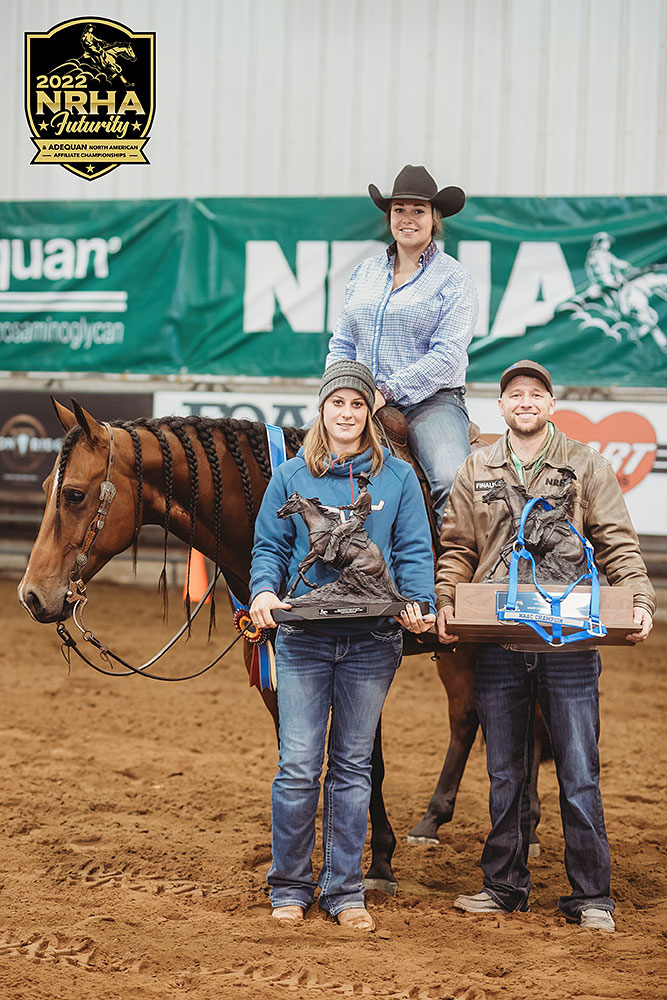 "He's been a very steady, easy, fun, good horse to show," Vernon said. "He's always confident and always takes care of me in the show pen."
The 8-year-old gelding, sired by NRHA Eight Million Dollar Sire Magnum Chic Dream and out of FS Lenas Starlight, is owned by White Rive Ag products.
"He turned huge for me, which was surprising. He circled good, and he ran down to the stops, which was great," Vernon said. "I've been working on running down and getting him past the middle cone."
According to Vernon, Mangum Starlight is great for kids to ride, but his wild hair comes out when it's time to be caught in the pasture.
"My trainers have helped me a lot, and he worked really good for me. They told me to go have fun and run him because I'm going to have a baby in May, and he's going to have a little while off," Vernon said. "Tanner and Christine [Boyes] have done a hell of a job. I thank my husband, Tommy, my cousins, and my family for cheering me on in the show pen. And White Rive Ag for owning the horses we get to show."
Adequan® NAAC Intermediate Non Pro Champion – Stephanie Gentile and Joes Lil Wrangler
Stephanie Gentile has had the week of a lifetime, earning four North American Affiliate Championships. Her latest victories were in the NAAC Intermediate Non Pro, where a score of 219.5 earned them $4,469 (including ancillary earnings). The pair won an additional $2,822 for placing third in the NAAC and ancillary Non Pro.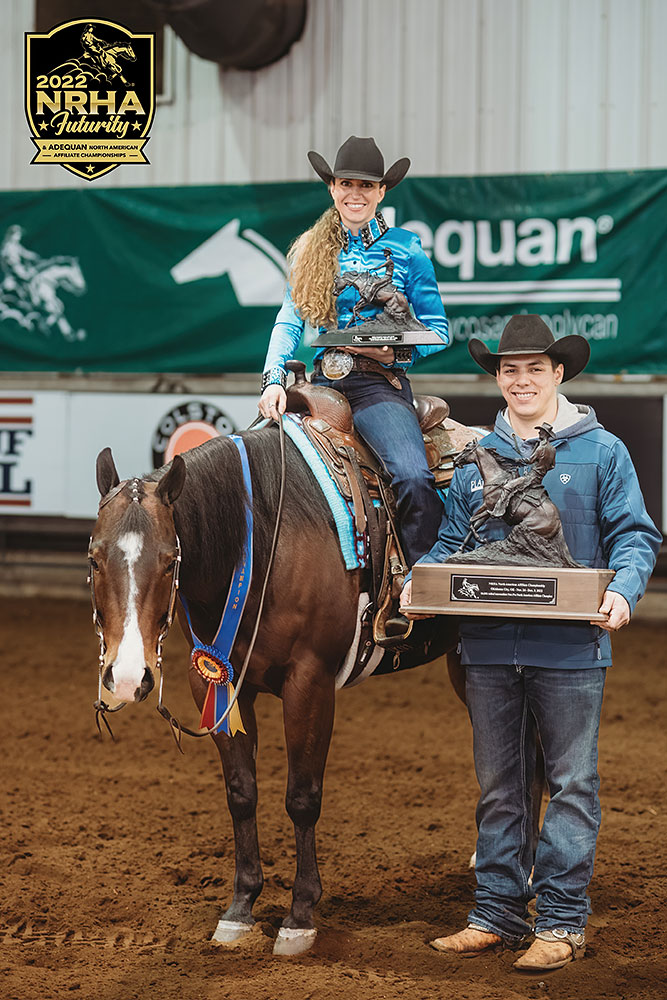 "It's been a phenomenal week," Gentile said. "Definitely one that'll go down in the history books. I can't believe it; I am a little bit speechless still. Today was our highest score, and he was right there, consistent as always."
To keep Joes Lil Wrangler (Lil Joe Cash x A Chic In Wranglers) on track for the intense week of showing, Gentile and husband Jesse relied on the slow build of schooling they'd done all year.
"We put this trust in all the miles leading up to this and all the work Jesse has put into this horse to make him strong and confident," Gentile explained. "It's fun to see him progress because I always knew this horse was really special. He's started to shine as we've pushed him, and he's shined all week again and again."
While Gentile says she hopes to renew Joes Lil Wranglers' lease for the coming year, being able to see him and care for him in the barn is most important to her.
Gentile thanked owner Lori Baker, husband Jesse, her family and friends, sponsors and producers of the show, and most of all, Starlights Lil Wrangler.
Gentile will be showing in the Bobs Custom Saddles NAAC Intermediate Non Pro Showdown on Thursday, Dec. 1, in the Jim Norick Arena.
Adequan® NAAC Prime Time Non Pro Champion – Jose Vasquez and SLJ Corazon Valiente
Riding a son of his late stallion Smart Like Juice, Jose Vasquez rounded up an armful of prizes in the North American Affiliate Championships Prime Time Non Pro, scoring a 223 and earning a total of $1,967 (includes ancillary Prime Time Non Pro earnings).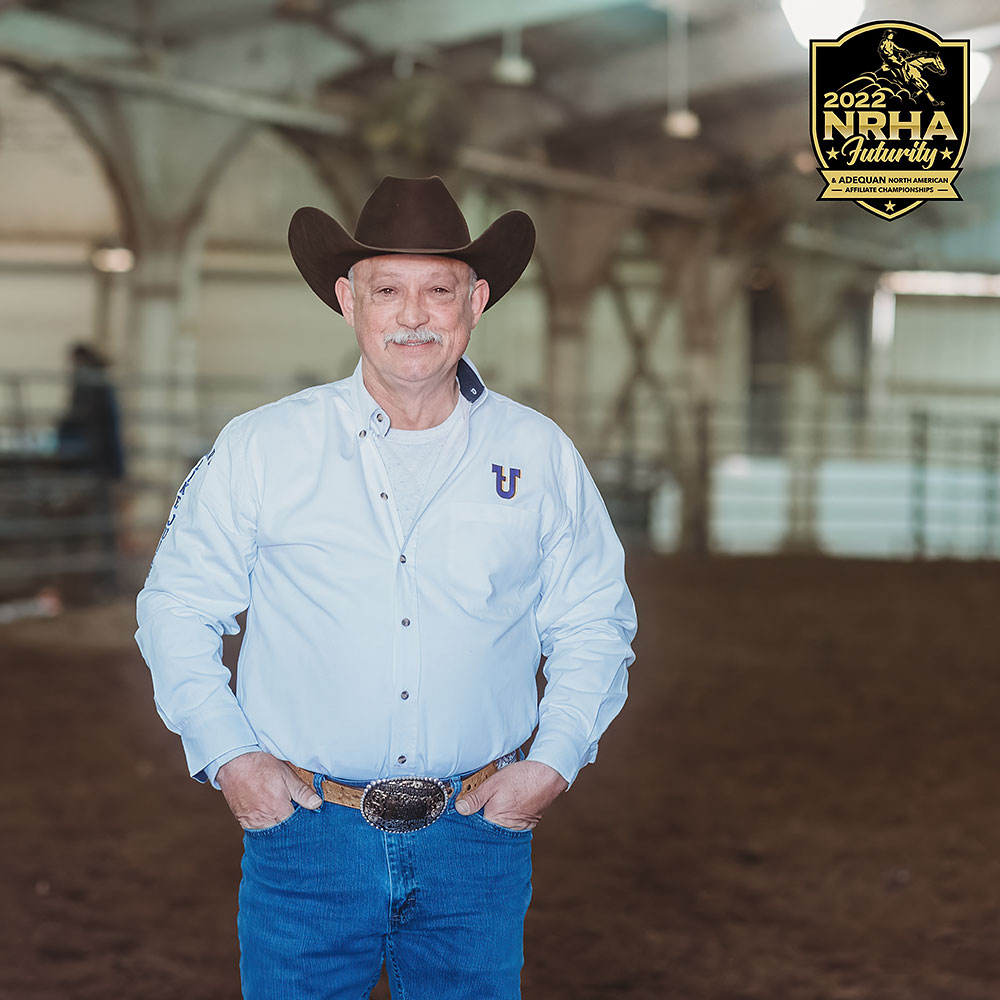 "He was so good yesterday; I just stay on. If I just stay out of his way, he is easy," Vasquez said.
SLJ Corazon Valiente (Smart Like Juice x Wind Her Up Shiner) has proven himself a level-headed individual both at home and at the show. If Vasquez was not already keeping several full siblings to the stallion, he might have had a place in the breeding shed.
"He's a very nice horse, so I'm very proud to own him," Vasquez said. "He's always on the same team. He's a stud, but you'd never know; he doesn't care. And that's why he's a very special animal – I don't keep many studs."
Vasquez thanked his family for their support and trainer Alejandro Ortiz Vasquez for his work training the horse.