The stage has been set for the world of reining's most prestigious night; the NRHA Level 4 Open Futurity Finals. Held Saturday, Dec. 3, what was a field of 391 has been whittled to 35 Level 4 Open horses and riders.
The Open first go took place Nov. 24-26, and the top horses from each level advanced to the semi-finals. Levels 3, 2, and 1 went through the pen on Tuesday, Nov. 29, and on Wednesday, the L4 Open semi-finals, sponsored by Not Ruf At All, featured the top 75 horses from the first round. From there, the top 30 competitors (plus ties) with the highest composite scores in L4-1, plus the top 10 in the Prime Time, advanced to the clean-slate Finals.
There, in the Jim Norick Coliseum, more than $2 million will be paid out, breaking the previous record by more than $200,000!
In fact, all four Open Level purses are record-breakers in 2022!
This year, the Level 4 Open exhibitors will be competing for an impressive $350,000 1st place prize during the MS Diamonds TX L4 Open Futurity Finals. The Reserve Champion will still win a guaranteed $150,000, and third place will bank $100,000.
That's huge news, and the guaranteed payouts for all Open Levels are impressive.
Level 3 – Champion/$70,000, Res. Champion/$50,000, 3rd/$35,000
Level 2 – Champion/$50,000, Res. Champion/$25,000, 3rd $15,000
Level 1 – Champion/$13,000, Res. Champion/$7,000
Topping the L4 semi-finals and securing their spot in the finals with a composite 453 were Adiamoe and Seven Million Dollar Rider Shawn. Leading the field by more than three points, Flarida has shown his poise to the competition headed into the electric clean-slate finals.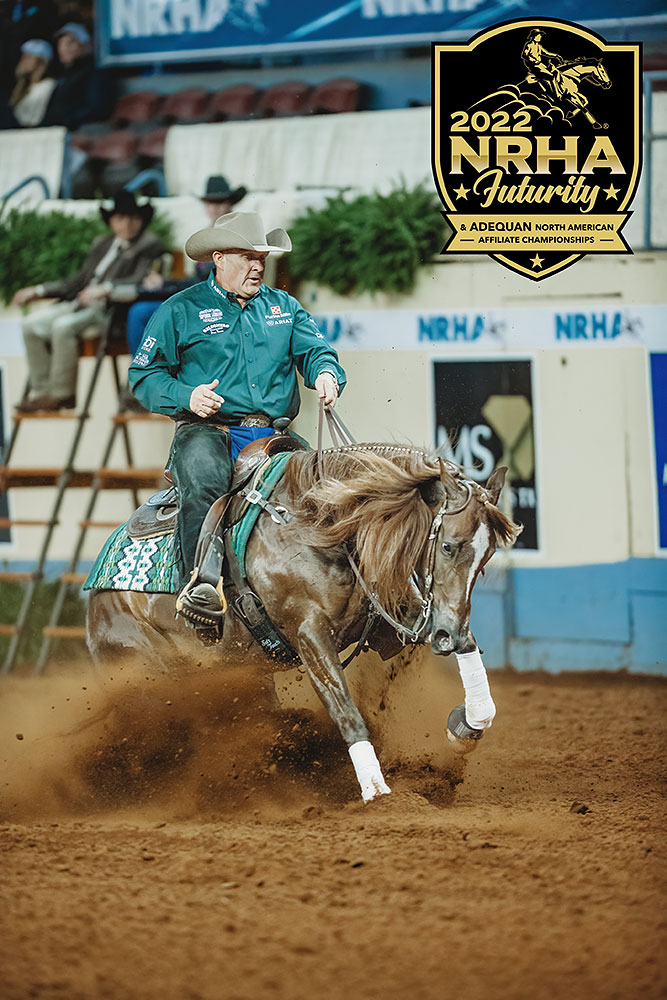 The pair marked a 228.5 in the first round and came back for more in the second round with a 224.5. Andiamoe is bred and owned by Two Million Dollar Owner Arcese Quarter Horses, sired by Eight Million Dollar Sire Gunnatrashya and out of NRHA Million Dam Wimpys Little Chic.
Her name is Italian and translates to "Let's go!"
Flarida is a five-time NRHA Open Futurity Champion and advanced to the Prime Time Open Finals in the top spot, as well.
In the L3 and L2 Open, Rodrigo Nieves and Spook Lil Whiz took the top spot with a composite of 445.5. The stallion is bred and owned by Renata Lemann and was nominated by Eduardo Salgado. Spook Lil Whiz is sired by Four Million Dollar Sire Spooks Gotta Whiz and out of Lil Dreamer.
The top L1 horse and rider were Shineoncrazydiamond with Vanessa Strotmann, who marked a 219.5 and 220 for a 439.5 composite. The stallion was bred and nominated by Stefano Calcagnini and is owned by Strotmann herself. He's sired by NRHA Million Sire Shine Chic Shine and out of Cashing In Diamonds.
The bubble needed to earn a berth in the L4 Open Finals was a 440. In the L3, it took a 434.5 to advance. L2 riders had to mark at least a 430, while in the L1, it took a 420.5 or more. To make the Top 10 in the Prime Time Open, riders needed to earn at least a 439.
Riders Advance from CINCH Non Pro Futurity Consolation
Although the preliminary round of the NRHA CINCH Non Pro Futurity concluded Monday evening, riders who barely missed qualifying for the finals still had a chance to advance.
That's because the CINCH Non Pro Futurity Consolation round gives entries that last chance needed to secure a spot in the Finals. In the consolation, the top five from each of the four Levels move on to Friday's competition.
Jesse Asmussen and TR Who N Who topped the CINCH Level 4 Non Pro Consolation with a 215.5. TR Who N Who was bred and nominated by Tamarack Ranch and is owned by Jesse Asmussen. TR Who N Who is sired by Eight Million Dollar Sire Gunnatrashya and out of Spooks N Sparks.
Finishing with the top score in Level 3 were Sarah Lynn Locker and Frankie D with a 215. The stallion is nominated, bred, and owned by Hilldale Farm. He's sired by Heavy Duty Chex and out of CR Kim.
Marking a 212 in Level 2 was Tiffany Bauer and CC Pearl Jam. The mare was bred and nominated by Brent Loseke and is owned by Bauer. She's sired by NRHA Million Dollar Sire Colonels Shining Gun and out of Jamrock Joe.
Marking the high score in Level 1 was Shelby Reine and Dun Playing Tag. Dun Playing Tag is sired by Six Million Dollar Sire Hollywood Dun It and out of Thelma Tag. The mare was bred, nominated, and owned by Reine.
Bubble scores to advance to the CINCH Non Pro Futurity Finals on Friday, Dec. 3, from the Consolation were 213 for Level 4, 211 for Level 3, 183 for Level 2, and 202 for Level 1.
Draw positions for the finals will be decided during the Platinum Performance Draw Party on Thursday at 9 a.m. in the Platinum Zone.