The 2022 National Reining Horse Association Futurity & Adequan® North American Affiliate Championships are in full swing, and with the Finals weekend on the horizon, the competition continues to heat up.
Petrol & Rapp Win Thursday's NRHA Bob's Custom Saddles Showdowns
The final weekend of the NRHA Futurity and Adequan® North American Affiliate Championships started on a high note. The Bob's Custom Saddles Intermediate Non Pro and Intermediate Open Showdowns were held in the Jim Norick Coliseum Thursday morning, with 21 top riders from the NAAC classes competing for additional cash prizes. Those earnings are on top of what anyone might have already won in the Adequan® Arena.
The top 10 (plus ties) in the classes had the opportunity – with no extra entry fee – to compete in the Showdowns for additional monetary prizes.
Bob's Custom Saddles sponsored the Showdown rounds for the Intermediate Open, Intermediate Non Pro, as well as the Rookie Level 2, which will run concurrently with the Toyon Ranch Rookie of the Year Showdown Saturday morning.
Bob's Custom Saddles NAAC Intermediate Open Showdown – Xtra Miss Wimpy and Sebastian Petrol
Xtra Miss Wimpy added another $5,000 to her resume Thursday morning in the Bob's Custom Saddle Intermediate Open Showdown. With Sebastian Petrol at the helm, the mare marked a 217.5.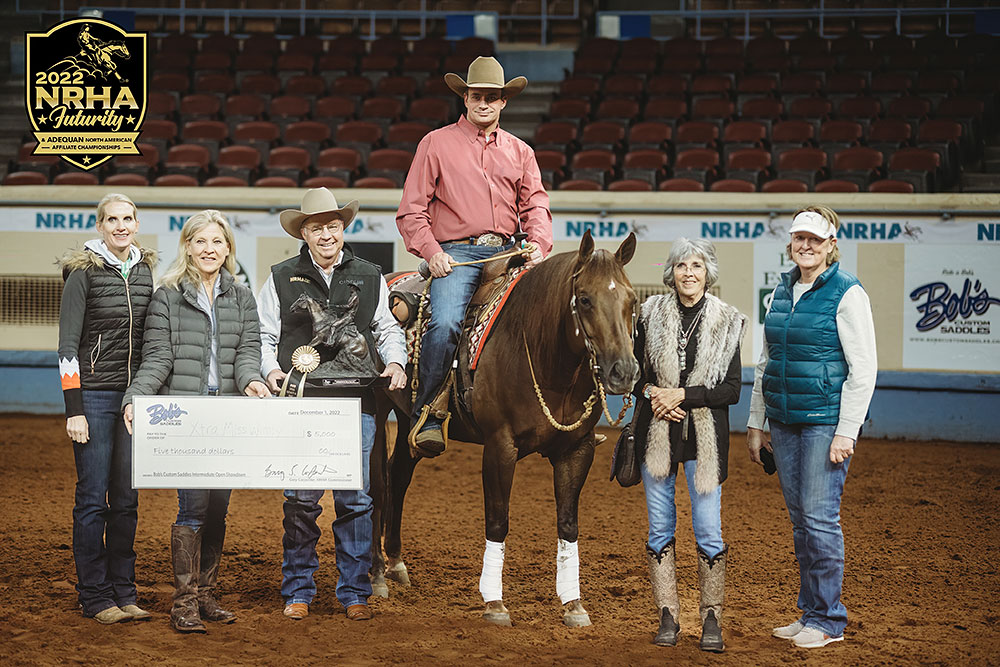 "I am very thankful for Bob's Custom Saddles for doing this," Petrol said. "That company does a great job supporting us and supporting the Association. We're very grateful."
Bred and nominated by Ixtul Quarter Horses, Xtra Miss Wimpy is described as a "positive, happy, and good horse to be around." The mare is owned by Ellen Cummins and is sired by NRHA Two Million Dollar Sire Shiners Voodoo Dr and out of Little Smart Wimpy.
"She is just a darling. We've had her since her 3-year-old year. I showed her as a 3-year-old year and had some terrible luck all year long. Never really felt like I did her justice in her career," Petrol said. "Now that she's turned 7, we're switching gears and looking for different places to show her. She's still so good in the pen, so we're looking to rack up some more earnings, and today was a great opportunity here today."
Petrol thanked Cummins for her continued support and his entire team – including his wife ­­– for their hard work.
Bob's Custom Saddles NAAC Intermediate Non Pro Showdown – Alicia Rapp and Spooks Gotta Glo
For Alicia Rapp, the Bob's Custom Saddles Showdown was the cherry on top of a successful NRHA Futurity. She surpassed her lifetime earnings goal of $100,000 in the ancillary classes and got the chance to run through the Gateway of Champions entrance in the Bobs Custom Saddles Intermediate Non Pro Showdown.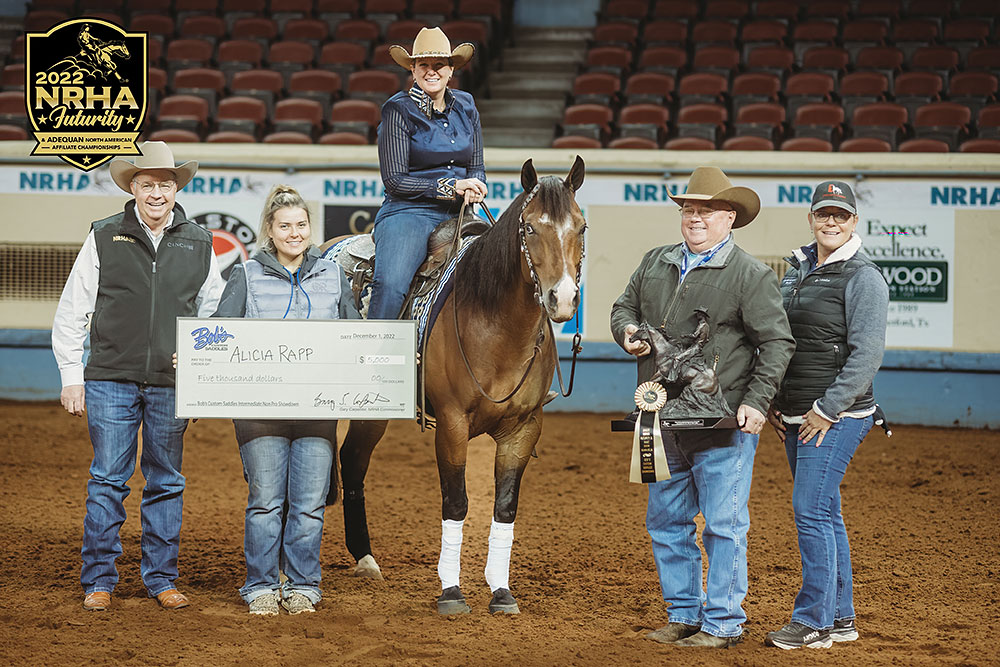 "I think Bob's doing this is awesome," Rapp said. "I think it's absolutely great. It was so much fun to be able to do this and show in the coliseum."
With a score of 216.5, Rapp earned $5,000 aboard 5-year-old Spooks Gotta Glo.
"It was a really good run," Rapp said. This pattern is really hard for me – pattern 7 – things happen so fast. But he was really a good boy. Ran in and got stopped huge three times, turned the best today that he has all week, and my slowdowns were [on center]."
According to Rapp, her gelding Spooks Gotta Glo (Spooks Gotta Gun x Look At Her Glo) is a "dork" who loves treats, turnout time, and competing.
"I thank my trainer, Ted Chancey. I've been with him for almost 15 years. And Mari Little, who does all of my acupuncture and chiropractic work on my horses. I couldn't have done it without them," Rapp said.
Complete results can be found at NRHAFuturity.com
NAAC Youth 13 and Under Co-Champion and Ancillary Youth 13 and Under Co-Champion – Addison Sawyer and Whizkey At Dawn
The competition in the Youth 13 and Under classes was fierce, and in the end, the top place finished in a tie. Scoring a 211, North Carolina's Addison Sawyer earned a Co-Championship in both the NAAC Youth 13 and Under, as well as the ancillary division in the class. All told, she earned more than $200.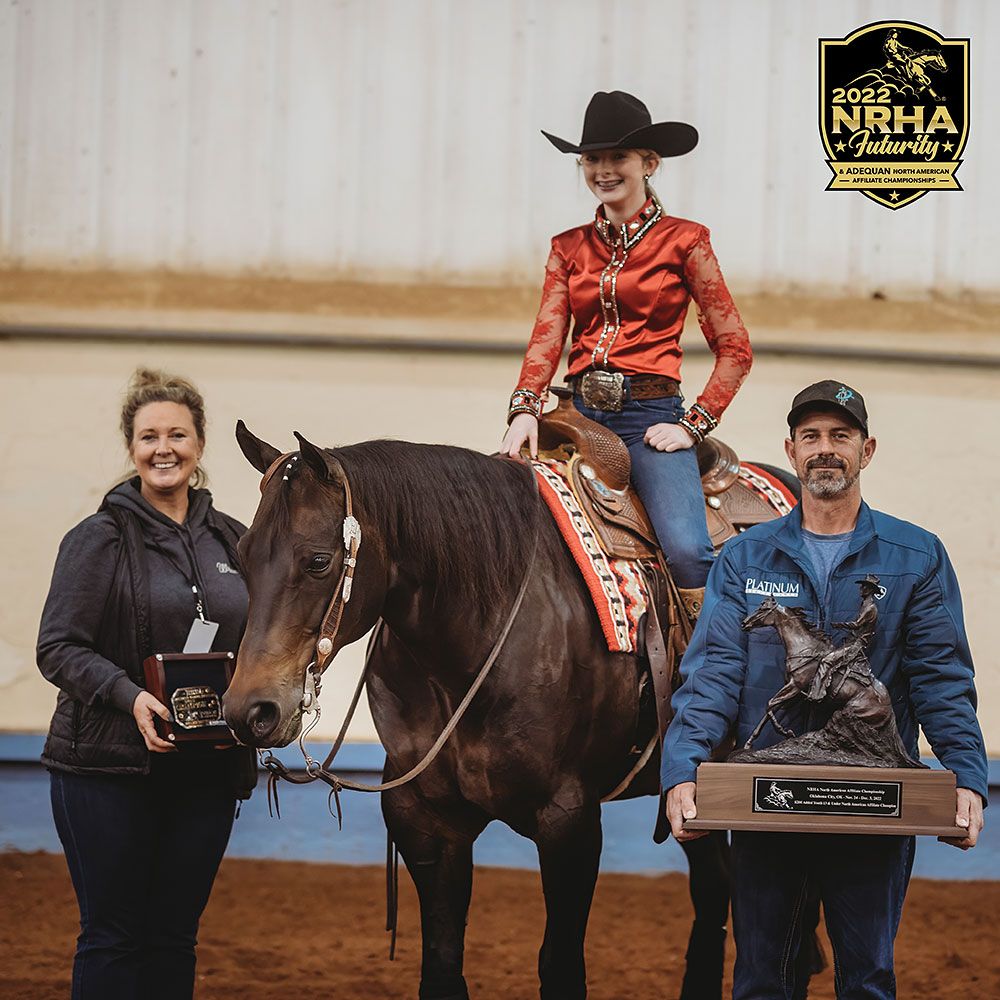 Riding "easy" gelding Whizkey At Dawn (Whizkey N Diamonds x Dualin At Dawn x Dualin Gun), Sawyer put together a smooth run.
"He has prepared amazing this week," Sawyer said. "It was fun today. I started to laugh because he didn't spin good, but that's OK. His best maneuver is his circles."
According to Sawyer, Whizkey At Dawn's favorite treat is German Horse Muffins. He was bred by Bundy Lane and is owned by Wayne Mizelle.
Sawyer thanked her trainer, Miss Joe, for her help.
NAAC Youth 13 and Under Co-Champion and Ancillary Youth 13 and Under Co-Champion – Hayley Thompson and Fifty Shades Of Roan
Hayley Thompson may have started riding pleasure horses but got to the reining pen as soon as she could. Riding new teammate Fifty Shades Of Roan (Roosters Wrangler x The Roan Whizard), Thompson garnered two Co-Championships in the NAAC Youth 13 and Under and the ancillary division of the class.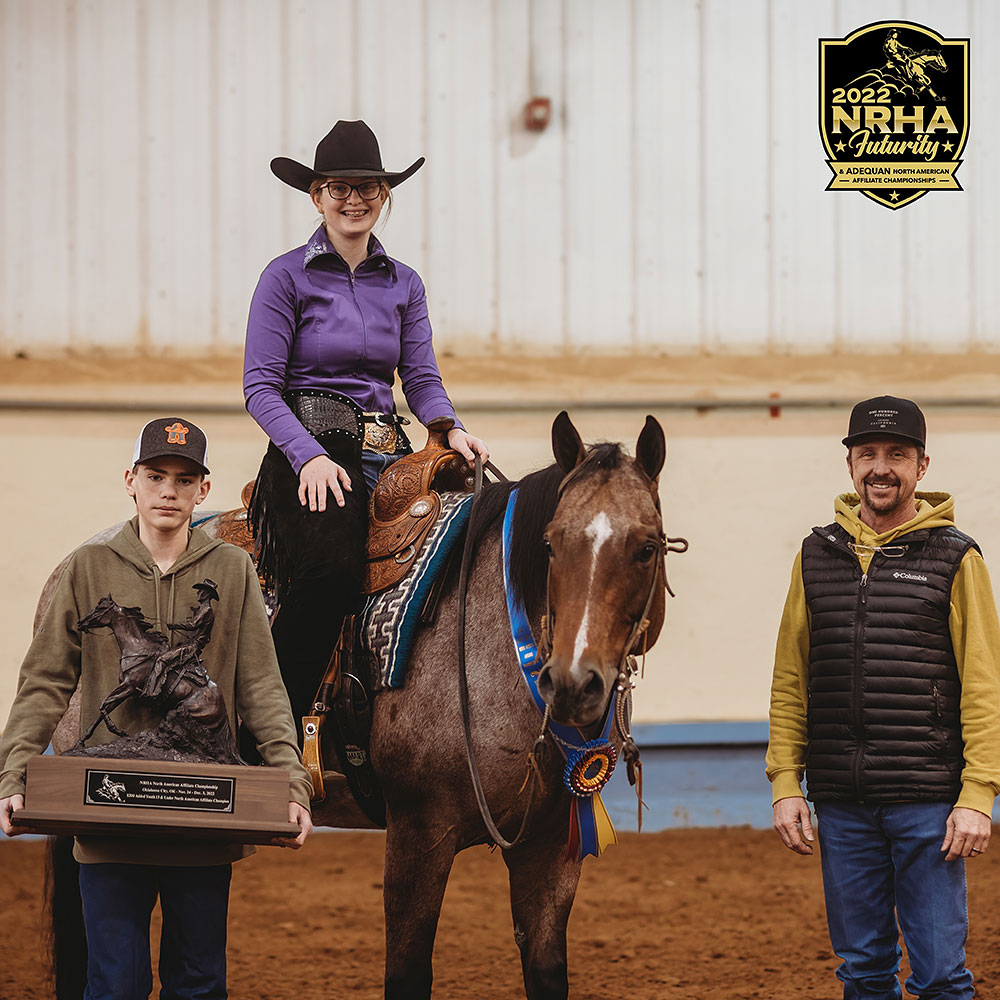 Riding to a score of 211, Thompson earned $214.
"I just got him this year in August," Thompson said of Fifty Shades Of Roan. "He's really fun, and I love him so much. He's always happy. He loves apples, and he'll be getting some."
According to Thompson, Fifty Shades Of Roan's best maneuvers are his stops and spins, and she plans on improving her run downs with him. The gelding was bred by Cora Solum and is owned by Clayton Thompson.
"We've been riding him a lot, and I rode him in here last night, and he was really good," Thompson said. "I thank my trainer, Jason Donahue, and my parents."
Youth Short Stirrup Champion – Rafael Christians and New N Town
The 2022 NRHA Futurity Level 4 Open Champion will have competition for the largest entourage… and it comes from Brazilian youth Rafael Christians. Christians marked a massive 219 on New N Town to win the Short Stirrup. The only one more excited about the championship than the entourage was the Champion himself.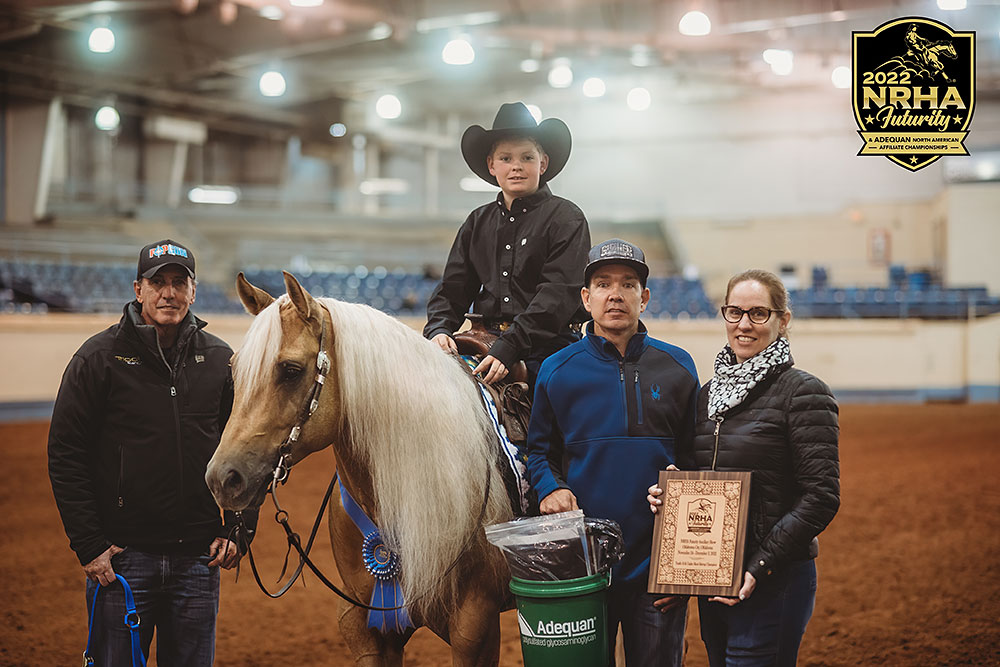 With the help of translator Ty Boechat, Christians expressed his gratitude.
"I am very happy, very excited, and have a mix of emotions after marking a 219," Christians said. "The run went very well. I've trained very hard, even before I came to the United States. I trained in Brazil for a long time, and I'm very happy to get to ride."
Riding Janice Laney's 5-year-old gelding, New N Town (Gunners Tinseltown x Wimpys New Pal) Christians marked his highest score ever.
"He's a really good horse, and I'm honored I get to ride him. I'm very glad I got to stay at Eleven Equine to train in preparation," Christians said.
Christians' list of people to thank was long and included Janice Laney, Eduardo Christians, Thiago Boechat, Joao Batistella, Joao Felipe Lacerda, Telma Eltink, Lucio Casalecchi, Ricardo Amaral, and the Tripol Ranch.
Tyson Randle Wins NRHA Honorable Mention Futurity on SRH Legally Blond
Riders not advancing to the finals had the option of entering the $1,000 Added Honorable Mention Futurity, and Tyson Randle and SRH Legally Blonde were victorious. The NRHA Professional and the mare, owned by Beth Ann Biber, marked a 215 for the win.
SRH Legally Blond, by NRHA Two Million Dollar Sire Pale Face Dunnit out of Java Light, was bred and nominated by Silver Spurs Equine.
Taking second in the Honorable Mention Futurity was Cody Garrison and Aintnofortunateson with a 213.5. Xtra Voodoo Me is by Colonel Smart Spook out of Custom Sparklolena. The stallion was bred, nominated, and is owned by Brogan Lee.