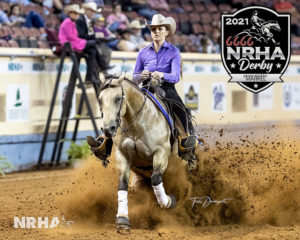 The National Reining Horse Association Board of Directors recently updated the NRHA Amateur Conditions for those events wishing to host a trial of the proposed division. This move extends the existing trial that was set to end April 1, 2022.
These amended conditions are effective April 2, 2022 and will extend through December 31, 2023. During that time frame, NRHA events may apply to host an Amateur division with an approved non pro derby. Amateur division added money cannot exceed half of the Level 4 added money, and also cannot exceed the Level 1 added money.
"Continuing with the trial will give members, committees and the board of directors more examples to evaluate before officially adding it as an aged event division. This also aligns with the timing of a 2024 rule change proposal that will be voted on in 2023. The advocates for the division feel it encourages participation by giving another option to non pros who may not have consistent access to training programs but are ready to move into aged event competition.
To compete in the Amateur division, the same horse and rider must be cross-entered into the NRHA-approved non pro derby. The show conditions will govern which level or levels must be entered. For the NRHA Derby, for example, this would be the eligible level plus one up.
There is only one level of Amateur, and riders who enter the Amateur division must be Non Pros and abide by the NRHA Non Pro ownership rules.
Youth, legal dependents of professional equine trainers, spouses or legal partners/mates of professional equine trainers, and anyone who has exceeded NRHA lifetime earnings of $100,000 in Categories 2, 6, 8, and 11 in the previous year, or is currently only eligible for L4 Non Pro, or only L4 and L3, are excluded from competing in the Amateur division. NRHA judges and breeders are eligible to enter the Amateur division if they meet the required criteria.
Shows wishing to have an Amateur Division must submit a written request, and a confirmation that the division will be run using the approved Amateur conditions must be included in the event's approval application.
For more information, contact the NRHA Non Pro Committee Liaison Christa Morris-Stone at cmorris@nrha.com.