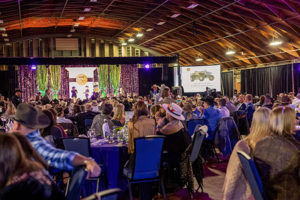 Sliders' Night Out presented by Toyon Ranch, the premier charitable event in the reining community, was back on the social calendar this year after not being held in 2020.
Hosted by the Reining Horse Foundation on Wednesday, Dec. 1, at the Oklahoma State Fair Park Centennial Building in Oklahoma City, the night honored National Reining Horse Association (NRHA) Hall of Fame inductees and NRHA Lifetime Achievement Award recipients from 2021 and 2020. It also offered a live auction, the proceeds of which benefitted NRHA members in a variety of ways, including the Dale Wilkinson Memorial Crisis Fund, youth scholarships, the Hall of Fame and more.
Up for bid during the auction were a select group of items. They included a John Deere TS Gator, donated by Equine Discounts; a private clinic for eight people with NRHA Professional Mirjam Stillo, made possible by Mirjam Stillo Performance Horses, Nancy and John Tague of Toyon Ranch, and Debbie and Gary Conway of Rancho Los Vaqueros; a custom, handcrafted 18K gold pendant complete with winner's logo from MS Diamonds TX; and a 2022 embryo out of Wind Her Up Chic, a top-producing mare with lifetime earnings exceeding $100,000, donated by RHF President Tim Anderson and Kim Niven.
When all was said and done, the auction garnered more than $285,000, making the night wildly successful for the RHF. Leslie Baker, Executive Director of the RHF, anticipated the final total of donations to increase during the weeks to come thanks to the generosity of the table donors.
"It's a pinch-me moment," Baker said of the amount raised during Sliders' Night Out. "You think about two decades of history of what this foundation has been doing, and I've been telling people that we're no longer a teenager — the Reining Horse Foundation is a full-blown adult and doing charitable works. Our board of directors is going to take a thoughtful approach to what we do, but we're not going to bankroll these dollars. They have short-, middle- and long-term goals, and they'll be doing some planning on that early in 2022 to see what the next step is as we go into our third decade."
The night couldn't have happened without Toyon Ranch's John and Nancy Tague, who have been the presenting donors for three years. John said it was important to support the event because organizations like the NRHA and RHF create connectivity and foster a sense of community for the people who participate in them.
"Because of that, it was really a validation of the commitment a lot of folks have to the sport and the people that rely upon it to really turn this into a fabulous event that was going to raise funds for people in need who are in our community," Tague said.
"We honor Toyon Ranch tonight as a catalyst," Baker added. "There are so many people to thank for this, but they certainly took a leadership role in that three years ago to get it to this level. They felt like if they set an example, people would step up. We had over 60 tables sold tonight from people all across the world that did that. The goal is inclusiveness and diversity in this event, and the 2021 event certainly delivered."
Baker reported that two dozen donors pledged contributions with RHF Board member Jamie Walters giving $10,000, plus another 1:1 $10,000 match. NRHA President and RHF Board member Rick Clark then matched Walters' $20,000.
NRHA Hall of Fame Inductions
Inducted into the NRHA Hall of Fame this year were Jose Vazquez and the late Doug Carpenter, who were recognized during the night's program. Also honored was the 2021 NRHA Dale Wilkinson Lifetime Achievement Award recipient, Charles Vaughan.
As 2020's inductees were unable to be honored last year, they too were included in the festivities. The 2020 class consisted of the late Sally Brown and the late Jerry Kimmel, along with Mike Carrier, the 2020 NRHA Dale Wilkinson Lifetime Achievement Award recipient.
Jose Vazquez
Vazquez has been reining for about 24 years and is an NRHA Million Dollar Rider, Owner and Breeder. From Markham, Illinois, he is a member of the Midwest Reining Horse Association but has also supported the Asociacion Mexicana de Caballos de Reining A.C. NRHA Affiliate. His biggest wins to date as a rider were the 2009 National Reining Breeders Classic (NRBC) and the 2018 NRBC, where he won the Level 4 Non Pro Championship both times.
Vazquez breeds and raises most of his horses, many of which are related to his stallion, NRHA Four Million Dollar Sire and 2017 NRHA Hall of Fame Inductee Smart Like Juice. He gives back to the association and exemplifies great sportsmanship in and out of the show pen, supporting others, including his daughter, Mariana, who also competes.
At Sliders' Night Out, Vazquez had a difficult time putting into words what it meant to be inducted into the HOF.
"It's hard to explain how I feel. There's a lot of emotion, and I'm so happy," said Vazquez, whose entire family, including his wife, six children, nine grandchildren and brother Francisco, of Mexico, was in attendance. "I never thought I would come to this point. [When Tim McQuay was inducted into the Hall of Fame], I was joking around and I told them, 'One day I'll be where he is right now.' At the time, I was a Limited Non Pro. My earnings were about $1,400. To be here 23 years later is just amazing.
"I always say I was very fortunate to have two families — I have the Family Vazquez, and the Family NRHA," Vazquez added. "I'm very happy and very pleased to enjoy it."
Doug Carpenter
Vazquez' fellow inductee, Carpenter, passed away shortly before the 2020 NRHA Futurity. He is remembered as a mentor, a representative for the reining and the quintessential horseman. He sold and bought many horses that went on to have impressive careers thanks to his unmatched eye for horseflesh.
Carpenter was a Gold level donor to the RHF and helped reining become recognized on a global level. He also supported the NRHA Markel Futurity Sales and was one of the visionaries behind the NRHA Futurity Challenge, which has substantially increased the purse at the event. His numerous contributions to the sport will continue to impact the industry for years to come.
Charles Vaughan
Vaughan, a lawyer who won a landmark case in Indiana back in the 80s that resulted in laws preventing discrimination in the workplace against people with AIDS, has been involved with reining horses for years. He was instrumental in moving the NRHA Futurity from its home in Ohio to Oklahoma City. He has also owned and bred great horses over the years, including NRHA Hall of Fame mare Miss Tinseltown and Wimpys Show Stopper, an earner of more than $60,000.
Now 92, Vaughan still competes, even winning a bronze trophy at the age of 90. His character, generosity and enthusiasm for the sport helped make him the right choice for the Lifetime Achievement Award.
For more information on the Reining Horse Foundation, visit ReiningFoundation.com