The final weekend of the 2021 National Reining Horse Association Futurity and Adequan® North American Affiliate Championships started on a high note. The inaugural Bob's Custom Saddles Intermediate Non Pro and Intermediate Open Showdowns were held in the Jim Norick Coliseum Friday morning, with 20 top riders from the NAAC classes competing for additional cash prizes. Those earnings are on top of what anyone might have already won in the Adequan® Arena.
"The top 10 (plus ties) in the three classes we chose has the opportunity – with no extra entry fee – to come down through the 'Gateway of Champions.' That in itself is nerve-wracking enough, but then we put a first-place prize of $5,000 on top of that and are paying four monies in each division. It really raises the level of competition," Chris Weaver, Bob's Custom Saddles Vice President, explained.
Bob's Custom Saddles sponsored the Showdown rounds for the Intermediate Open, Intermediate Non Pro, and Rookie Level 2. Fellow NRHA Corporate Partner Toyon Ranch stepped up and added the Toyon Ranch Rookie of the Year Showdown to the lineup for Rookie Level 1 riders, and the two Rookie Showdowns will run concurrently on Saturday morning.
Why did Bob's Custom Saddles decide to focus on the NAAC competition? "We appreciate all of our Level 4 riders and endorsees, but we believed we could make a huge impact for the ancillary classes and the people who show every weekend. Understand that for the divisions we picked, most of those people are ready to move up a division. We wanted them to know what it feels like to show in that arena, and to get them excited," Weaver said.

David Hanson Wins Bob's Custom Saddles Int. Open Showdown on Xtra Needs A Drink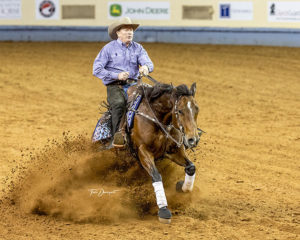 With a 215.5, David Hanson and Xtra Needs A Drink won the Bob's Custom Saddles Intermediate Open Showdown and the championship check of $5,000. Xtra Needs A Drink, a 6-year-old gelding by Wimpyneedsacocktail out of Ruby Chic Olena, is known for his reliability in the show pen, and that paid off when it came time to compete in the Norick for the Showdown.
"This horse is really fun to show. He's really dependable and gives me confidence to go show him repeatedly, and he's done well. He was consistent in the Open and Novice Horse Open, so I was confident about showing him today. He showed well, and fortunately, it was enough," Hanson explained. "It was exciting to show today, and this was an exciting idea. I thank Chris Weaver and everyone at Bob's Custom Saddles, as well as at NRHA, for the innovative idea to bring some of the affiliate horses back over here to show."
Hanson added, "This is a great opportunity. The Futurity is such a competitive event and what we all aspire to, but when we don't have those 3-year-olds that enable us to be here, it's great to have the opportunity to bring horse show horses back to the Coliseum. Not only that, it's great for other affiliate riders to have that chance to be in the Coliseum and see it and feel how it is to show in it. I think people will talk it up and it will continue to grow."
Xtra Needs A Drink is owned by Anne Driscoll. "Anne is super sweet. She came to us and just wanted to have a show horse she could watch at the shows and enjoy as an owner. She has been outstanding, and loves the horse and being able to watch him," Hanson said. "Our plan now is to rest him over the winter, then go to some of our West coast affiliate shows next year so we can come back to the NAAC in 2022. He's seven, so we will go to a couple derbies as well."
Anne and Dave Driscoll topped Hanson's list of people to thank, as did all the people who helps him in his barn. "I also thank Trevor Dare, who sold us this horse a year ago. Trevor has watched me and we've talked about him over the year, and I appreciate him and his help," he said.
Bob's Custom Saddles Int. Open Placings
David Hanson & Xtra Needs A Drink – $5,000
Benjamin Beckett & Xtra Dun Step – $2,500
Kyle Kelmer & ARC Trashin Yer Chic – $1,500
Jarvis Anderson & Nite Tripps – $1,000
Jade Whitmarsh Takes Bob's Custom Saddles Int. Non Pro Showdown Championship on North Sail Solitaire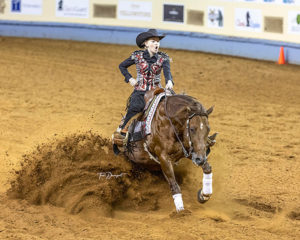 On an 11th hour whim, Jade Whitmarsh traveled from Canada to compete in the Adequan® NAAC classes. Finishing as part of a three-way tie for eighth in the NAAC round, Whitmarsh earned a spot in the Bob's Custom Saddles Intermediate Non Pro Showdown.
There, she finished in a three-way tie for the top score (210.5) of the Showdown, and it was time for a run-off.
Whitmarsh, who competed as the final horse of the runoff, bested her original run by five points, and claimed the Bob's Custom Saddles Showdown Championship and accompanying check for $5,000!
"I am so excited! We came down here just to have this experience, just on a last-minute whim," Whitmarsh, a college freshman, explained. "So I got the lucky chance to show, and I knew I needed to come out and try my best."
Whitmarsh noted she was proud of her horse's performance in their original run. "I was super happy with him. I pushed him and it went well. He's pretty tired, but he listened super well and got those big stops that helped us since we had a turn penalty," she explained.
Then it was time to prepare for the runoff. "My coach, Austin Seelhof, said, 'Go in there and no penalties. We need to make sure he is soft, and we need to run him the same way and make sure those stops are big because that's his best part,'" Whitmarsh recounted. "I was last in the runoff, so I knew what I needed to be. He was right there with me and listening to me."
North Sail Solitaire, by NRHA Twelve Million Dollar Sire Topsail Whiz out of Solitary Gunner, is special to Whitmarsh's family. "He is the first baby we raised on our farm. He was started down here by Casey Deary, and then we brought him home after a minor injury. Then Austin, my coach up north, has been showing him and riding him through his derby years, and has done phenomenal with him," she explained. "I just got to start riding him a couple years ago, and we are finally starting to work more as a team and our styles are starting to mend."
Whitmarsh added her appreciation to Bob's Custom Saddles for sponsoring the Showdowns. "Thank you so much for putting it together. It was an amazing opportunity to get to show in the Coliseum. I didn't come down here with the thought that that is where I would be showing at the end of the week, so it's super awesome. I am so appreciative that they decided to offer this new class. It gives people the chance for some people who may not have futurity horses to get in that big pen," she said. "I thank my coach, Austin Seelhof. He has been amazing in supporting me along this journey. I also thank my mom and dad for helping me and supporting my dreams of coming down here. I also thank my sister for always being there, and my entire barn for helping me get ready."
Bob's Custom Saddles Int. Non Pro Placings
Jade Whitmarsh & North Sail Solitaire – $5,000
Rebecca Asmussen & The Crowd Goes Wildd – $2,000
Abby Budd & Gunnadream – $2,000
Paige Vernon & Magnum Starlight – $1,000