The Adequan® Arena at State Fair Park in Oklahoma City has been bustling with activity all week, as riders from across North America compete in the Adequan® North American Affiliate Championships. It was a full day of classes in the Adequan® Arena, with the remainder of the Rookie classes wrapping up Friday morning. Then the youth riders of the National Reining Horse Youth Association took over, with the Adequan® NAAC Youth 13 & Under and the ancillary Short Stirrup class rounding out the day.
Logan Flaherty Wins Toyon Ranch Rookie of the Year and NAAC Rookie Level 2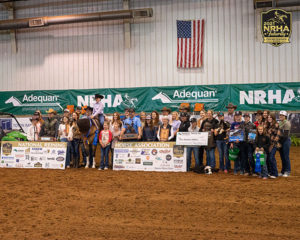 With an impressive 219, Logan Flaherty cleaned house in the Rookie classes in the Adequan® Arena. The number of entries was so large that the class had to be run over two days, and in the end, Flaherty took home the Toyon Ranch Rookie of the Year Championship, the Adequan® NAAC Rookie 2 Championship, and the ancillary titles for both divisions.
All totaled, the young competitor collected more than $1,641 in money, plus two saddles from Bob's Custom Saddles, two Montana Silversmiths buckles, product from Dr. Joe Carter, Platinum Performance and Classic Equine, and gift certificates for Bluebonnet Feed.
Flaherty also qualified for Bob's Custom Saddles Rookie 2 and Toyon Ranch Rookie of the Year Showdowns, which will be held Saturday morning in the Jim Norick Coliseum.
"I was really excited to win this because earlier this year I thought I had a chance to win The Run For A Million Rookie, but I had a couple of bobbles. So I came here and was really prepared, and the hard work paid off," he said.
Flaherty's partner for the year has been Cashing Black Chex, by Big Chex To Cash out of Blazing In Black. The 9-year-old gelding is owned by Kim Niven, but the Flaherty's leased the talented performer for Logan to show. "Kim told me I could show him this year, and I am grateful to have had him. I thank Kim and Tim Anderson for letting me show such a special horse this year," he said. "I also thank my mom and dad. I thank my dad for training me and my mom for helping me out. I also thank everyone in my dad's barn for helping me, and the good Lord himself."
When recounting his run, Flaherty admitted it was a bit nerve-wracking because of all the people there. It was on one of the last rollbacks that it began to dawn on him that he might have won it. "Then we stopped big, backed up, and it was really loud," he shared.
Flaherty is looking forward to Saturday morning's Showdown round. "I'm a little nervous because it's a pattern I usually have trouble on, but we have already had a really good week and this is just extra," he said.
Mark Hurd Takes NAAC Prime Time Non Pro Title on Im Painted Special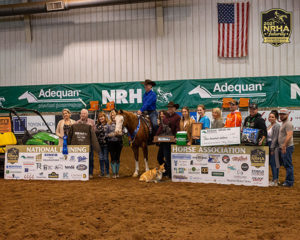 With more than 230 runs in the Rookie classes, finishing in the top 10 is an accomplishment, and winning a division is incredible. Mark Hurd did both of those with his horse Im Painted Special, winning the NAAC Prime Time Rookie Championship and the ancillary Prime Time Rookie, as well as finishing in the top 10 for the Toyon Ranch Rookie of the Year and NAAC Rookie Level 2.
Hurd won a saddle from Continental Saddlery, a Montana Silversmiths buckle, product from Dr. Joe Carter, Platinum Performance and Classic Equine, and a gift certificate for Bluebonnet Feed.
Im Painted Special, by NRHA Four Million Dollar Sire Gunners Special Nite out of Darlins Not Painted, qualified to compete in the NAACs at the last minute. "Sam (Im Painted Special) has just been back to training now for about four weeks because of an injury. Matt Palmer was great enough to take me out to Cloverdale, Indiana, to get qualified, which was our last chance to get qualified," Hurd explained. "But here we went in, and he was great. He was really pure. I call him Sam, but his registered is Im Painted Special, and he is all that. He is very special."
By virtue of placing in the top 10 for both Rookie Levels 1 and 2, Hurd and Im Painted Special earned a spot in both the Bob's Custom Saddles and Toyon Ranch Showdowns on Saturday morning. "I think the Showdowns are an awesome idea. I'm really happy to qualify and give a big thank you to Bob's Custom Saddles and Toyon Ranch for sponsoring them. I think they are great because you have an opportunity – if you think you messed up – you can go back in and see if you can do even better," he said. "Sam and I were in the Derby finals this past year, and he was a good boy. He's been there before, and hopefully, I won't make any mistakes. My plan is to just ride conservatively and stay out of trouble."
Hurd, of Wilmington, Delaware, had many people to thank. "First I thank my Lord and Savior. I thank my family, both here and watching remotely, who have been really supportive of a guy who was silly enough to pick up reining when he was already in his 50s. I thank Tom McCutcheon for starting Sam, and Matt Palmer and his mom Joan. I also thank his wife, Hannah, and the whole team that takes such good care of Sam and his legs," Hurd said.
Clayton Porath Wins Short Stirrup Championship on Gunna Be Expensive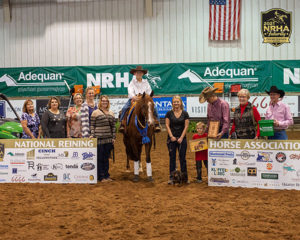 With the hustle and bustle of a full week of showing at the NRHA Futurity & Adequan NAAC, the Porath family has been juggling time in the arena. On Friday, it was Clayton Porath's time to shine in the arena when he showed for the first time in Oklahoma City.
After a short two months together, Porath and his mare Gunna Be Expensive (Gunnatrashya x Whizen Starlight), stayed focused to score a 216.5 to win the Short Stirrup. It was a large class with 22 fierce exhibitors.
There was no doubt the team had an incredible bond, and Porath was excited to finally have the chance to show the mare. "She is just a really nice horse. I love everything about her. She is really kind and will eat just about anything," he added. "A potato chip or a fruit snack, she will eat just about anything. That's a good thing. When I am at the horse show and have pizza, she will stare at me until I share with her and give her the crust."
Porath plans to thank his horse with a treat of a carrot. He also thanked his mom, his dad, and his Lord.
Madison Rafacz Takes NAAC Youth 13 & Under Championship on Got Twisted In Vegas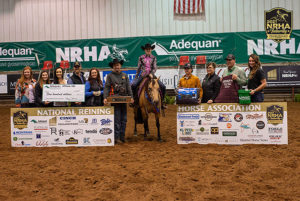 The Adequan® NAAC Youth 13 & Under was full of exceptional exhibitors. With a total of 38 riders, the pressure was high, but that didn't matter to Madison Rafacz, who marked a 216 to take the top spot.
Rafacz rode Got Twisted In Vegas, a 4-year-old mare by High Roller Whiz out of Wimpys Dun Twistin. The win was special for Rafacz, who purchased the mare as a 2-year-old and has been responsible for the majority of her training.
"It went really well. She was super honest, and I was super happy with her," Rafacz, of Citra, Florida, shared. "She did everything I asked of her. She was good."
It takes a team, Rafacz shared. She thanked her parents, especially her dad Mark, for helping her with her mare. She also thanked her entire barn, and Martin, for always supporting her.
Calla Thomas Wins Youth 13 & Under on Great King Jack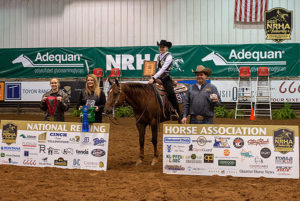 A win is a poignant moment, but it is especially special when it is on a horse that you grew up with. Calla Thomas was there the night that Great King Jack (Great King Pine x Great Red Jackie) was born, and the team grew up together. It wasn't until last year that the duo began showing together, but they performed seamlessly during Friday's Youth classes in the Adequan® Arena, resulting in a score of 215 that won the ancillary Youth 13 & Under and Reserve in the NAAC Youth 13 & Under.
The smiles were big as Thomas beamed about her run. "He turned really good to the right. We got shut off good, and then we went to the left and I had an underspin. We did circle really good, and stopped great," Thomas said. "I thank my parents who have trained Jack and me, and everyone who has ever helped get me where I am today, and of course, I thank Jack. He is a really special horse."