Jennifer Gilliam and Surprizing Sixty Six dominated the National Reining Horse Association CINCH Non Pro Futurity, first topping the preliminary round, and then putting together a 222.5-point run to win the CINCH Level 4 Non Pro Championship!
The pair also won the Non Pro Level 3 Championship, bringing their Friday night paycheck to $82,593! "Today, I mean, there are no words. I knew I would have to go for it tonight because everyone else had laid down runs earlier. I knew I had to control my nerves because I knew it was going to be loud," Gilliam shared. "I credit Jordan McBurney with preparing me and my horse. She told me to be ready for the loud. You know, your friends cheer for you in the go rounds, but in the finals, everyone cheers for you."
As Gilliam and Surprizing Sixty Six, by Inferno Sixty Six out of Dun With Surprizes, executed an impressive pattern. "I knew I had put a run together, but you never know if it's enough," she said. "I knew I had to go for it, and the mare was just there for me."
Gilliam started the mare, owned by her mother Janiene Borror and nominated by Valentin Rascon, and rode her through October of her 2-year-old year before handing the reins to McBurney. "Jordan kind of brought her along from there," she said.
Gilliam and Surprizing Sixty Six went to four pre-futurities, winning three and splitting the win at the fourth. "I came in here feeling confident but feeling some pressure. Then, to win the go round was an amazing feeling. I have made the finals, but never even placed in the go round. I always just seem to be the last one in, so that was huge," she said. "Then last year I missed the finals by a half-point, and then the two years before that I zeroed in the finals."
So what does it mean to win the CINCH Non Pro Futurity? "Honestly, you look at goals and dreams, and this has always been one, but I don't know that I actually thought it could happen," Gilliam admitted. "This was the first time I felt like I actually had enough horse to do it but to actually win it is just an amazing feeling."
Gilliam plans to flush a few embryos from Suprizing Sixty Six before showing her in derby competition.
Jana Simons and Raisinthebar Win CINCH Non Pro Level 2 Championship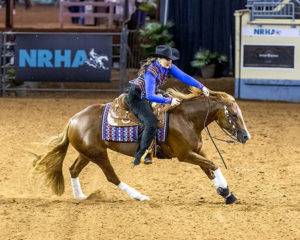 With a score of 216.5, Jana Simons took the CINCH Non Pro Level 2 Championship. Her partner for the event was Raisinthebar, a mare by PS Mega Shine Chic out of Chic In The Bar.
"The run today was awesome. She was super easy to show, and I have no complaints about it at all. It was lots and lots of fun," Simons said following the finals, where she was presented with a check for $13,488.
Simons purchased Raisinthebar, nominated by Adh-Mor Ranch, as a 2-year-old. "Dany and Fred Tremblay found her for me, and she's just been a lot of fun. She did well at the Southwest Reining Horse Association Futurity, and she's just gotten better since then. That's what you want. She's matured mentally and takes the pressure and my shenanigans," she said.
Simons and Raisinthebar marked a 211 in the go round. "She was really good. We had a little bit of a bobble, but she is awesome every time I showed her. She's a lot of fun," she explained.
Although she has had plenty of success in the Jim Norick Coliseum, winning the Level 2 twice before, Simons says competing in the Finals never gets old. "I would run into that first stop five more times if I could. It's so fun," she said. "The NRHA has done a super job of creating a platform where it's a lot of fun for the exhibitor and the spectator. It's great."
Simons rides with Dany and Fred Tremblay. "Dany and Fred have done a great job for me, and the people who work for Dany and Fred have helped me a ton. Everyone there has just been awesome," she said. "Also I thank my sister, Sarah, and my mom, Andrea, who are always hanging out with me at horse shows. They're always up for being at the shows with me."
Kindel Walter and My Best Friends Girl Win CINCH L1 Non Pro Co-Championship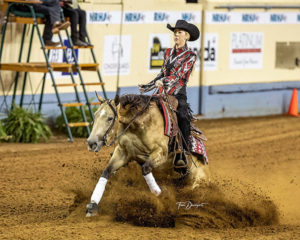 Weatherford, Texas, competitor Kindel Walter qualified for the CINCH Non Pro Finals in Levels 3-1, tying for the win of the Level 1 and placing in Levels 2 and 3 with a score of 215.5. Walters and her horse, My Best Friends Girl, collected more than $22,229 for their efforts in the Jim Norick Coliseum.
It was Walter's first time to show at the NRHA Futurity. "It was special. I've never really shown in NRHA competition before, and I haven't really shown horses in more than 10 years. My sister, Kelsey Price, and my husband, Jason, talked me into it, and now I'm kind of hooked," she said with a laugh.
Walter purchased My Best Friends Girl, by NRHA Two Million Dollar Sire Spooks Gotta Whiz out of Diva Dual, from Diane Beckmann, who had bred and nominated the mare. "I bought her in April this year, and she's really sweet. I loved her temperament. She was quiet and willing when I tried her," Walter said.
So what did it feel like to run into the arena for her very first Finals? "Thankfully I was really calm. I had prayed a lot about it, so I wasn't nervous at all. I was able to enjoy it and it was really awesome. I had never done a run in pattern, ever, so I felt a lot of pressure, but it was still fun," she said. "I thank my brother-in-law, Kole Price, who trained my horse and put all the hours into her, and my sister, Kelsey, because she was there to push me along the way. I also thank my husband, Jason Walters, because this was his idea."
Emma Vanlandingham Wins CINCH L1 Non Pro Co-Championship on Ruf Rider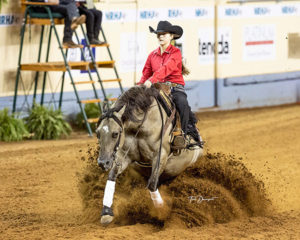 With a 215.5, Emma Vanlandingham and Ruf Rider claimed the CINCH Level 1 Non Pro Co-Championship, as well as third in the Youth Non Pro. All totaled, Vanlandingham is returning to Whitesboro, Texas, $6,112 richer. "My horse was awesome tonight. I had a really big bobble in the go rounds, but I was so happy with him tonight. It was my fault in the go-rounds, so I can't blame him for anything," she said.
Ruf Rider is by NRHA's newest Million Dollar Sire Not Ruf At All and out of Dun Pretty Nifty. The gelding was bred and nominated by NRHA Two Million Dollar Owner Vaughn Zimmerman, who sold the colt to the Vanlandinghams a few months ago.
Vanlandingham's father, NRHA Two Million Dollar Rider Jason Vanlandingham, gave his daughter some sage advice prior to the Finals. "He said, 'Go show him off and show what you have been working for this whole time,'" she shared.
It's only the 13-year-old's second year to show a futurity horse, and her first time to earn a spot in the finals. "I had one last year that I got about two weeks before the finals, and I was really nervous, but this was pretty cool. I was a little disappointed because I knew my horse was good enough to make the Level 4, but my bobbles didn't let him. I was still really excited, though," she explained.
Did Vanlandingham feel much pressure as one of the youngest riders in the Futurity? "No, I have been preparing for this since I was very young, so I felt ready," she said. "I thank my mom and dad, and of course Vaughn Zimmerman who sold us the horse."
Kelle Smith Takes CINCH Prime Time Non Pro Championship on Spookified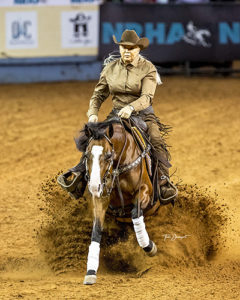 Riding one of the smallest horses in the competition, Kelle Smith marked one of the biggest scores of the finals – a 220.5. That not only topped the Prime Time Non Pro, it was also good enough to take the Level 3 Reserve Championship and tie for third in the Level 4. At the end of the night, Smith, of Marietta, Okla., had won more than $47,000, pushing her lifetime earnings over $925,000.
"This never gets old, but showing in the Finals makes me more nervous now. I had trouble getting ready because I couldn't focus. Then I went through the gate and she stopped so hard, everyone starting screaming, and I was right where I needed to be," Smith said.
Spookified, by NRHA Two Million Dollar Spooks Gotta Whiz out of JDS Shining Image, was bred and nominated by Troop Quarter Horses. "We got her from Dr. and Dr. Troop as a yearling, and she's been with us the whole time. Morgan Moser rode her most of her 2-year-old year, and then I took over this year. It sounds cliché, but she's always had something special," Smith said. "I hope I never have to ride anything but a Spooks Gotta Whiz. They're pretty, great stoppers, and I just bond with them."
Next up for Smith and Spookified? "I'd love to take her home, but I don't know what's going to happen. I'm not ready to talk about that. Right now, I'm just going to enjoy her," she said. "I have so many people to thank, and I am so sorry if I forget someone. I thank Sam, Morgan Moser, Brian Bell, Patrice St-Onge, Arno Ferret…There is just a plethora of people, and everyone is always so nice to me. It's greatly appreciated."
Luca Fappani and Talladega Ice Win CINCH Youth Non Pro Championship
Marking a 219, Luca Fappani and Talladega Ice not only won the CINCH Youth Non Pro Championship, they also finished fourth in the Level 4, winning $26,493.
While the Scottsdale, Arizona, Non Pro was happy with his run, he's sure his horse will have more to give in the future. "I know that he's an incredible horse, and I think he has a lot more than a 219 in him. We will keep working, and hopefully he reaches his full potential because he's a big-time horse," the 17-year-old shared. "I still thought he was really good everywhere, and I was happy with him."
Luca's parents, Andrea and Tish Fappani, purchased the colt, by SG Frozen Enterprize out of Skeets Chexy Nic, from nominator Gabrielle Solum. "We've had him a long time, and we think he is pretty special," Fappani said. "Now he's going to go home, get some time off, and we will do what is best for him. We now have four derby years, so we don't have to rush. Of course, if he feels good and ready, we will show him."
Fappani gave much of the credit for his success to his father, NRHA Six Million Dollar Rider Andrea Fappani. "I thank my dad. He's my greatest help and my greatest friend, and we have been working on this horse together. He's ridden him for me some to help me out and put him back where he needs to be when I kind of veer off a little bit," he said. "He's the greatest coach."
It looks like Fappani will eventually be following in his father's footsteps. "I definitely want to be a horse trainer," he said.