In 2020, the National Reining Horse Association Markel Futurity Sales changed up the format of the sales by offering them all in a single day, rather than spreading them out throughout the week. That idea was so well-received that it was repeated again this year.
Held Thursday, Dec. 2, the sales took place in the Barn 3 area. The day started off with a breakfast sponsored by QStallions, followed by four sales back-to-back. New to the event this year was a phone app, a feature that greatly assisted potential buyers by providing information about each consignment and helping them follow along as each horse sold.
The sale saw record-breaking numbers this year with (unofficially) $5,520,900 garnered through the ring on 168 horses at an average of $32,683. The sold total of $5,142,900 (also unofficial) is a record over the highest year, 2007, as well.
NRHyA Stallion Auction
Breedings to 12 stallions were donated to the NRHyA Stallion Auction, the proceeds of which benefit NRHA's youth. After the first 11 sold, the NRHyA had collected $25,000. Then, a surprise addition — a breeding to Spooks Gotta Whiz — was added, which sold for another $7,500. Overall, the youth raised $32,500.
Futurity Prospect Sale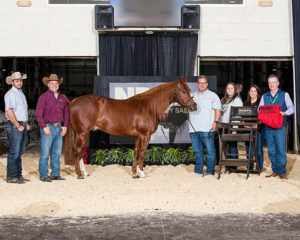 Eight horses walked through the Futurity Prospect Sale, previously called the Prospect/Broodmare Sale. It was the final horse, hip no. 18, MMB Voodoo Gun, who came out the highest-seller when he sold for $101,000.
Consigned by St-Onge Reining Horses/Hostetler Performance Horses, MMB Voodoo Gun (NRHA Million Dollar Sire Shiners Voodoo Dr x Silk Guns), a 2019 sorrel colt, was purchased by Breana Carsey and her family, including her parents, Deborah and Brian. The Carseys were excited to purchase the colt and couldn't wait to get him back home to their trainer, Shawn Flarida.
"We liked his conformation, his size, his mind and his attitude," Brian said. "Shawn liked him too, and we trust him. He'll got to Springfield and start training for Shawn to ride."
MM Voodoo Gun was in training with St-Onge Reining Horses at the time of his sale. His dam, Silk Guns, is an NRHA money-earner and American Quarter Horse Association point-earner. He is enrolled in the NRHA Nomination Program and the National Reining Breeders Classic.
The second-highest seller, hip 7, brought $75,000. Nice Guy (Dun It For Whizkey x PS Katie Likes Cash) was consigned by G Reining Horses and sold to James Pirtle. The 2019 grey colt had been in training with Giada Camparsi and is enrolled in the NRHA Nomination Program and the NRBC.
The hammer fell at $31,000 for third-highest seller Legend Shine, a 2019 palomino colt consigned by Steve Simon. By Custom Legend, the colt, who was hip 4, is out of Spinderella Whiz. Alicia Rapp purchased Legend Shine, who had 300 days of training by sale time. He is enrolled in the NRHA Nomination Program and the NRBC.
Elite Yearling Sale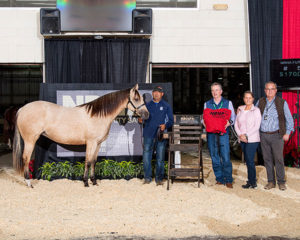 Previously called the Select Yearling Sale, this year's Elite Yearling Sale had 72 consignments pass through the ring, an unofficial record. Averages were up drastically over the previous year, with an unofficial through the ring average of $43,861 and sold average of $46,841.
The top seller, who was also the highest-seller of the day, was hip no. 57, Deja Vue. Consigned by Toyon Ranch, LLC, the 2020 buckskin filly was purchased for $170,000 by Janice Laney.
Deja Vue's dam, Dun Its Deja Vu, has produced earners of $254,000, including Gunner Dun It Again and NRHA Futurity Non Pro Reserve Champion Starbucks Finale. Her sire, Gunnatrashya, is an NRHA Four Million Dollar Sire. Deja Vue is enrolled in the NRHA Nomination Program, the NRHA Euro Nomination Program and the NRBC.
Toyon Ranch also consigned the second-highest earner, hip 62. Stargunz, who is by NRHA Twelve Million Dollar Sire Gunner and out of Miss Brim Star, brought a $160,000 bid from Bob Santagata. The 2020 sorrel colt is enrolled in the NRHA Nomination Program, the NRHA Euro Nomination Program and the NRBC.
Toyon Ranch's John and Nancy Tague were thrilled to have brought the two highest-sellers to the NRHA Futurity Sales.
"We appreciate the quality of the horses and buyers at the NRHA Sale, and we are pleased to be able to offer such a nice filly and nice colt," John said. "You never know who is going to be high seller, and we're just awfully pleased people supported the program."
"We're thankful to the customers that are always here being so supportive," Nancy added. "It means everything to us. It's incredible, and we know they're always going to go to good homes when people buy from here. We're really thrilled."
Two horses, both consigned by Silver Spurs Equine, LLC, tied for the third-highest bids, each bringing $150,000. The first, hip 60, SS ET Fone Home, a 2020 sorrel colt (Epic Titan x Electric Cha Ching), was purchased by Hotel Boulevard Gestion/ Daniel Bouchard. He is enrolled in the NRHA Nomination Program and the NRBC.
The second horse bringing a $150,000 sale price was SS Walk Tall, hip 68. The 2020 palomino colt, who is by NRHA Twelve Million Sire Wimpys Little Step and out of Cremes Chic Olena, was purchased by 100X Equine. He is also enrolled in the NRHA Nomination Program and the NRBC.
Preferred Breeders Sale
In its second year, the Preferred Breeders Sale, formerly called the Select Breeders Sale, saw a new record for through the ring and sold. Twenty-nine horses walked through the ring, and 27 sold.
Hip no. 114, Magic Gunna Happen, brought a bid of $75,000 to top the sale. The 2015 chestnut overo stallion, who is double-registered, was consigned by Baruch Reining Horses, Agent for Misty Valley Performance Horses, LLC. The earner of $26,633 placed eighth in the NRHA Futurity Level 3 Open in 2018 and was the 2021 American Paint Horse Association (APHA) Senior Reining World Champion. He earned his APHA ROM in reining and had 15 points.
Four Star Quarter Horses purchased Magic Gunna Happen, and new owner Emily Patton couldn't wait to try him out.
"We've had our eye on him for a little bit, and he finally came up for sale. Shawn [Flarida] was like, you guys have to get him," Patton said. "My mare has come to the end of her time in the pen, so it was perfect timing. I'm so excited to start with him.
"I love the way he stops, and I watched him at the Paint World," Patton continued. "He has this presence about him when he goes in, and it's so fun to watch and show."
Patton said they planned to collect the horse, who is by Gunnatrashya and out of Nu Magic Cash, and then geld him so she could show him in the 2022 derbies in the Youth.
Another Toyon Ranch consignment, Fresh Squeezed Juice, brought $66,000 as the second-highest seller in the Preferred Breeders Sale. Hip 115, a 2011 buckskin mare, sold bred to Spooks Gotta Whiz.
By Four Million Dollar Sire Smart Like Juice, Fresh Squeezed Juice is out of Princess In Diamonds, an NRHA Million Dollar Dam. She was purchased by Eric Feder. Her 2021 filly, who is by Gunnatrashya, was also purchased by Feder for $15,500.
Hip 109, Gunnersspecialsister (Gunner x Mifs Doll), was the third-highest seller when she brought a bid of $60,000 from Tom McCutcheon. The 2013 sorrel mare, who is a full sister to NRHA Four Million Dollar Sire Gunners Special Nite, was consigned by The Ranch Equine, Agent for BMW Quarter Horses. She is an NRHA earner of $31,274.
Gunnersspecialsister sold open but sound to carry her own foals. She is enrolled in the NRHA Nomination Program, NRHA Euro Nomination Program and NRBC.
Premier Sale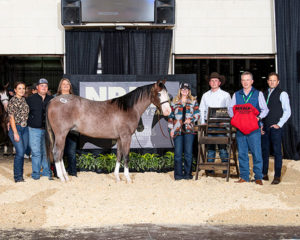 Previously called the Marketplace Sale, the Premier Sale finished out the day at the NRHA Futurity with its second-best sale since 2007. Hip 181, Boon Lite Whiz, sold for the highest amount during the sale, bringing a bid of $74,000 from Jamie Walters for consignor Cooper Smith, Agent.
The 2020 bay roan overo colt, who is double-registered, is by NRHA Two Million Dollar Sire Spooks Gotta Whiz and out of Peptos Little Dancer, a daughter of Peptoboonsmal.
"I'm very proud to bring a little cow horse to the reining world, and I think that's what we've done here," Walters said. "This horse was highly recommended, and we've been watching him for a while. Wade McDonald will be starting and training him. Wade was very fond of him, and I wanted to help Wade, so I got the horse."
Hip 168, Shooting In The Rein (Guns R For Shootin x Singing In The Rein), brought the second-highest bid when the hammer fell at $52,000. Lynn Krekeler bought the 2020 red dun filly, who was consigned by Humphrey Quarter Horses, Inc.
Shooting In The Rein's registration was pending with the APHA. She is enrolled in the NRHA Nomination Program, the NRBC and The Invitational.
Rounding out the top three in the Premier Sale was hip 178, Frozen Melody, who brought a bid of $40,000. Consigned by Cinder Lakes Ranch, Agent for TBR Ranch, LLC, the 2020 dun filly was purchased by La Coma Ranch. By SG Frozen Enterprize and out of Wimpys Lil Melody, she is enrolled in the NRHA Nomination Program, NRHA Euro Nomination Program and the NRBC.
Pictures by Jennifer Horton