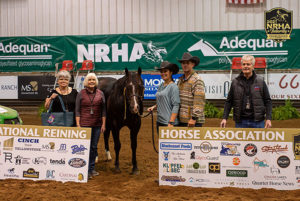 Riders not advancing to the finals had the option of entering the $1,000 Added Honorable Mention Futurity, and Ruffinol and Nicole Renick were victorious. The pair marked a 217.5 to top the class and get a bit of redemption.
"We struggled this week in our left turnaround, but today he was on fire for it. We might have a little bit of an overturn, but I would rather have that than him not turn well," Renick said. "He felt really good today. He was locked in everywhere and circled really good for me. He always stops really big and strong, and he was just with me all the way."
Ruffinol is by NRHA's newest Million Dollar Sire Not Ruf At All and out of One Eye Chiccy. With Renick at the reins, the stallion has won more than $7,000. The Honorable Mention Futurity win added almost $500 to that total. Owned by Steven Sandvig, Ruffinol was bred and nominated by Myron Gomulak
"Today I just wanted to have a good, clean run. I know he can go and mark like we did today, so I just wanted that smooth run, and that's exactly what we did," Renick said. "We're going to just take him home and get him ready for the derbies. Our next stop is the Cactus Classic in March."
Taking second in the Honorable Mention Futurity was Tristan Bagby and Xtra Voodoo Me with a 211. Xtra Voodoo Me, by NRHA Two Million Dollar Sire Shiners Voodoo Dr out of Call Me Miss Hickory, has won more than $10,000 in competition. The stallion, owned by Ky Lake Trailer Sales Inc., was nominated by Silver Spurs Equine.
Complete results from the NRHA Futurity can be found at NRHAFuturity.com.