Gone are the days of long, extenuating lists of member ineligibility lists thanks to an online, member portal: National Reining Horse Association (NRHA) ReinerSuite™. All it takes is an email address, NRHA member number, and PIN for reiners to gain access to their eligibility and that of their equine partners.
To check eligibility, members need to have an account with ReinerSuite. Click here for the three easy steps to registering with the online portal.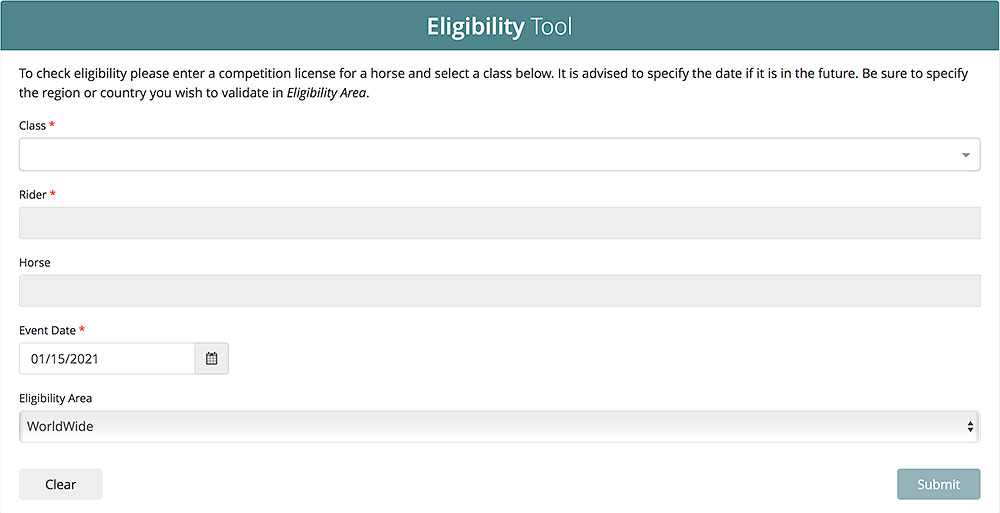 How to check eligibility on ReinerSuite:
Log into your account
On the main, Dashboard, page, the "Eligibility Tool" will be at the very top (pictured above). If you're on a mobile device, scroll down until you see the tool.

CLASS: Choose what class you would like to check your eligibility for
RIDER: Input your name in the "Rider" search bar
HORSE: You can also search for the eligibility of a horse, but a rider will need to be listed

Pro tip: You don't have to input a horse name to search for rider eligibility, but you do have to input a rider name to search for horse eligibility

EVENT DATE: Since your eligibility remains the same from Jan. 1, 2021, through Dec. 31, 2021, you don't need to include the exact event date. BUT you do need to make sure the event date is some time in 2021
ELIGIBILITY AREA: Click the dropdown menu to choose your eligibility area or keep it listed as "WorldWide"
After you've checked your information, click "Submit" or hit "Clear" if you need to start over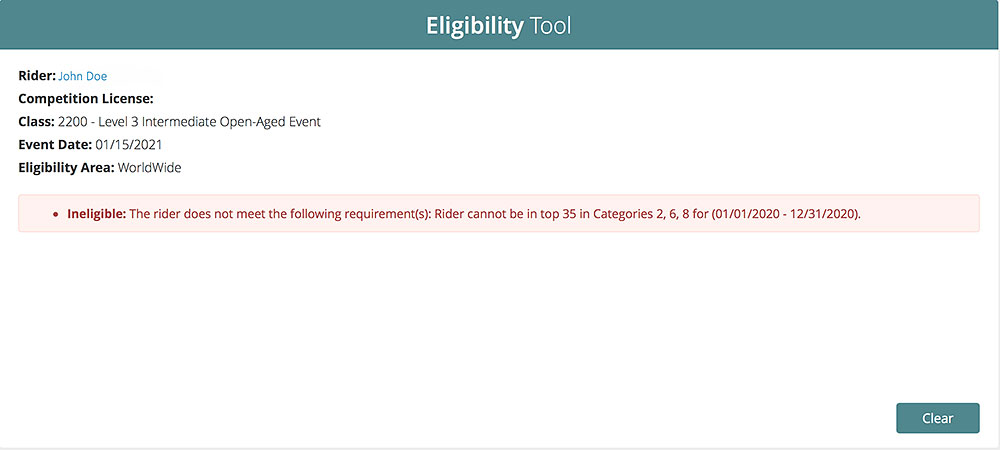 After hitting "Submit," you'll see a screen similar to this with either green or red to indicate the status of your eligibility. One unique feature of this tool is its ability to give you reasons why you might not be eligible for a certain class. If your membership is not active, you may see this listed as a reason. If this is the only reason, check back after your membership is renewed and you will see that you are eligible for the class.
If you are not eligible for the class selected, hit "Clear" and search your eligibility for a different level. In this case, NRHA Professional "John Doe" is not eligible for Category 2 – Level 3 Intermediate Open Aged Event (2200) because he's in the Top 35 Pro Riders for the 2020 show season.
"John Doe" is, however, eligible for Category 2 – Level 4 Open Aged Event (2100). After hitting "Clear," the Eligibility Tool will take you back to the previous screen and will not clear your information so all you have to do is change the class and submit again.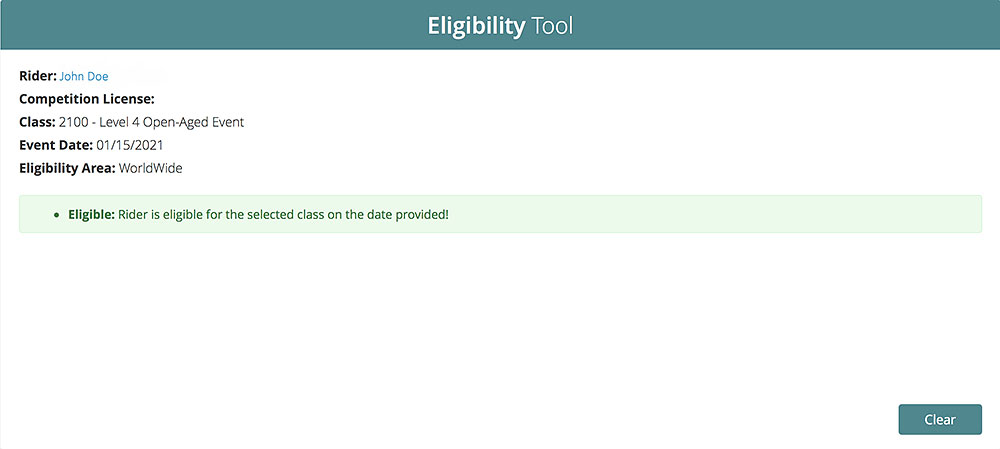 The Eligibility Tool also takes membership status and declarations into consideration when calculating your eligibility. Remember, all memberships (both horse owner and rider) need to be up-to-date before entering the show pen to avoid disqualification and penalty fees when the results are submitted to NRHA.