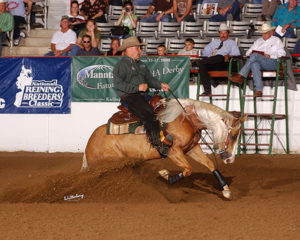 For Immediate Release – January 19, 2021 – Oklahoma City, Okla. – In just four short years, Wimpys Little Chic amassed more than half a million dollars in National Reining Horse Association (NRHA) Lifetime Earnings (LTE). She's the only horse in history to win the NRHA Futurity, NRHA Derby, and the National Reining Breeders Classic (NRBC) consecutively. Wimpys Little Chic is officially the newest NRHA Million Dollar Dam.
The stunning palomino was bred by Monica Watson of Double Run Farm of Leland, North Carolina. Eleuterio Arcese, of Arcese Quarter Horses USA, purchased the mare in 2007. "In the early spring of that year, we went with our friend Frank Costantini to Shawn Flarida's to see some 3-year-old futurity prospects. Among all the prospects we looked at, when we saw her, we realized she was really special and unique," Arcese recalled.
The special mare, now 17 years old, is by NRHA Twelve Million Dollar Sire Wimpys Little Step out of Collena Chic Olena. She had magnetism in the show pen, drawing spectators to the rails when it was time for her to compete.
"She had a great brain, and when that mind mixed with the incredible athletic ability she had, greatness happened," said Flarida, an NRHA Professional and NRHA Six Million Dollar Rider. While he's ridden many incredible horses in his career, Flarida believes Wimpys Little Chic towers above the rest. "She's absolutely the greatest. She's the one who will change this sport if she hasn't already."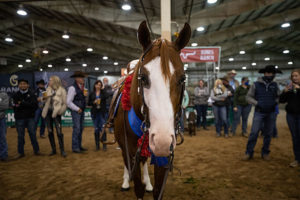 Now it's clear that her foals have that same commanding presence. When NRHA Six Million Dollar Rider Andrea Fappani and Arcese's All Bettss Are Off, by the newest NRHA Leading Sire Gunner, won the 2020 NRHA Futurity Level (L) 4 Open Championship, Wimpys Little Chic became the fourth, and latest, mare to join the elite club of Million Dollar Dams with only 12 money-earning foals.
"This meant a lot to me because Mr. Arcese asked me at the beginning of the year if I thought I had the quality of horse I needed to win the Futurity," Fappani shared. "He knew that Wimpys Little Chic was getting close to that big mark, and it would mean a lot to him to win the Futurity and put that mare over one million. Being able to do that for him was a big deal to me."
In a career that includes many great horses and achievements, this most recent one is special. "It's great, it's a dream come true. It means all the effort, the commitment, and the passion dedicated to our program is now repaying us with great satisfaction," Arcese said. "This is the third Open Futurity won by horses we raised out of Wimpys Little Chic, and they've also won at the NRHA Derby and had many reserve championships."
Wimpys Little Chic's top earner is ARC Gunnabeabigstar, by NRHA Four Million Dollar Sire Gunnatrashya. With NRHA $2 Million Dollar Rider Jordan Larson at the reins, ARC Gunnabeabigstar, now owned by HDC Quarter Horses, won the 2014 NRHA Futurity L4 Open and finished as the L4 Open Reserve Champion at the 2017 NRHA Derby. All totaled, ARC Gunnabeabigstar accumulated $298,999 in NRHA Lifetime Earnings (LTE).
Wimpys Little Chic's second highest money earner is All Betts Are Off with $281,311 in NRHA LTE, thanks in part to the record-setting $250,000 Futurity check.
Shesouttayourleague, by NRHA Three Million Dollar Sire Walla Walla Whiz, rounds out the top three earners with $252,470 in NRHA LTE, including championships at the NRHA Futurity, Derby, and High Roller Reining Classic. Shesouttayourleague, owned by Curtis Performance Horses LLC, was ridden by NRHA $2 Million Dollar Rider Casey Deary.
"I've ridden some of her babies, and she stamps them. She could stop like crazy, and every single one of her foals can stop, too," Flarida said. "She's already produced three Futurity champions, but the point is, she's a great horse. You can use a lot of words, but she is the one who just makes you sit there and ask, 'Wow, how did she do that?' Now, she's continuing to produce great horse after great horse."
With Wimpys Little Chic's latest success, there is no doubt that Arcese Quarter Horses USA will continue its mission. "Our goal has always been to do better, and always improve the quality of our horses," Arcese shared.
Wimpys Little Chic's ten money earning offspring also includes:
Lonely At The Top (by NRHA Twelve Million Dollar Sire Gunner): $73,151 NRHA LTE
ARC Trashin Yer Chic (by NRHA Four Million Dollar Sire Gunnatrashya): $67,055 NRHA LTE
Wimpys Lil Tag (by NRHA Two Million Dollar Sire Whiz N Tag Chex): $58,924 NRHA LTE
Wallas Chic Diana (by NRHA Three Million Dollar Sire Walla Walla Whiz): $54,602 NRHA LTE
Trashy Chics Dig Me (by NRHA Four Million Dollar Sire Gunnatrashya): $35, 648 NRHA LTE
ARC Wimpysgottagun (by NRHA Four Million Dollar Sire Gunnatrashya): $25,709 NRHA LTE
ARC A Step Above (by NRHA Three Millon Dollar Sire Walla Walla Whiz): $18,994 NRHA LTE
Gunna Go Big (by NRHA Four Million Dollar Sire Gunnatrashya): $18,603 NRHA LTE
Gunna Be A Big Hit (by NRHA Four Million Dollar Sire Gunnatrashya): $9,935 NRHA LTE