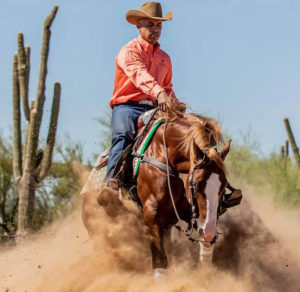 The competition for Road to the Horse 2022 is heating up, and National Reining Horse Association Professional and Million Dollar Rider Matt Mills has been announced as one of the four selected trainers invited to compete in the elite competition.
Mills, of Scottsdale, Arizona, will join fellow competitors Brandi Lyons and Cole Cameron March 24-27, 2022, at the Kentucky Horse Park in Lexington, Kentucky, to compete for a purse exceeding $100,000.
"I feel honored to have been chosen and am excited to compete at the Road to the Horse. Starting colts is an aspect of training that most people don't get to see. The thing about training reining horses, or any high-level horse, is that they all have to start somewhere," Mills shared. "Training and showing top reining horses from start to finish has been my focus for years and making it a competition is right up my alley. I believe I will be a better horseman because of it."
Consistently ranked among the top NRHA Professionals, Mills' accomplishments include earning the NRHA Level 3 Open Futurity Reserve Championship and numerous titles at the National Reining Breeders Classic. He has also claimed several large futurity and derby wins at events including the Rocky Mountain Reining Horse Association Summer Slide, the High Roller Reining Classic, the Southwest Reining Horse Association Futurity and NRHA Cowtown Classic.
One of his most significant achievements entailed winning the 2006 USEF Open Reining Championship in Lexington, Kentucky on Easy Otie Whiz with a career-high score of 231.5. This feat earned him a spot on the U.S. Reining Team that claimed a gold medal at the World Equestrian Games in Aachen, Germany.
While his list of achievements is long, Mills is aware he'll be competing in a brand-new arena and has already reached out to several accomplished colt starters for advice on navigating the competition's three-day format. "I'm very green at colt starting competitions. I have never done anything like this before, and I am excited to do it. It is going to be a fun and new challenge, and I look forward to carrying the flag for fellow NRHA members," he said.
To give himself even more practice, Mills recently purchased an un-started and untrained 7-year-old mustang. "His name is Raven, and I purchased him for a whopping $170," Mills laughed. "He has quite the story, and it was quite the ruckus to even get him back to the ranch. My plan is to train him in the exact format as the Road to the Horse. This is just one of the ways I'll be preparing for the event. I'm definitely not just going to show up and wing it; I'm putting in the work beforehand."
Mills' horsemanship journey began when he was introduced to horses at eight years of age by a pony named Dizzy while taking lessons in a small round pen at the Lakewood Equestrian Center in Long Beach, California. As a youth rider, he earned multiple championships throughout California in a variety of disciplines including Western Pleasure, Horsemanship and Trail.
Mills switched his focus to reining in 1996, establishing his own training operation in Scottsdale, Arizona. In addition to training and showing futurity and derby horses, he also coaches several successful Non Pro and Youth riders, and has also hosted clinics in Europe and Mexico.
Mills likens training horses to being a doctor or a lawyer; no matter how good you are at it, there are always ways to improve. "Anything you can do to make the job easier for the horse and make you more competitive is important to learn. When you visit with top riders – regardless of their event – you start to see some constants," he explained. "I am a student of the game and believe you can learn from almost everyone. I enjoy horses and know that every new experience I have can help me improve. I hope that by jumping out and doing this competition I can encourage other people to try something new."
"We're excited to welcome NRHA professional horseman Matt Mills to our Championship Competitor lineup," Tina Battock, Morris Equine Group President, noted. "Road to the Horse strives to bring together the industry's most elite colt starters who are not only stand-outs in their disciplines but most importantly, shining ambassadors of the horse."
Road to the Horse 2022 takes place at the Kentucky Horse Park on March 24-27, 2022. Tickets are available at www.RoadtotheHorse.com or by calling 800-514-3849. Follow Road to the Horse on Facebook for the latest information and stay tuned to find out who will be revealed as the next Road to the Horse 2022 competitor. 
About Road to the Horse
Founded in 2003, Road to the Horse strives to inspire people to reach a higher level of horsemanship and develop unity with a horse based on trust and not fear. The goal is, through education and entertainment, to can change people's ideas and create a better world for the horse. The purpose of Road to the Horse is to identify the superior colt starter who accumulates the highest score throughout the competition. Judging focuses on the competitor and the effectiveness of their horsemanship methodology to communicate, educate, and build a partnership with their colt based on trust. Fans witness the entire journey, from colt selection to the final obstacle challenge. Purchase tickets and see the event schedule at www.RoadtotheHorse.com.
About Morris Equine Group
Morris Equine Group consists of some of the industry's most recognized brands, including Western Horseman, Quarter Horse News and Barrel Horse News. The group also includes business-to-business publication Western Lifestyle Retailer and EquiStat, a statistical service offering detailed information and earnings for the performance horse industry. Morris Equine Group is also home to the National Barrel Horse Association, the West Coast Barrel Racing Association and the World Championship of Colt Starting, Road to the Horse.
The National Reining Horse Association is not responsible for the information contained in this press release. Please contact the author or submitting organization for further information, requests, or questions.