Just weeks ago, the National Reining Horse Association paid out more than $118,000 to exhibitors competing in the Adequan® North American Affiliate Championships in Oklahoma City. With nearly 1,000 entries, the NAAC classes provided fun, excitement, camaraderie, and some lucrative payouts and prizes.
At the December 2021 NRHA Board of Directors meeting, the Board announced the qualification criteria for the 2022 NAAC and Affiliate Regional Championships will be identical to 2021.
The first step to earning a spot in Oklahoma City is to compete at one of the 10 ARCs held across North America in late fall. To do so, a rider must be an NRHA member and a member of an NRHA affiliate. "There is no need to designate an affiliate, and riders can show at any ARC," explained Sara Honegger, Manager of Youth, Professional, and Affiliate Programs. "We are so encouraged by the number of riders who came to Oklahoma City and the increased enthusiasm for the affiliates, ARCs and NAAC. The members of the Affiliate Committee are passionate about continuing to grow these programs and look forward to what 2022 will bring."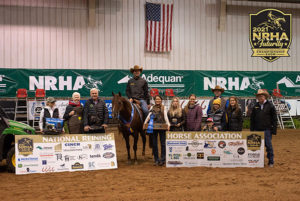 Any exhibitor who receives a score higher than a zero at an ARC will be able to enter that class, on that specific horse, at the NAAC in Oklahoma City. There are no requirements to compete at an ARC other than the rider must be a member of an NRHA affiliate. Riders are encouraged to join beforehand but can also join at the ARC if they need assistance with that process, or they can always call the NRHA office to have guidance as well.
As in 2021, riders will be allowed to participate in multiple ARCs with one exception; if they win a class, they cannot compete on the same horse in the same class at another ARC.
The Board of Directors also approved a change for renewing Affiliates, who now only need to host one full slate of ancillary classes in 2022, down from three.
"The Affiliate Committee knows what a financial burden it can be to host a horse show for any affiliate, and during these times especially," Honegger explained. "They want to find the balance of allowing our members a place to show across the country while realizing our affiliates know their region best and will host what they feel like will be most supported by their membership. This solution seemed to fit the best for 2022."
For more information about NRHA membership, the NRHA Affiliate program, or to find a local Affiliate, visit nrha.com/affiliate.