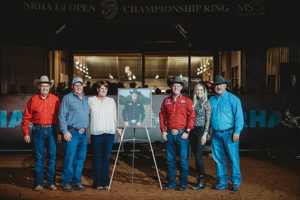 With the airing of the December 17, 2021 episode of The Last Cowboy on the Paramount Network, reining fans around the globe were able to watch history be made at The Run For A Million presented by Teton Ridge. Although the event was held August 21, a media embargo meant fans had to wait to learn who the winner was until the final episode of The Last Cowboy aired.
In a run-off for the Championship, Kole Price bested NRHA Six Million Dollar Rider Shawn Flarida for his first premier event win and accompanying check for $500,000.
That historic paycheck pushed Price to more than one million dollars in lifetime earnings. "Being a million-dollar rider has always been one of my biggest goals. The way I see it, that achievement puts you in an elite class of trainers," he said. "It's a blessing to have it happen so fast. My mentality has always been that if I thought I could do something, I'd just go as hard as I can to see if I could get it done quicker."
So what was it like for Price to watch the most pivotal moment of his career play out on the hit show? "It was very incredible because I knew there were a lot of people outside the horse world who now know how special that event is. I think I was so caught up in the moment while I was there that I didn't get to fully enjoy it because I was so worn out, so getting to watch it and relive it was really special," he shared.
It was a rapid rise to the top for Price, whose first reining earnings were recorded in 2009, when he piloted SLJ Hope Hes Smart (Smart Like Juice x Navahope) to a fourth-place finish in the Limited Open at Minnesota's Winona Horse Show. The check was less than $38, but it was the building block for a career that now includes titles at several major events, including the NRHA Futurity, NRHA Derby, and the National Reining Breeders Classic.
Price, who grew up in Illinois, showed Percherons until he was around 10 years old, and began training outside horses at 13. It was when he saw a video of NRHA Twelve Million Dollar Sire and earner of more than $185,000, Wimpys Little Step (who had been trained and shown by Flarida) that Price became a fan of reining.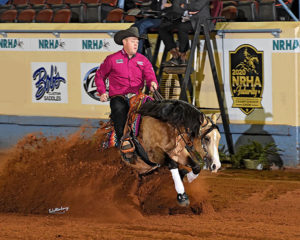 In his drive to learn more about the sport, Price secured an internship during his high school and college years with NRHA Professionals Brent Loseke and Mike Davis. He then spent five years with NRHA Professional Gabe Hutchins before starting his own business in 2015.
It was at the 2018 NRHA Futurity that Price qualified all three of his entries back to the Level 4 Finals. Capitalizing on that success, he finished as the L4 Open Reserve Champion on Isnt She Perfect (Walla Walla Whiz x Miss SIlvergun) for total earnings of $130,352.
Then came Gunna Stop (Gunnatrashya x Stop Little Sister), owned by Amber Gokey. With fellow NRHA Professional Austin Roush at the reins, the talented colt had won more than $70,000 at the 2018 NRHA Futurity across Open Levels 1–4.
Price began showing the stallion in 2019, earning an L4 Open Reserve Championship at the High Roller Reining Classic. In 2020, the pair continued their winning ways, taking the L3 Open Championship at the NRHA Derby for $22,303. In 2021, the pair qualified for The Run For A Million at the Cactus Reining Classic.
The Run For A Million Championship earned Gunna Stop a place in the history books as the highest-earning horse of all time at $672,762.
"Growing up I would watch horses like Wimpys Little Step and Wimpys Little Chic, and it was just a dream that I'd get to ride horses like that and have a horse win that much. To have it happen … that hasn't really set in yet," he said. "The way everything happened, all together, it's like I checked off a lot of items on the checklist all at once."
Price's lifetime earnings as 2021 draws to a close are $1,111,343, and he's already looking ahead to the next million. "Long-term, I would love to be NRHA's Leading Rider. I always want to be the best at whatever I do," he said. "From day one, winning the NRHA Futurity has always been my main goal. I wake up at 5 a.m. each morning, and my ringtone is 'Run for the Roses.' That's my inspiration every day – even those that I'm tired, worn out, and sore. I feel like if I can get an extra hour on everyone else, it will add up eventually."
Price thanked his wife Kelsey, the Gokey family, Gunna Stop, and Taylor Sheridan. He added a special thank you to the multitude of friends and family that traveled to Las Vegas to cheer him on. "I probably had 40 people from my hometown in Illinois who came out to support me. That was so special to me," he said.
Price's top 10 wins include:
2021 The Run For A Million Championship (Gunna Stop) – $500,000
2018 NRHA Futurity L4 Open Reserve Championship (Isnt She Perfect) – $130,352
2020 NRHA Derby L3 Open Championship (Gunna Stop) – $22,303
2021 NRBC L4 Open 6th (Gunna Stop) – $21,000
2018 NRHA Futurity L4 Open 12th (KR Ima Trashya) – $20,392
2014 NRHA Futurity L3 Open Reserve Championship (FM Shine N Tag Chex) – $20,330
2021 NRBC L4 Open 9th (Trendsettter) – $15,500
2020 NRHA Futurity L3 Open Reserve Championship (Four Oh One K) – $14,619
2021 NRHA Derby Tamarack Ranch Open Stakes (Trendsettter) – $14,004
2020 NRBC L3 Open Reserve Championship (Gunna Stop) – $12,978