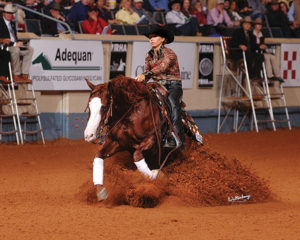 Less than a year after his offspring passed four million dollars in earnings, Gunners Special Nite has made it to the next level of National Reining Horse Association Million Dollar milestones. That makes the flashy sorrel one of only nine sires in history to cross the $5 Million threshold.
Bred by Kim and Debra Sloan and raised by Tim and Colleen McQuay, the son of NRHA 13 Million Dollar Sire out of Mifs Doll (by Mifillena) was later purchased by Turnabout Farm, Inc. NRHA Professional Marcy Starr and NRHA Million Dollar Rider and Owner Tom McCutcheon rode him to over $219,000 in earnings by way of an NRHA Futurity Reserve Championship and top finishes at other major events. In 2010, McCutcheon piloted the 2004 stallion to Individual and Team gold medals for Team USA at the 2010 World Equestrian Games.
With such a show presence and pedigree, his strength as a sire was predictable and he has delivered a pattern of excellence. McCutcheon noted, "Great mindedness and consistency are what he passes on to his foals – along with the physical ability. With top open horses like NRBC Champion Modern Gun and NRHA Futurity Reserve Champion Guns And Dynamite leading the way, his foals have carried him to this incredible siring level."

Gunners Special Nite's 462 foals have average earnings of $10,854. His leading performers are:
Modern Gun (Taris Modern Design) $272,025
Guns And Dynamite (Chic Olena Starbuck) $209,565
Baileys Not Painted (Darlins Not Painted ) $142,640
Lenas Shining Gun (SL Lenas Chick) $131,010
Gunnersrufride (Lil Ruf Showgirl) $102,205
Special Made Whiskey (Starlight Acres) $96,566
Into The Nite (Chexy Dun It) $94,355
Gunners Specialolena (Dolly Jac Olena) $94,095
Hollywood Nites (Dun It For Chex) $93,034
Gunners Brite Nite (Stiletto Tag) $86,650
Gunners Special Nite stands at Tom McCutcheon Reining Horses in Aubrey, Texas. Learn more about him at GunnersSpecialNite.com.