For a quarter-century, most everyone has had a favorite Gunner story or special memory. It might be the mighty moves of an astonishing athlete. It could be a joyful recollection of seeing him in the Norick Arena entrance in Oklahoma City as the crowd erupted in cheers the moment his floppy-eared profile came into sight. It might simply be an unforgettable run burned into someone's memory – because there were plenty of those. It might be the magic at the birth of one of his foals.
From his 1996 futurity debut, Gunner's stage presence and charisma were irresistible. Since then, generations of foals have followed and many have managed to sprinkle their own stardust. With the conclusion of the 2021 NRHA Futurity, his sons and daughters pushed him past yet another milestone and made him the National Reining Horse Association's first $13 Million Sire.
His is a mighty legacy, as he literally changed the face of reining. Before him, excessive chrome and white faces were not common, as classes were filled with palominos, duns and buckskins.
Gunner had to do it the hard way, as his rejection by the American Quarter Horse Association for excessive white meant he and his foals could only receive American Paint Horse Association registration. Ultimately, like other quarter horse discards of the era, he was able to get his AQHA papers, but regardless of the initials on the papers, he continued to make history.
The son of Colonelfourfreckle out of Katie Gun was bred by Eric Story, then sold to Pam and Paul Rohus who took him to Clint Haverty. Clint and Gunner won the 1996 APHA World Show Open Reining Futurity as well as the NRHA Futurity reserve title. Under the ownership of Debra and Kim Sloan, they added the 1997 APHA Junior Reining world title and tied in 1998 for reserve in the National Reining Breeders Classic. In 2001, Gunner won the United States Equestrian Team Open Reining Championship with Bryant Pace in the saddle.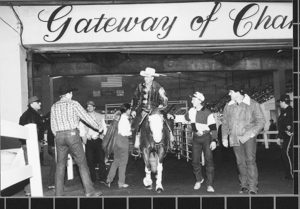 The stallion ended his show career with lifetime earnings over $173,000.
Gunner became an NRHA Hall of Fame inductee in 2003, then two years later the Sloans sold the stallion to Tim and Colleen McQuay. He lived out his life at McQuay Stables in Tioga, Texas, until his passing in 2013.
Of course, the story of that life continues to unfold. Gunner progeny have kept the magic alive and new foals and generations keep excelling years after his death, thanks to the foresight of the McQuays who collected semen prior to his passing.
NRHA Hall of Fame Inductee and Two Million Dollar Rider Tim McQuay says he is constantly overwhelmed by Gunner's success. "When his foals were first and second in the NRHA Futurity (Americasnextgunmodel and Gunners Tinseltown in 2012), that's the stuff you can't even dream about. Gunner has definitely become our retirement program," he said.
With 967 competing offspring and average earnings per foal of $12,695, his top earners are:
Tinker With Guns (Tinker Nic) $344,117
All Bettss Are Off (Wimpys Little Chic) $307,418
Gunners Tinseltown (Miss Tinseltown) $305,307
Americasnextgunmodel (Cee Dun It Do It) $289,486
No Smoking Required (Icing Required) $252,158
Gun Dun It (Dun It In Tinseltown) $220,391
Gunners Special Nite (Mifs Doll) $219,737
Gunnatrashya (Natrasha) $218,046
Always Gotyer Gunsup (Always A Dunit) $171,401
Miss Silver Gun (Miss Taris Rey) $167,888