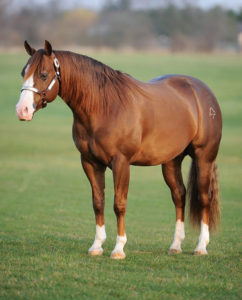 In what might be one of the quickest jumps to the next tier on the National Reining Horse Association's Million Dollar Sire roster, Gunnatrashya sailed past the Six Million Dollar mark during the NRHA Futurity. As the year comes to a close, the stallion, by NRHA 13 Million Dollar Sire Gunner and out of Natrasha, sits at No. 7 on NRHA's Leading Sire list with $6,788,072 in offspring earnings.
Gunnatrashya, owned by Arcese Quarter Horses USA, first became an NRHA Million Dollar Sire in 2017, less than three years after his first foal crop entered the show pen. In every subsequent year, the stallion, owned by Arcese Quarter Horses USA, has passed another million-dollar milestone. Thanks to major event championships, Gunnatrashya actually surpassed two in 2021.
The stallion, a former Open Futurity Champion himself, sired Ten Thirty, who won the historic $350,000 Level 4 Open Futurity Championship check with Casey Deary at the reins.
Gunnatrashya also sired Trashinyurdreams, who won Open Levels 3 and 2 and finished fourth in the Open Level 4 with Jesse Beckley, worth $120,652.
There were 18 Gunnatrashya offspring competing in the Open Futurity Finals, for total earnings of $671,856. The stallion was also well-represented in the CINCH Non Pro Futurity Finals, with eight entries earning $93,690. All totaled, Gunnatrashya foals were responsible for more than $765,545 in the aged event alone.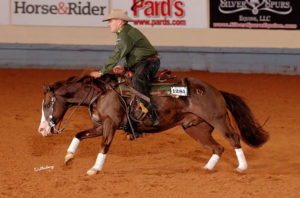 Gunnatrashya offspring also made waves at The Run For A Million presented by Teton Ridge. Kole Price piloted Gunna Stop (Stop Little Sister) to the $500,000 championship check, making Gunna Stop the highest-earning reining horse in history.
Gunnatrashya, bred by Katarina Dorminy, had just as successful a show pen career as he has had in the breeding shed. With NRHA Six Million Dollar Rider and Hall of Fame Inductee Shawn Flarida at the reins, Gunnatrashya was the 2009 NRHA Open Futurity Champion, the 2010 NRHA Open Derby Champion and the 2009 All American Quarter Horse Congress Open Futurity Champion. Even with limited showing, he accumulated more than $218,000 in NRHA lifetime earnings.
Gunnatrashya's top-earning offspring are:
Ten Thirty (out of Dainty Little Step): $369,059
ARC Gunnabeabigstar (out of Wimpys Little Chic): $298,999
Super Marioo (out of HA Chic A Tune): $290,267
Inferno Sixty Six (out of Snip O Gun): $205,690
Gunna Stop (out of Stop Little Sister): $172,762
ARC Gunna Mark Ya (out of Shiney Miss Marker): $163,877
Gunnabebigtime (out of Big Time Jazzy): $147,486
Gunnarickashay (out of Rondas Tio): $147,229
Loveya (out of Love Em N Lena): $131,861
Trashinyurdreams (out of This Chicsdundreamin): $124,986
Gunnatrashya now stands at NRHA Corporate Partner Oswood Stallion Station in Weatherford, Texas. You can learn more about Gunnatrashya at ArceseQuarterHorses.com, or at OswoodStallionStation.com/Gunnatrashya

Congratulations to Gunnatrashya and Arcese Quarter Horses USA.

Photo (first) by Cam Essick
Photo (second) by Waltenberry