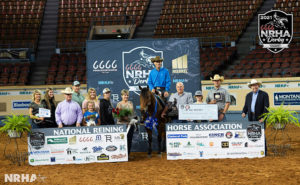 After two days of the Non Pro preliminaries, the first champions at the 6666 National Reining Horse Association Derby presented by Markel were crowned, and the Colston Paving 4-Year-Old Non Pro Stakes Championship had Lane Colston's name all over it. The 17-year-old rode to the win on Lil Ruf Whizkey after marking a 219.5.
 
"It's exciting to have something else for young horses to show in," Lane said. "It's pretty cool!" Lane collected $7,228 for the win.
 
The Colston Paving Non Pro Stakes was sponsored by Lane's parents, Kevin and Amy, who own Colston Paving, Inc. Kevin believed the division would benefit the reining industry as a whole.
 
"I really felt like it was something necessary so these 4-year-old horses would have something to go do. There are a lot of them that get parked all year, and this gives people a reason to get them out and keep working on them.
 
"We're glad to be able to sponsor it and have the opportunity to do it," Kevin added. "We want to support NRHA however we can. This is something that just needs to happen from now on."
 
Lane praised Lil Ruf Whizkey (Whizkey N Diamonds x Lil Ruf Startime), who was bred and nominated by Terry Leffew, for his stellar performance during their winning run. '"Cowboy" is good at everything, especially his turnarounds," Lane said. "The gelding is a true show horse. He is so talented and one of the top two or three horses I have ever had. I cannot say enough good things about him. He keeps getting better and better as he gets older."
 
The duo will compete in Friday night's Level 4 and Youth Non Pro finals, then Lane hopes to show again at the High Roller Reining Classic in September.
 
Addisyn Schmersal and Xtra Vintagemahogany (A Sparkling Vintage x Custom Mahogany) took Reserve in the Colston Paving Stakes, worth $4,399, with their score of 219. They also won the new GlycoGuard Novice Horse Non Pro division. The pair collected an additional $5,112 for the Novice Horse title and qualified for the Level 4 and Youth Non Pro finals.