The Non Pro preliminary round of the 2021 6666 National Reining Horse Association Derby presented by Markel continued on Tuesday, June 22. In addition to record payouts in every level, Non Pro Levels entries (excluding the new Story Book Stables Amateur and Colston Paving Non Pro Stakes) hit an all-time high this year, with 1,013 total entries, up from 832 in 2020.

By Tuesday evening, the competitors were whittled down to the top 30 in the Non Pro Levels 4-1; top 20 in the Prime Time Non Pro and Youth Non Pro; and top 15 in the Masters Non Pro. Those riders will advance into the clean-slate finals, to be held Friday. There, the champions of each division will take home, for the first time, guaranteed payouts from the Four Sixes Ranch.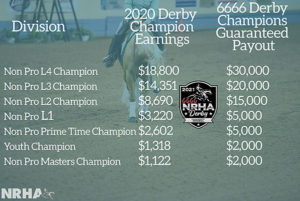 Unofficially the bubble for advancing to the finals are:
Level 4 – 215.5
Level 3 – 213.5
Level 2 – 212.5
Level 1 – 210
Prime Time – 214*
Masters – 212.5*
Youth – 210
*Includes handicap.
Winning each division of the Non Pro preliminaries were:
Level 4, Prime Time & Masters – Michael Garnett & Lil Patron (Lil Joe Cash x Miss Rey O Shine) – 221.5
Level 3, 2 & Prime Time – Shaunda Rai Blinzler & Smoke In Whizkey (Whizkey N Diamonds x Suga Suga) – 218.5
Level 1 – Kimberly Horner & Intentional (Gunnatrashya x CR Kim) – 217
Youth – Lane Colston & Lil Ruf Whizkey (Whizkey N Diamonds x Lil Ruf Startime) – 219.5
The draw for the Non Pro finals will be held during the Platinum Performance Non Pro Draw and Welcome Party Wednesday evening, which will also feature Reiners Rope, a fundraiser benefitting the Reining Horse Foundation Dale Wilkinson Memorial Crisis Fund.

Three championships were decided during the Non Pro preliminaries. Lauren Love and Rebelvintage (A Sparkling Vintage x Wimpys Got Action) won the inaugural Story Book Stables Amateur division, while Lane Colston topped the new Colston Paving Non Pro Stakes on Lil Ruf Whizkey (Whizkey N Diamonds x Lil Ruf Startime). Addisyn Schmersal was the victor in the GlycoGuard Novice Horse Non Pro on Xtra Vintagemahogany (A Sparkling Vintage x Custom Mahogany).

The preliminary round of the Open Derby kicks off on Wednesday. This round, which continues through Thursday, will determine the winners of the GlycoGuard Novice Horse Open Derby and the Tamarack Ranch Open Stakes, along with the finalists of the Open Derby. The Finals, slated for Saturday, June 26, features the Four Sixes guaranteed payouts to each Open champion.

Complete results, draws, news, and more can be found at NRHADerby.com.