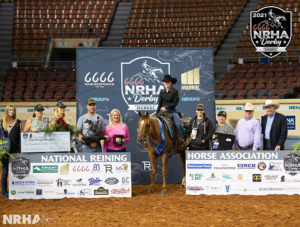 With 110 horses vying for the title, the GlycoGuard Novice Horse Non Pro Derby, held Tuesday, June 22 during the 6666 NRHA Derby presented by Markel, was a tough division to master, but Addisyn Schmersal led the field during her second time showing Xtra Vintagemahogany. The pair won the championship and $5,112 with their score of 219.
 
"She was really good for me, and I'm pretty excited," Schmersal said. "My strategy was just to make sure she and I were both ready, and to keep a positive vibe. I do that by thinking positive thoughts — just keep thinking everything will be good no matter what, and just keep showing."
 
"Bambi," who is by NRHA Two Million Dollar Sire A Sparkling Vintage and out of Custom Mahogany, excels at her stops, Schmersal said. The mare, who was bred and nominated by Silver Spurs Equine, and Schmersal also placed second in the Colston Paving Stakes, earning an additional $4,399.
 
Schmersal also qualified for the Level 4 and Youth Non Pro finals, to be held Friday. The 15-year-old high school sophomore hopes to show the mare in the upcoming Run For A Million Non Pro.
 
"Thank you to GlycoGuard for sponsoring this class and giving us another division to show in," Schmersal said. "It was fun to be entered and have the chance to win in something else other than the regular non pro derby divisions. Also, thanks to my parents for allowing me to show her, and all of the team for helping me get ready and taking care of my horses."
 
The Novice Horse is an important division that is needed in the industry, said Caitlyn Caldwell, Senior Sales Representative for GlycoGuard.
 
"We're incredibly happy to sponsor this division, and this is our first year as Corporate Partners for NRHA. We wanted to make sure that everybody has the opportunity to learn about the GlycoGuard products," Caldwell said. "I've always had reiners, and I've been in the horse industry my whole life. I started this company seven years ago, and I think it's so important for gut health from the amount of stress and training our horses go through."
 
The company, whose slogan is "The official partner of the equine champion," hopes to help all reiners have healthier horses. The GlycoGuard supplement, a specially formulated direct-fed microbial used to support digestion and a healthy gastrointestinal system, supports overall gut health for all equine athletes.
 
After a great show, Lauren Love and Rebelvintage (A Sparkling Vintage x Wimpys Got Action) finished reserve in the GlycoGuard Novice Horse Non Pro, fourth in the Colston Paving Stakes Non Pro and won the Story Book Stables Amateur with their score of 218. They earned $3,111 in the Novice Horse, $2,828 in the Stakes and $7,487 for winning the Amateur, and they qualified for the finals in Levels 4 and 3.