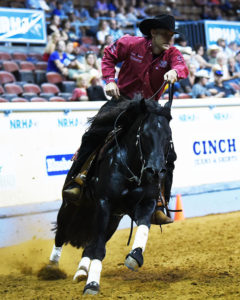 A Vintage Smoke blew into the Jim Norick Coliseum during the Level 4 Open Finals of the National Reining Horse Association (NRHA) Derby presented by Markel. At the reins was his trainer, Jason Vanlandingham. The newly crowned NRHA Two Million Dollar Rider and the flashy black stallion had already made their mark on the reining industry by winning two of the three largest reining events: the 2018 NRHA Futurity and the 2019 National Reining Breeders Classic (NRBC). The only accolade missing from A Vintage Smoke's resume? An NRHA Derby presented by Markel Championship.
That was remedied on Saturday night when the pair wowed the judges with flawless maneuver followed by flawless maneuver. The crowd held its breath as the pair exited the arena, awaiting the results. When the score—a 227.5—was announced, the applause was deafening.
For Vanlandingham, the win came with a feeling of relief. "I was disappointed with myself last year because we had a chance of winning it, but I missed my last stop. There was a lot of pressure to get it done, and this horse came through. He was really awesome," he said.
Feeling the pressure, he had to take a few moments for himself before competing. "I was pretty nervous, to the point where I had to get with the good Lord and do some praying because my confidence wasn't there. A big feeling of relief came over me, and I just told myself to put my confidence in the right place," he shared.
That resolution was what he needed. "We went in there about as hard as he could go, and he stopped huge the first time. We were last in the set so there was no ground left, but he was locked in, and I was very proud of him," he recalled.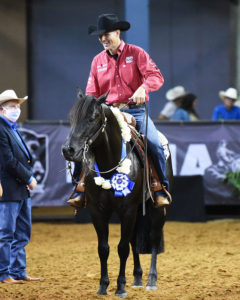 The win came with a big check for $60,000, with 5% going to nominator Karl Hapcic. Vanlandingham and owner Diane Mesmer were also presented a bevy of prizes, including a Kyle Zanetti Trailer; a saddle by Bob's Custom Saddles; a Montana Silversmiths trophy buckle; Anderson Bean Boots; and product or gift certificates from Classic Equine, Platinum Performance, Bluebonnet Feeds, SmartPak, CINCH, and Shorty's Caboy Hattery.
This is the second horse that Vanlandingham has ridden to win the three largest NRHA-approved events, which include the NRHA Futurity; the NRHA Derby presented by Markel; and the NRBC, an event for derby-age horses. The first time he accomplished that feat was with Not Ruf At All (A Sparkling Vintage x All Ruffed Up).
"This horse is right there with Not Ruf At All. He goes in there on Saturday night, and he just gets it done. That takes a special horse," he said. "This is an accomplishment I've been hunting for. It's special to me because with our program being on the smaller side like it is, I'm never going to catch the top guys in earnings. To do something no one else has done is pretty special."
Vanlandingham shared that Mesmer plays a huge role in the stallion's success. "She's been great. She's one of those owners who lets you do your thing and never puts any pressure on you. She's been matter of fact about us eventually winning all three of these events, and she's been right," he said.
A Vintage Smoke, at only 5 years old, has two years of derby eligibility left. "As long as he continues to show good for us, we'll continue to show him. Everything from here on out is just gravy; he has nothing left to prove. I love showing him, and Diane loves watching him show, so we'll just keep rolling," he said.
Vanlandingham added, "I thank God. He's the top priority for us. Also, if it wasn't for my wife, I'd have to find something else to do because she's the backbone of our operation. If it wasn't for her, I'd be on the street somewhere."
Taking the Level 4 Open Reserve Championship were Nathan Piper and Patriot. Piper and the 5-year-old stallion, by NRHA Six Million Dollar Sire Smart Spook out of Dunit A Lil Ruf, won $47,572 for owner Shannon and Hershel Reid. Patriot was nominated by Toyon Ranch.
Piper and Patriot have gone head-to-head with Vanlandingham and A Vintage Smoke since the start of their competitive careers. In fact, the two teams split the Level 4 Open Championship at the 2019 NRBC.
Kole Price Wins Level 3 Open Championship at NRHA Derby Presented by Markel


Competing in the first section of the Open Finals, Kole Price knew he and Gunna Stop would have to catch the judges' attention quickly. With that in mind, he pushed the 5-year-old stallion into the pen to run down for a big stop. "He stopped big and backed up really pretty, and then just stood there quiet as a church mouse. He was super hooked up, stylish, and quiet," Price shared. "Coming around the ends, my reins were a little tangled up and I couldn't steer him quite like I wanted to, but he took care of me. In the last stop, he dragged his butt, and it was just like how we prepared. He was incredible."
The judges agreed, awarding a big score of 222.5. That held on for the win of the Level 3 Open, worth $23,477. It was a special win for Price and owner Amber Gokey. Ali, Amber's sister, who owned the colt, was diagnosed with AML, an aggressive form of leukemia. Unfortunately, Ali recently succumbed to the disease.
"People don't realize that horses can do strange things for people, and I witnessed that through Ali. It is so much more than what we see, and this horse definitely helped her keep going. I still get choked up every time I talk about it. She loved this horse, and I think she kept fighting for him. I honestly feel like Ali was up there with me when I was riding," Price shared. "You do this for the love of the horse, and Ali was a perfect example of that. She loved everything about him."
Gunna stop was originally trained by Austin Rousch, and the pair earned the 2018 Level 1 and 2 NRHA Futurity Championships, and qualified for the finals in Levels 4-1.
"First, I have to thank Ali [Gokey]—she was an inspiration," Price said. "Obviously, without her, I never would have got this horse. I have to thank the whole Gokey family for continuing to support us, my wife [Kelsey], my groom, Javi Soto, because he's the one up in the middle of the night icing this horse and taking extra care. I want to thank my assistant, Diego Gaona—he's another set of eyes for me. Along with my shoer, Seth Jordan and our vets, Josh Donnell and Jason Walter. It's a team, but everyone pulls their own and everybody comes together."
Arno Honstetter and Special Made Whiskey Win Level 2 Open Championship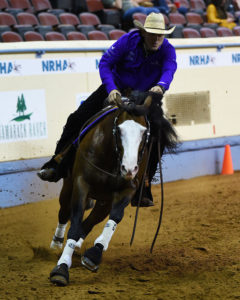 Arno Honstetter and Special Made Whiskey were last in the draw of the Level 4 Open Derby Finals and shook up the leaderboard. After scoring a 220.5, they took the Level 2 Open Championship and placed in the Level 4 and 3, totaling $34,676.
"It was nice," Honstetter said. "I ran out of horse after my circles, so I didn't get my stops as nice as I wanted, but the first three-fourths of my pattern was really nice, and he tried really hard."
The 7-year-old stallion owned by Gordon Robinson, nominated by Dean Latimer, is by NRHA Three Million Dollar Sire Gunners Special Nite out of Starlight Acres.
"He was a 217.5 in the preliminaries—I missed one stop, but that was me," he said. "He ran really nice, and we were in the bunch who made it back to the finals. I was lucky that he made it. He's a really nice horse. We wanted to try for the Run for a Million, and that never happened. I showed him in Arizona and I think we will show at the National Reining Breeders Classic.
"He's been a good horse and shown for a lot of people—I'm very thankful I have him; he is a really talented horse."
Taking second in the Level 2 Open was Cody Sapergia, who piloted Chicowhiz to a score of 218.5. Not only did the pair take second in the Level 2, they also qualified for the Level 3 and Level 4 finals, bringing total earnings to $20,230. Chicowhiz, by NRHA Seven Million Dollar Sire Smart Chic Olena out of Whizicle, is owned by LaRizzi Corporation. The 5-year-old stallion was nominated by Equine Plus.
Torri Sims Wins Level 1 Open Championship on Codalicious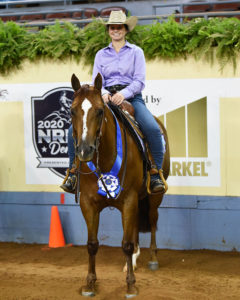 Saturday's Open Finals was only the second time that Torri Sims has shown Codalicious. Competing in the first section of finals, Sims and Codalicious marked a 214.5, a score that held up to win the Level 1 Open title, as well as $4,263. "She's a spectacular horse. I've been riding her a couple months now," Sims explained.
"Today, Tracer Gilson told me to just go show her, have fun, and leave it all out there. I pushed on the gas and she was right there with me trying to be the best she could be," Sims recounted. "I knew as soon as I ran in and she stopped like she did, that she would be right there with me and there wouldn't be any problems. It was such a cool feeling."
Sims and "Gracie" had a solid run in the preliminary round. "I showed her a little conservatively in the go-round. We showed on the second day, so I knew where I needed to be to make the Level 1 finals," she shared.
Codalicious, a 5-year-old mare by Electric Code out of Custom Easy Breezy, is owned and was nominated by Loren Booth. "I worked for Loren for about a year. She's the most spectacular individual I've ever met. She's so supportive and always happy. I so appreciate her." Sims added. "I thank Tracer and Trish Gilson and their daughters. I have such a great support system from them and Loren. I also thank Mike Boyle who gave me my start in reining. I was able to ride and show a lot with him. I got a lot of experience from that, and now I'm able to kind of step it up in the bigger stuff and play with the big dogs."
Tell Edgmon and Shiney Chexy Chic took reserve honors in the Level 1 Open with a 213.5, worth $2,901. Shiney Chexy Chic, by Shine Chic Shine and out of TH Great Big Chex, is owned by Texas Horse Power Ranch LLC and was nominated by Robert Sutherland.
Fernando Salgado Wins Bob's Custom Saddles Novice Horse Open Derby with Gotta Shiney Peso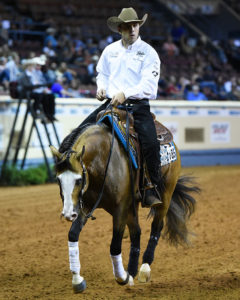 It's only the second year for the Bob's Custom Saddles Novice Horse Open Derby, which gives derby-age horses that haven't won a lot of money early in their careers a chance to expand their earnings. The division title is decided during the preliminary round of the NRHA Derby presented by Markel, and it was Fernando Salgado and Gotta Shiney Peso who were victorious.
Salgado and Gotta Shiney Peso, by NRHA Two Million Dollar Sire Spooks Gotta Whiz out of Cee Bee Shine, marked a 219, worth $6,131. It was some good luck for the 4-year-old colt which, until recently, had a lot of bad luck. "I got this horse at the end of his futurity year. I always really, really liked him, and my brother Eduardo was the one who had him in training. Diane Beckman raised him, and we were lucky to buy him," he shared. "But he got sick and then he got hurt; everything happened his 3-year-old year."
Salgado still entered the colt at the NRHA Futurity. "He was very good in the first go, but then was a little sore and missed the finals by half a point. Since then he's been good, but he had some more bad luck in Arizona a few weeks ago," Salgado shared.
Gotta Shiney Peso is now owned by Pedro Hernandez. "Pedro is a really good customer of ours. Everything finally got together here, so I'm very happy, especially for the owner. He's been a great supporter of us and our whole program, and it's nice to get it done for someone like that," Salgado shared. "I thank Pedro and all of our customers. I also thank my wife and the whole team. We have a great group. We work long hours, so it's nice when it works."
There was a tie for second in the Novice Horse Open Derby between Sean McBurney and Americasnextdiamond and Ann Salmon Anderman and Maximum Mag. Both entries marked scores of 218.5 to win $3,265 each.
Americasnextdiamond, a 3-year-old mare by NRHA Million Dollar Sire Whizkey N Diamonds and out of Americasnextgunmodel, is owned by Rhodes River Ranch. He was nominated by Rhodes River Ranch. McBurney and Americasnextdiamond also qualified for the Level 4 finals, where they took home an additional $3,900.
Ann Salmon Anderman Wins Prime Time Open on Maximum Mag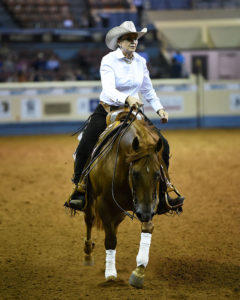 The Prime Time Open Derby Championship was also decided during the preliminary round, and it was Ann Salmon Anderman and her horse Maximum Mag who emerged victorious. The pair marked a 221.5 (including handicap) to win the division and a check for $2,205.
Anderman later marked a 214.5 during the Level 4 Open Finals. This placed her in the money in the Levels 4–2, and she pocketed an additional $6,450.
This win was extra special for Anderman because of her mount. She bred and raised his dam, Dunit A Lil Ruf, and showed her to a Level 2 Open Championship at the 2013 NRHA Derby. "Where I live in north Texas, the quality of trainers in our area is fantastic, and there's only a certain number of really good horses, so I thought I'd try to raise my own," she shared.
When she got a chance to purchase an embryo from A Bueno Poco Dunit, she jumped at the chance and got a foal from Lil Ruf Peppy. That foal, Dunit A Lil Ruf, now 13, helped fill Anderman's barn.
"Dunit A Lil Ruf has turned out to be an excellent producer," she said. "We feel really blessed to have her." Maximum Mag actually showed against his half-sibling, Patriot, who is out of the same dam, during the Open Finals.
"She (Dunit A Lil Ruf) crosses with so many wonderful stallions, that's why we're on this crazy ride," Anderman added. Maximum Mag also boasts an impressive sire: he's by NRHA Six Million Dollar Sire Magnum Chic Dream.
"Making the Level 4 Finals today was a gift," she said. "I just hope I can take advantage of each time I get to go in there with all these other great trainers.
"I want to thank my husband, Monte Anderman," Anderman continued. "And of course, my vet, farrier, and our breeding vet."
There was a tie for second in the Prime Time Open between NRHA Six Million Dollar Rider Shawn Flarida and NRHA Two Million Dollar Rider Duane Latimer, with both men marking a 219.5 to win $1,536. Flarida rode Bill and Patty Fingland's Spooks Gotta Spark, by NRHA Two Million Dollar Sire Spooks Gotta Whiz out of Dolittle Lena. Latimer was mounted on Alittlewhitetrash, by NRHA Two Million Dollar Sire Gunnatrashya out of Wimpy Little Girl, owned by XCS Ranch LLC.