A long day of competition at the 2020 National Reining Horse Association (NRHA) Derby presented by Markel wrapped up Sunday afternoon. It was the largest Derby in the event's history, with 3,301 entries – up from 2,750 in 2019. Complete results can be found at NRHADerby.com.
Colt Mitchell Wins Short Stirrup [2] on Playgun Chic Olena in Exciting Runoff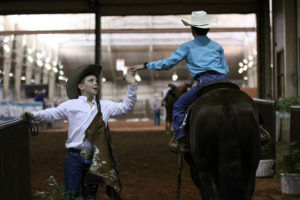 The only run off of the week at the NRHA Derby presented by Markel took place Sunday afternoon in the Jim Norick Arena when Colt Mitchell and Logan Flaherty battled it out for the championship in the Short Stirrup division. It was a hard-fought battle, and in the end, Mitchell finished with the win.
"It was my first run off and I thought it was pretty exciting. My game plan was to do better than I did the first time and just have fun," Mitchell shared. "Logan did a really good job and showed that horse great, so it was a good competition."
He added that Playgun Chic Olena, by NRHA Seven Million Dollar Stallion Smart Chic Olena out of Mamas Packin, has never really been a fan of the coliseum. "Each year he gets a little better, and this year was the best," he said. "My stops in the runoff were the best we have had in a while. I was pretty proud."
Mitchell added, "I thank my family for supporting me and helping me train him. I also thank the good Lord for keeping me safe and giving me this wonderful horse."
Madison Rafacz Takes Youth 13 & Under [2] Win on Whizenboonsmal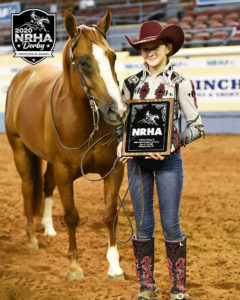 After a busy week, Madison Rafacz wanted to take the opportunity to show one more time at the NRHA Derby presented by Markel. Sunday's youth classes were held in the Jim Norick Coliseum, giving her a perfect opportunity to expose her horse to the arena in preparation for the American Quarter Horse Association Youth World Championships.
"He was good today. I just went in there and let him go quiet and see the arena," the 12-year-old said. Whizenboonsmal is an 8-year-old gelding by Peptoleap out of She Whiz A Star.
While most people might be ready to go home at the end of an event, that's not the case for her. "I'm not really ready to go home. I don't like leaving them, especially since we haven't been to one in a while," she said.
Luckily, she won't have to stay home long, as she'll be competing at the Mid-Atlantic Reining Classic in just two weeks. "I would like to thank my parents and the entire MR barn," she said.
Lydia Bell Takes Youth 14-18 High Point Championship on Chics Want My Number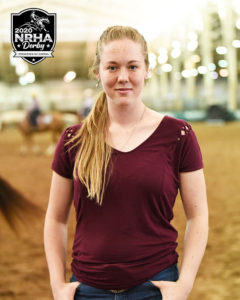 Lydia Bell and Chics Want My Number put together two consistent runs over the weekend to win the high point championship of the Unrestricted Youth class. "He was good at this show. There is always stuff to work on, but we just keep going as a team," she said.
Bell began showing Chics Want My Number, by NRHA 11 Million Dollar Sire Wimpys Little Step out of Dixie Chic Olena, a few years ago. "I got him from Christy Morgan. He was her derby horse, and when she had her son Cooper she decided to sell him. We're good friends with her, and we were looking for a youth horse for me, so we bought him," Bell said. "He's really fun and is a mess. He keeps my life interesting because he's always playing or getting into things."
Bell, 17 years old, added, "I thank my parents, Christy Morgan, and God, because who knows where I would be without him."
Anna Clausen and Smart Tinseltown Win Youth 14-18 [2] and High Point

After tying for the win of the Youth 14-18 on Saturday, Anna Clausen won the class again on Smart Tinseltown with a 143.5. The pair also won the high point for the division.
Earlier this week, Clausen and Smart Tinseltown won the Level 1 8 & Up Non Pro Derby. Smart Tinseltown, owned by Clay Clausen, is by NRHA Six Million Dollar Sire Smart Spook and out of Tinseltown Lil Step.
Rita Clausen Wins Youth 13 & Under High Point on Kansas City Whiz

It was a good week for Rita Clausen, who finished with the Youth 13 & Under high point championship after winning the class on Sunday and finishing as part of a three-way tie in Sunday's section. Clausen rode Kansas City Whiz, by Easy Otie Whiz out of Kansas City Royal.
Kansas City Whiz is owned by Clay Clausen.
Bo Van Duys Wins Unrestricted Youth [2] on Voodoo Smokin Annie

Topping the second slate of the Unrestricted Youth [2] was Bo Van Duys and Voodoo Smokin Annie with a 142. Voodoo Smokin Annie, by NRHA Million Dollar Sire Shiners Voodoo Dr out of Caleys Smokin Peppy.
Logan Flaherty Sweeps Green Reiner Classes on SS Spyderman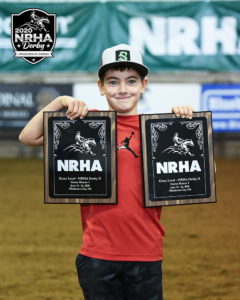 It's been a good week for Logan Flaherty. Just days ago he and SS Spyderman won both Green Reiner classes, and he returned to the Adequan® Arena on the last day of competition to do it again. "He was good for showing three times in a row," the 9-year-old said. He and the 12-year-old gelding marked a 140 to win the second slate and secure the high point buckle.
His father, NRHA Professional Committee Chairman Patrick Flaherty, said, "I told him to go faster than he did the other day, but he didn't. I guess he went just the right speed."
Logan shared he didn't change anything from the previous day showing and prepared his horse like he always does.
SS Spyderman, by NRHA Twelve Million Dollar Sire Topsail Whiz and out of Chics Velvet Lady, is owned by Jenny Ricotta. "I thank my dad, and I thank Jenny Ricotta for leasing him to me," Logan said.
Patrick added, "We really thank Marco and Jenny Ricotta. We were looking hard for a horse for him this year, and having trouble finding one when Jenny let us try him. We are lucky to have this horse to show. He's turning into a really special horse for our family."
Eduardo Ramirez and Jeweled Out Sweep Rookie 1 and 2 [2]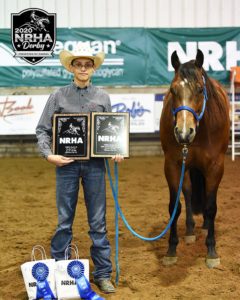 Eduardo Ramirez schooled Jeweled Out all week leading up to the Jackpot Rookie 1 and 2 [2] classes on Sunday, June 21. It all paid off when the duo laid down a smoking run that scored a cool 144.
The 15-year-old earned his way out of the Level 1 Green Reiner classes last year but has never rode away with a championship. That made this win extra special.
"I'm usually up there in second or third, but this was my first win," Ramirez said. "I'm really proud of him (Jeweled Out)."
When Ramirez first entered the Adequan® Arena, Jeweled Out was right there with him. The only concern Ramirez had was picking up the right lead.
"He looks everywhere a lot in his right lead," Ramirez said. "I don't normally talk, or cluck, to him much, but this time on the right lead I clucked to him to see if I could get his attention and it worked."
The 9-year-old gelding is by NRHA Million Dollar Sire Cromed Out Mercedes and out of Whiz Jewels. The pair has only been competing together for the last two years. Earlier in the show season Ramirez and Jeweled Out qualified for the Rookie Shootout at the Run for a Million.
Before Ramirez saddled up the gelding, he hadn't been consistently ridden for a few years. Ramirez got connected with NRHA Professional Luke Gagnon and the rest, as they say, is history.
"I would like to thank Luke Gagnon, Sergio Elia and his wife, and my parents," he concluded.
Amy Mitchell Wins Prime Time Rookie [2] and High Point on Skeets Forty Five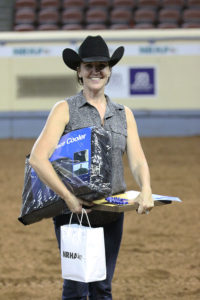 The Mitchell family had a great ending to the NRHA Derby presented by Markel. While Colt won the Short Stirrup title, his mom Amy pulled off the win of the second slate of the Prime Time Rookie on Skeets Forty Five. She also claimed the high point championship for the division. "I'm probably more excited for Colt right now. It was fun to get to see him in the run off," she shared. "Today I thought my run was better than the other day. I thought my horse was perfect. All the errors were pilot errors. It was wonderful and I can't wait to do it again."
Skeets Forty Five is by Skeets Peppy and out of Select A Forty Five. "This horse belongs to my daughter Molly. We have had him for 11 years, and he's 16 years old now," she said. "He's such a great horse. I have ridden horses my whole life but just recently started reining, and he takes care of me."
Amy and her family have a busy schedule ahead, with plans to compete at the Mid-Atlantic Reining Horse Classic and the National Reining Breeders Classic, as well as the AQHA Youth World Championship Show. "I thank my family. They're all very supportive, and I had a lot of friends come and cheer me on the other day. It was a lot of fun," she said.
Allison Thorson Wins Rooke Level 1 & 2 High Point on Smart Cowboy Whiz

Two consistent runs in the Adequan® Arena resulted in the high point championship of Rookie Levels 1 and 2 for Allison Thorson and Smart Cowboy Whiz. The pair tied for first in the first slate of classes, and second in Sunday's set. Thorson has owned Smart Cowboy Whiz for only a year, having purchased the gelding just before the 2019 NRHA Derby.
Smart Cowboy Whiz is by Who Whiz It out of Little Smart Jac.