As the weekend got started, ancillary action continued in the Adequan® Arena at the National Reining Horse Association Derby presented by Markel. On Friday, Green Reiners and Rookies had a busy day, and Saturday was all about the youth competitors with the Youth and Short Stirrup classes.
Logan Flaherty Wins Green Reiner 1 & 2 on SS Spiderman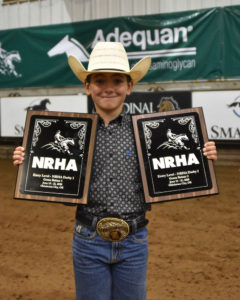 With a score of 145, Logan Flaherty won both Green Reiner classes in the Adequan® Arena on Friday afternoon, June 19. He rode SS Spyderman, a 12-year-old gelding by NRHA 12 Million Dollar Sire Topsail Whiz out of Chics Velvet Lady. "I've been showing him about seven months now, and this is my second show for the year," the 9-year-old explained. "I've done pretty well with him. He's quiet and laid back."
When asked his show pen strategy, Flaherty, son of NRHA Professional Committee Chairman Patrick Flaherty, shared, "We just go fast, spin, and then go in the show pen."
Flaherty made sure to thank SS Spyderman's owner. "I thank Jenny Ricotta for letting me ride this horse. I really appreciate it," he said.
Tate Wynn Wins Para-Reining on Lil Nu Gunz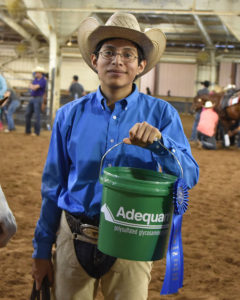 Tate Wynn has only been riding Lil Nu Gunz since March, and the NRHA Derby presented by Markel was their first event together. While some riders might have trouble competing on a horse they've had only a few months, Wynn handled the class like a pro. "I wasn't worried about showing him. The only thing I was a little nervous about today was the spins. He'll sometimes overspin just a little bit, but I timed him just right, and he was able to do it perfectly," he shared.
Lil Nu Gunz is by Lil Gun and out of Nu Bar Freckles. "Bobby Avila Jr. found him for me," Wynn said. His mother, Teresa, added, "He came from one of Shannon Rafacz's clients, Dana Ferguson. She wanted to step up to a derby horse, so he became available, and he and Tate were a perfect match."
Wynn made sure to thank a few key people. "I thank Bobby Avila Jr., Tristan Bagby, and Taylor Bagby," he said.
The uncertainty surrounding COVID-19 has made planning shows a little shaky. "I don't know where we'll go next. It just depends on the shows and if they cancel or not. We hope to go to the Congress for sure," Wynn said.
Allison Thorson and Smart Cowboy Whiz Win Rookie Level 1 & 2 [1] Co-Championship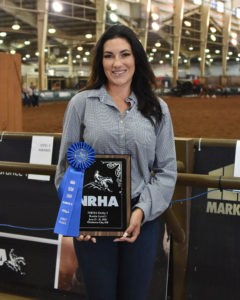 It was one year ago that Allison Thorson and Smart Cowboy Whiz won their very first class together at the 2019 NRHA Derby presented by Markel. That was in the Green Reiner, and now the pair has moved up the ranks into the Rookie. Once again, the pair finished at top of their class in their return to the Adequan® Arena.
"We have a year under our belts showing elsewhere and have used that year to work our way up the system. It's hard to put it all together, but when you finally can, I was going to be happy no matter the outcome. Plus, there were 93 horses in that class. To be successful in that big of a class is very exciting. I'm very grateful and fortunate to be able to compete with the best of the best in these classes," Thorson shared.
Thorson and Smart Cowboy Whiz, by Who Whiz It out of Little Smart Jac, will compete in the second slate of Rookie classes on Sunday. "We'll wipe away our success from today and try again tomorrow," she said. "It's eight minutes you go in there to show, but there is a lot leading up to that, so I appreciate the Schmersal Reining Horse team. They're wonderful, not only in working hard at the barn but also at the shows. They have really helped to put me and Cowboy together as a team. I also thank my family and my boyfriend for all the support."
Haley Hoffman Takes Rookie Level 1 & 2 [1] Co-Championship on Wilmas Gotta Whiz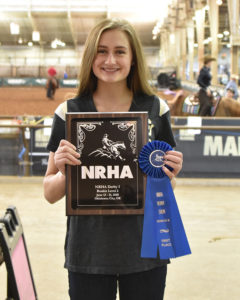 It was the first show back since people began sheltering from home, but Colorado's Haley Hoffman was only a little nervous prior to competing in the Rookie classes on Friday evening. In the end, she and Wilmas Gotta Whiz, owned by her mother, Lisa Hoffman, tied for the win in Levels 1 and 2 with a score of 144. "She walked in really good and calm. Her turns were really good, and she was really dialed in," Hoffman said.
Lisa raised the mare, by Spooks Gotta Whiz out of Ansons Ole Girl. "My mom also trained her all by herself. I've only gotten to show her a couple times, but she is really easy to show," Haley shared. "I thank my mom and Devin Warren."
Valencia Pitzing Claims Prime Time Rooke [1] Win With RC Fashion Chic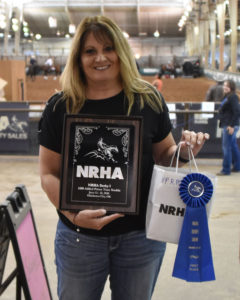 Valencia Pitzing of Alabama sent her horse RC Fashion Chic to NRHA Professional Ruben Vandorp in Texas for a tune-up more than a year ago, and she's never brought him home. While she doesn't have another reiner to practice on at home, it's clear that the arrangement works, as she and RC Fashion Chic won the Prime Time Rookie [1] with a 140.5. "I don't even get lessons because I live so far away, and I went about 11 weeks without riding because of COVID-19," she shared. "We schooled at the Redbud last weekend, and Ruben had my horse ready to go for me."
RC Fashion Chic is by RC Fancy Step out of Shesa Fashion Chic. "He's super fun to ride and is just a really nice horse. Last night he was ready, and he was 'on' for me in all the maneuvers," Pitzing said. "I thank Ruben and Arnaud Ferret for always having my horse ready and coaching me. I also thank my family for supporting me and my horse addiction."
Pitzing and RC Fashion Chic will compete in the second slate of Rookie classes on Sunday. "I'm going to try to step up my turnarounds and rundowns and be better in my stops. My horse can do it, I just have to be better," she said.
Anna Clausen Ties for Win of Youth 14–18 on Smart Tinseltown [1]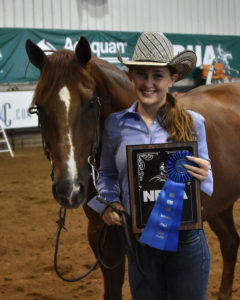 Anna Clausen and Smart Tinseltown are already two-time winners at the NRHA Derby presented by Markel. Earlier this week, the pair won the Level 1 8 & Up Non Pro Derby, and they returned to the Adequan® Arena to tie for the win the first slate of the Youth 14–18.
"We were just trying to go for a nice, chill run where we make sure everything is correct," Clausen said of her run. "This is not a pattern we typically run, so it was good to practice to make sure your horse is always listening to you."
Smart Tinseltown, who's by NRHA Six Million Dollar Sire Smart Spook out of Tinseltown Lil Step, is owned by Clay Clausen. "We're showing again tomorrow and are going to do the same thing we did to get him ready today," she said. "I thank my parents and Patrick Flaherty."
Brogan Hill and Quik Draw McGraw Tie for Win of Youth 14–18 [1]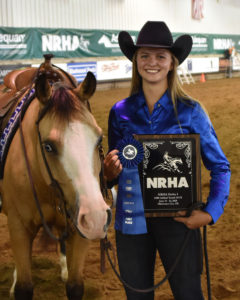 Brogan Hill and Quik Draw McGraw have been a team for less than a week, but if Saturday's run in the Youth 14–18 is any indication, they'll be a team to beat. "I think he did a phenomenal job, and I couldn't be more impressed with him," Hill shared. Hill and Quik Draw McGraw tied for the win of the Youth 14–18 with a 143.
Hill first laid eyes on Quik Draw McGraw, by HF Mobster out of Nestle Quik Chic, at Casey Deary's place in Weatherford. "I was invited to go to the Deary Ranch and stayed a week. Casey told me to ride this horse. I rode him about three days, and Casey told me he thought I should buy him," Hill said. "As soon as I got on this horse I fell in love, and we got along super great, and quickly, too."
The 17-year-old added, "I thank my parents, my friends, Casey Deary for sure, and all the people at Deary Ranch. Most of all, I thank my horse."
Rita Clausen Wins Youth 13 & Under [1] on Kansas City Whiz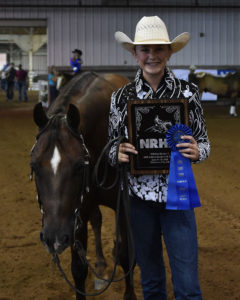 The Clausen sisters were both victorious in Saturday's classes, with Rita Clausen topping the Youth 13 & Under on Kansas City Whiz. "It was a good run. It was a really funky pattern, and it tripped a lot of people up, but I just tried to steer him around and not really let him do anything crazy," Clausen shared.
Kansas City Whiz, owned by Clay Clausen, is by Easy Otie Whiz and out of Kansas City Royal. "I've been riding him three or four years. He's just a really great horse and is easy to show," Clausen said. "I thank my parents and Patrick Flaherty for helping me and supporting me through all this."
Clausen will show again in tomorrow's Youth and Green Reiner classes.
Colt Mitchell Takes Short Stirrup Championship on Playgun Chic Olena


It's Colt Mitchell's last year in the short stirrup class, and the charismatic competitor is making it count. On Saturday, he and Playgun Chic Olena claimed yet another Short Stirrup victory in the Adequan® Arena. "It was a pretty good run. I had a couple bobbles in there. In my right slow down, he almost broke gait, but I caught him. It wasn't his fault, because he's a great horse," he shared.
Mitchell noted that he's looking forward to competing in the 13 & Under classes. "I'm pretty excited to start competing in those classes. I figured I'd stick around in the Short Stirrup for now and go for it all," he said. "I haven't shown a horse since the NRHA Futurity, but I was ready to go and win."
Mitchell said he'll work Playgun Chic Olena, by NRHA Six Million Dollar Sire Smart Chic Olena out of Mamas Packin, on just a few things before the second slate of Short Stirrup classes on Sunday. "I'm going to work on my slowdowns and how I place myself in those," he said. "I thank my family for helping and supporting me, and the good Lord for keeping me safe and giving me this awesome horse to show."